The Unexpected Way Yellowstone Changed Luke Grimes' Life Forever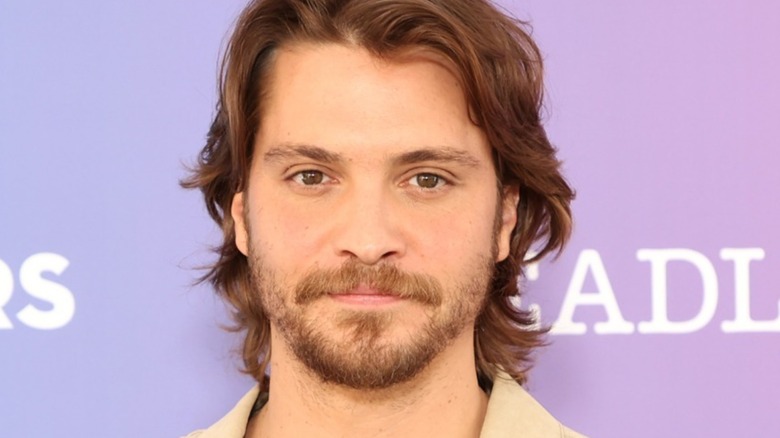 Amy Sussman/Getty
Over the past few years, "Yellowstone" has grown into a pop-culture staple. It's one of the most popular shows currently on the air as millions of people tune in to see what kind of trouble the Dutton family gets into this week. Of course, audiences should expect this kind of high drama from Oscar nominee Taylor Sheridan, who created the series and is known for his work in the likes of "Hell or High Water" and "Sicario."
While Sheridan oversees the series, the characters are brought to life by a phenomenal cast. The Dutton family's headed by John Dutton (Kevin Costner), while his kids — Beth (Kelly Reilly), Jamie (Wes Bentley), and Kayce (Luke Grimes) — help around the ranch in various capacities. Audiences will get plenty of opportunities to see what else this cast is capable of, as it's been announced the show will return for Season 5. But fans aren't the only ones singing the show's praises. Luke Grimes recently revealed in an interview how the Paramount Network show changed his life for the better and how he wouldn't have it any other way.
Luke Grimes moved to Montana for Yellowstone
It's understandable that "Yellowstone" would change Luke Grimes' life. He's gotten to be a main character on one of the most popular shows in all of television at the moment, so that will inevitably open a lot of doors for him once the series comes to a close. However, in an interview with Gold Derby, he also spoke about how it's already changed his personal life in a way some fans may not have expected.
Grimes explained, "I've ended up moving to Montana, and now I live there. I live where we shoot the show, which I might not have found without being up there so much and seeing that world through the eyes of this character and then actually really for real falling in love with the lifestyle." He also elaborated on how he would go back and forth between the state where they film the show and Los Angeles, but eventually, he felt like he was moving away from home. 
Luke Grimes' character went through a lot in Season 4 of "Yellowstone." The season ended with him embarking on a vision quest to see what his life has in store for him. He's a changed man, and hopefully, audiences won't have to say goodbye to Kayce any time soon.