The Best Part Of Kaley Cuoco's Character In The Flight Attendant According To Fans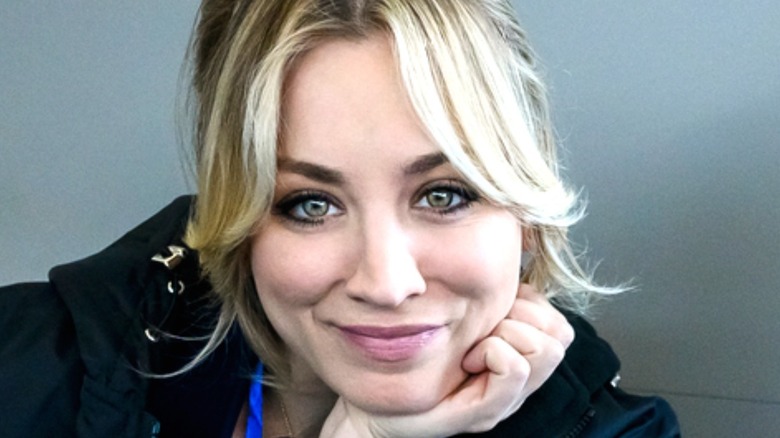 HBO Max
"The Flight Attendant," the dark comedy thriller series created by Steve Yockey, premiered its first season on HBO Max in November of 2020. Based on the 2018 novel of the same name by Chris Bohjalian, the series follows Cassie Bowden (Kaley Cuoco), a flight attendant with an alcohol problem and an affinity for partying on her off time in whatever country she happens to be in at the time. When she meets and hits it off with Alex Sokolov (Michiel Huisman), a passenger on one of her flights, the two spend the night drinking, talking, and, eventually, sleeping together. The next morning, a hungover Cassie is terrified to find Alex dead next to her in the bed, his throat having been slashed. Panicked, Cassie cleans up the scene and flees as she tries to work out what happened the night before, including who killed Alex — and if, by some horrific chance, it was somehow Cassie herself who killed him.
The first season was a hit, and "The Flight Attendant" was picked up for a second season, which just premiered its first two episodes on HBO Max. Given that the show was renewed, it's clear that there's a lot for fans to like about the series, whether it be the mysterious premise, the messy and complex protagonist, or the intriguing supporting characters. As it turns out, though, there's another aspect that fans love about the show — and it's even one of their favorite parts about Cassie.
Fans love Cassie's wardrobe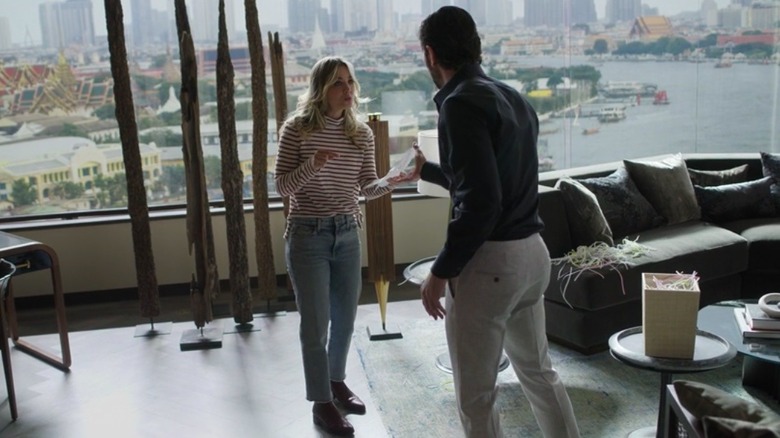 HBO Max
A fan of the series, u/goldfinch_21, took to Reddit to discuss one thing that draws their attention in every episode of "The Flight Attendant": Cassie's wardrobe, which was styled by "Kill Bill" and "27 Dresses" costume designer Catherine Thomas (via IMDb). They wrote, "Anyone else here loving every look of Cassie's? The styling on this show is great."
Other fans immediately jumped in to express their mutual love of Cassie's outfits. One commenter, u/her2013 wrote, "yesss i came to say cassie's style is tres chic!! love all her coats & shoes. especially love the oversized coat in ep 5." Other specific outfits fans point out on the thread are Cassie's pink overcoat, her casual red and white striped turtleneck, and the wide V-necked black dress that she wore to Alex's funeral.
The original poster chimed back in at one point to express what many fans were thinking: "I'd raid Cassie's closet any day though, coats, shoes, give me it all." Another user mentioned that she wears a different coat in every episode, prompting u/sleepycatinarayofsun to speculate that Cassie probably gets a new coat in every country she visits for work (a major perk of working as a flight attendant). Meanwhile, u/Psychological-Fee-53 brought up how Cuoco plays a role in how stylish Cassie looks, writing, "YES! Every damn look is so stylish and classy and really suits Kaley!"
We can't wait to see what other outfits Cassie gets to wear as Season 2 continues to play out — and which ones fans love the most.