Why Vivan From The Unbearable Weight Of Massive Talent Looks So Familiar
Leon Bennet/Getty
Lionsgate's "The Unbearable Weight of Massive Talent" is set to release April 22, 2022, and as the film's reviews are practically shimmering with praise, audiences are understandably excited. The movie follows Nicolas Cage (Nicolas Cage) as he attends the birthday party for Javi Gutierrez (Pedro Pascal), a billionaire and Cage superfan. To make matters weirder, the CIA is involved because Gutierrez is a drug kingpin.
"Unbearable Weight" also features the talents of Neil Patrick Harris, Demi Moore, and Tiffany Haddish. While Harris and Moore are already household names, Haddish's star is still rising. For the entirety of 2000s, and for the first part of the 2010s, her acting gigs revolved around constant, singular appearances in TV serials and frequent voice work, but now, she's showing up in bigger roles and bigger projects. Here are a few of Haddish's career highlights — but even these barely scratch the surface of her long, productive time in the performance industry.
Tiffany Haddish was part of the family on The Carmichael Show
NBC's 2015 sitcom "The Carmichael Show" follows a fictional version of comedian Jerrod Carmichael's family and their life North Carolina. The series received three seasons over the course of three years, ending in 2017.
Carmichaels' comedy, which also stars Amber Stevens West, Loretta Devine, and David Alan Grier, was created, written, and produced by Jerrod Carmichael, who also portrays himself in the leading role. Haddish portrayed Nekeisha Williams-Carmichael, the estranged (and later ex) wife of Robert Carmichael (Lil Rey Howery). 
Haddish's Nekeisha is an outspoken, no-nonsense figure in the Carmichael's lives, but for Haddish, she was the start of an exciting new chapter. In an interview with Complex, Haddish confessed that her role on "The Carmichael Show" launched her more prominently into the public's eye. She then shared a story as to how people would encourage her in public while she worked out. "So I be doing these stairs. And people be like, 'Nekeisha, Nekeisha you better climb these stairs, girl!' [...] Like, oh my god."
Tiffany Haddish is a hardcore undercover cop in Keanu
New Line Cinema's 2016 comedy "Keanu" follows Clarence Goobril (Keegan Michael-Key) and Rell Williams (Jordan Peele) and their pell-mell run from, and subsequent battle with, a Mexican Cartel on the hunt for a kitten that once belonged to a drug lord. The movie is exactly as ridiculous at it sounds, being an hour-and-forty-minute parody of Keanu Reeve's "John Wick" trilogy — the story of which also kicked into gear because of a pet.
Haddish portrays Hi-C, an undercover cop posing as a gangster that works alongside Clarence and Rell to take down the cartel. She also arrests them at the end of the movie because they definitely commit murder and other unsavory crime syndicate activities. In the previously mentioned interview with Complex, Haddish praised Key and Peele's intelligent writing and acting abilities, also claiming that she apparently scared the comedians during her initial audition. Haddish went on to say that she not only made two amazing friends during her work on "Keanu," but that she also got an amazing pet out of it, as she took home one of the cute kitties that portrayed the titular pet.
Tiffany Haddish is a princess in Home Movie: The Princess Bride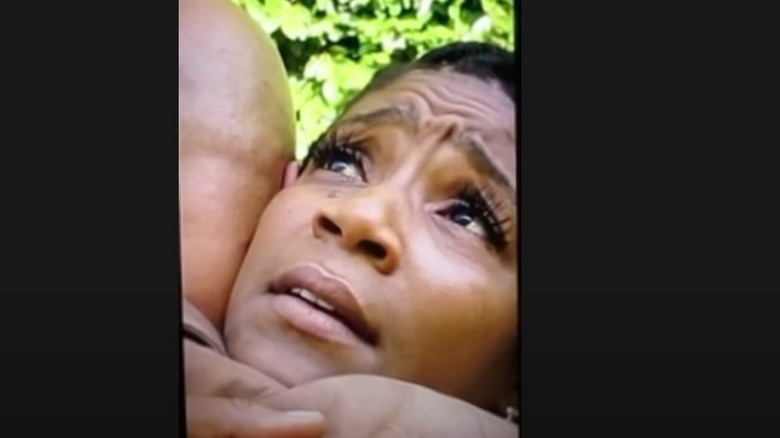 Quibi
Quibi's 2020 miniseries "Home Movie: The Princess Bride" follows the same story as the original, epic film. Young lovers Westley (Cary Elwes) and Buttercup (Robin Wright) triumph over death and pirates and shotgun weddings and the villainous Prince Humperdink (Chris Sarandon) to reunite with each other. However, in "Home Movie," which was filmed by artists in isolation during the global quarantine of 2020, each role is portrayed by upwards of fifteen performers.
Tiffany Haddish is one of the actresses who portrays Buttercup, the titular princess. In fact, she appears as one of the earliest iterations of Buttercup in the first episode of the miniseries. In Haddish's clip, Westley (Common) vows to return from his voyage to spend his life with her. When news reaches Buttercup (Haddish) that Westley's ship was over overtaken by deadly pirates, she vows to never love again. Unlike Haddish's other comedic turns, "Home Movie" is intentionally low quality and silly, and it was a collective attempt by Hollywood to bring a little cheer in a dark time.
Tiffany Haddish is a cunning detective in The Afterparty
Apple TV+'s early 2022 murder mystery comedy series "The Afterparty" follows Detective Danner (Haddish) on her investigation into the murder of Eugene Xavier Duckworth Jr (Dave Franco) at a messy high school reunion hosted by the newly deceased Xavier to flaunt his success as a performer. Each episode of the project, which also stars Ben Schwartz, Isaac Barinholtz, and Ilana Glazer, focuses on a different perspective of the single evening's events.
Haddish's Detective Danner holds nothing back and delves into each of the character's lives with fierce scrutiny and Haddish's own personal brand of comedy. Haddish is set to return to star in a second season of "The Afterparty," per a report made by TV Insider. 
With impressive credits such as these, and with "The Unbearable Weight of Massive Talent" just around the corner, Haddish's prospects will almost assuredly continue to flourish.