Who Plays Nicolas Cage's Wife In The Unbearable Weight Of Massive Talent?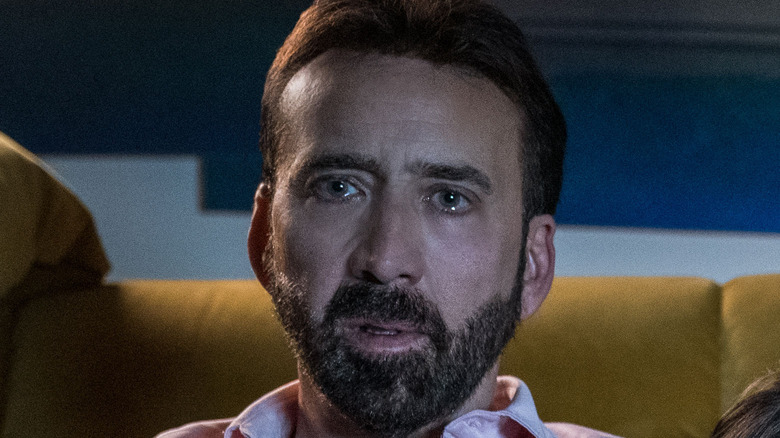 Lionsgate
Amid the vast chaos and endless Nicolas Cage references featured in Tom Gormican's "The Unbearable Weight of Massive Talent," there remains only a single constant voice of reason. Throughout much of the film, Cage's on-screen ex-wife, Olivia Henson, works hard to dial the insanity down to an occasionally understandable level. 
Unfortunately, despite her best efforts, Olivia quickly finds herself roped into Cage's meet and greet gone awry on the sun-kissed island of Mallorca. While Cage stands shoulder to shoulder with his new best friend, a notorious arms dealer named Javi Gutierrez (Pedro Pascal), Olivia delivers a deadpan perspective, doing her best to understand her ex-husband's unbelievable antics.
Although the film's promotional material has likely keyed fans in on the fact that Cage portrays a fictional version of himself in the movie, some viewers may not realize that Olivia is actually an entirely fictional character. Thankfully, it's a performance that probably comes easy to someone who has made a career of splitting sides and writing Emmy-nominated comedy gold. Notably, this actress is also a great addition to a game night if you ever need one.
Nicolas Cage's wife is played by Sharon Horgan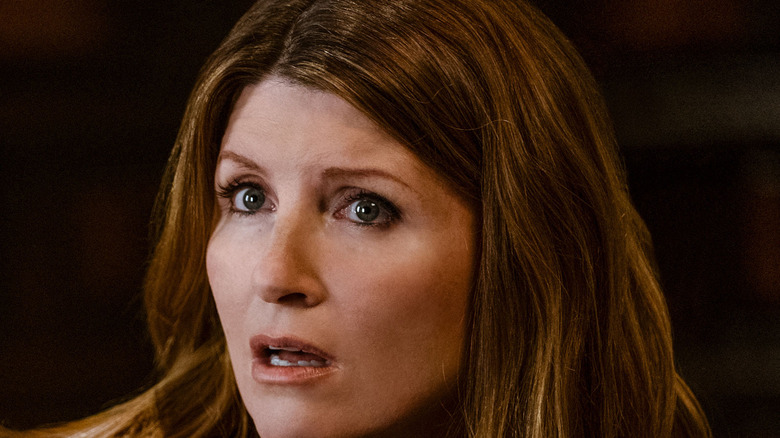 Lionsgate
Sharon Horgan is the actress playing the role of Nicolas Cage's on-screen wife in "The Unbearable Weight of Massive Talent." Interestingly, this is not Horgan's first role in an extremely wordily titled production centered on an extra meta-plotted story. She also previously played the role of Alice Bell in the IFC comedy series "The Increasingly Poor Decisions of Todd Margaret," alongside David Cross, Blake Harrison, and Will Arnett.
Prior to this role, Horgan's most notable big-screen appearance came opposite Jason Bateman and Rachel McAdams in the 2018 comedy "Game Night." In "Game Night," Horgan played Sarah, a woman who accompanies Ryan (Billy Magnussen) to the titular festivities. Although her character is mostly unknown to the central cast of the comedy, she nonetheless delivers a number of memorable laughs throughout the movie. 
Some of the biggest highlights of Horgan's career so far have come as a result of her work in television, including the Emmy-nominated series "Catastrophe." Horgan co-wrote and starred in all four seasons of the Amazon Prime Video series alongside actor Rob Delaney. In the series, Horgan portrayed a woman (also named Sharon) who attempts to put her life together after a one-night stand with Delaney's character (ingeniously called Rob) results in a pregnancy.
More recently, Horgan has been stretching her writing muscles for an upcoming Apple TV+ dark comedy series called "Bad Sisters." The series, which is set to premiere at some point in 2022, follows a tight-knit group of siblings who attempt to move beyond the unexpected deaths of their parents. In addition to writing responsibilities, Horgan is also set to star in the show alongside a quartet of siblings played by Anne-Marie Duff, Eva Birthistle, Sarah Greene, and Eve Hewson.
"The Unbearable Weight of Massive Talent" arrives in cinemas on Friday, April 22.