What Critics Are Saying About Suburbicon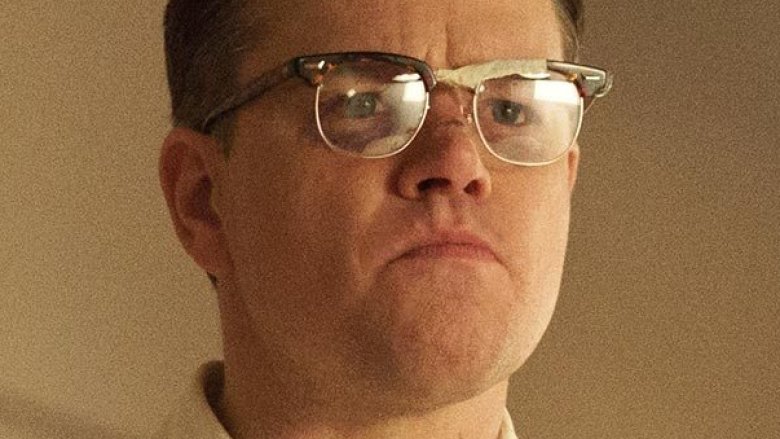 Paramount Pictures/Black Bear Pictures
Early reviews for George Clooney's dark crime film Suburbicon are in, and the results are disappointingly and surprisingly mixed for the directorial effort that was anticipated to be a powerhouse pick in this year's awards season.
Suburbicon made its international debut at the Venice Film Festival this weekend, where the film was met with anger, as audiences were shocked to see the race riots depicted on screen parallel what has been happening in the U.S. over the past few weeks. Published on various media outlets are split as to whether the Clooney-helmed, Matt Damon-led pic success in its themes of racism, suburban violence, social disruption, and privilege and its tone that's decidedly tricky to get right. 
Damon stars as Damon as a workingman named Gardner Lodge, whose entire world is inverted when a home invasion goes wrong. The peaceful neighborhood he once knew is rocked and changed forever, with others placing blame on the new-to-down family of color that just moved in and arguing that they are the reason for the wave of violence and hatred that has crashed over everyone's homes. The film takes a Coen Brothers script about a pack of murderous hooligans and blends it with a true story of the Myers, an African American family that faced race riots after they moved into an all-white neighborhood in the 1950s. Julianne Moore joins as Damon's character's wife Margaret, alongside Oscar Issa as Roger, Glenn Fleshler as Ira Sloan, and young star Noah Jupe as Nicky. 
Owen Gleiberman at Variety commented on the film's tension, which is admirable in a certain regard but loses its grip in others. "From the moment he began directing, George Clooney has been a stylish, visually rhythmic, avidly engrossing yarn-spinner (the one exception, speaking of irony, is his biggest hit to date, the dud World War II art thriller The Monuments Men), and so it is with Suburbicon," Glieberman said. "It's a movie that reels the audience in and keeps it hooked: with smart little kicks of surprise, with a sidelong but still highly charged social theme (the perilous cataclysm of integration), and, of course, with the squalid bad behavior of ordinary people who think that they can wriggle out of their unhappiness through furtive, cut-rate schemes. Suburbicon is probably too much of a compact, no-frills genre exercise to have much traction at awards time, but it's enough of a plucky, well-made lark to find an audience."
The Daily Beast's Marlow Stern noted the timeliness of Suburbicon, the strong performances from the entire cast, and the interesting story of the script's existence that bolstered the overall experience. "Clooney's film boasts ace lensing, courtesy of the legendary Robert Elswit (There Will Be Blood), that vividly captures this Pleasantville-esque suburbia, as well as top-notch turns all-around, including Damon and Moore as a pair in way over their heads, and child actors Noah Jupe and Tony Espinosa, in whose budding friendship lies hope for the future. Oscar Issac also pops up in the latter half as a prickly insurance claims investigator, chewing up the scenery," Stern wrote. "But the true engine of Suburbicon is its darkly satirical screenplay—one first written by brothers Joel and Ethan Coen in the '80s shortly after Blood Simple, and tweaked by Clooney and frequent collaborator Grant Heslov. Its twists and turns are aplenty, and with each passing sin, the hypocrisy of white supremacy is further exposed."
The Hollywood Reporter's David Rooney had mixed feelings about the movie, writing that it is overly aggressive from the get-go, a hard start that leads to its ultimate downfall. Still, Rooney made note of the Coen Brothers' influence on the film and mentioned that director Clooney adds a certain layer of enjoyability to the watching experience. "It's almost inevitable, while watching Suburbicon, that you find yourself wondering about the movie Joel and Ethan Coen might have made of it, had they gone ahead with their original script. Perhaps an anarchic comedy in the constantly surprising vein of Raising Arizona? Or a daring mix of grotesque violence and deadpan humor along the lines of Fargo?" wrote Rooney. "In the hands of director George Clooney, the material has some nasty charms, for sure. But it pushes too hard from the start, then steadily goes off the rails from dark to dyspeptic, lacking the originality, bite or tonal consistency to make up for dipping from a very familiar James M. Cain well. Its bigger problem is a timely subplot about virulent racism among white Americans that comes off as a mishandled afterthought."
Alonso Duralde at The Wrap was perhaps the most critical thus far, digging into Clooney's directorial style and the overall tone and approach of the film. "Clooney's directorial legacy won't get any help from Suburbicon, a garish and overblown crime melodrama that combines clumsy noir with lame jabs at 1950s suburban conformity and racism, two subjects whose satirical sell-by date are now decades past. (Is racism in the United States as toxic as ever? Absolutely. Is pointing out the existence of racism in the gleaming Eisenhower era the stuff of dramatic counterpoint or groundbreaking observation? Nope.) Written by Joel and Ethan Coen and Clooney and Grant Heslov, the film veers back and forth between the obvious and the ridiculous," Duralde said. 
Suburbicon currently has a 67 percent approval rating on Rotten Tomatoes, with four positive and two negative reviews (from Rooney and Duralde) booked at the time of writing. You can decide you think of Suburbicon when it's released on October 27. 
In the meantime, discover the other films we're certain will impress you later this year.