The Best Blue Bloods Season 4 Episode According To IMDb
The CBS police procedural drama "Blue Bloods" has followed a multi-generational family of law enforcement workers since 2010. The long-running series is currently in its twelfth season and continues to explore the personal and professional lives of the central Reagan family.
While "Blue Bloods" remains popular, many point to the early seasons as some of the most enjoyable. Season 4, with the exception of one episode, is ranked highly by viewers on IMDb. This season focuses on the additions of Detective Maria Baez (Marisa Ramirez) and Detective Eddie Janko (Vanessa Ray), who go on to become fan-favorite characters.
Every episode of Season 4 is ranked above a 7.4 out of 10 stars based on hundreds of ratings, but one episode stands out as the best among fans — mostly because it contains one of Detective Danny Reagan's (Donnie Wahlberg) best moments in the entire series.
According to IMDb, this is the highest-rated episode of "Blue Bloods" Season 4.
Blue Bloods fans love To Protect and Serve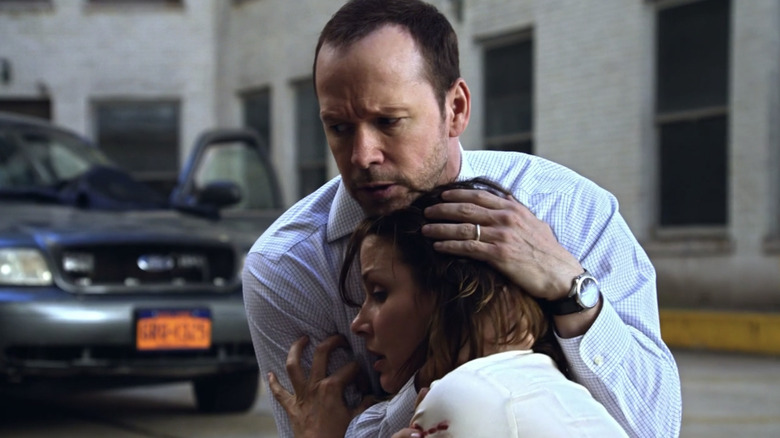 CBS
Episode 3, "To Protect and Serve," is a beloved episode of "Blue Bloods," so it's no surprise that it's also the highest-rated episode of Season 4. It received an 8.5 out of 10 stars based on nearly 400 ratings. One review praised the episode's ethical dilemmas and highlighted the "Please don't hurt my family" scene with Danny and his sister, ADA Erin (Bridget Moynahan).
"To Protect and Serve" follows the investigation and prosecution of a complicated case in which the murder suspect, Raoul Delgado (Armando Riesco), is also an informant for Homeland Security. During his court arraignment, Delgado takes Erin hostage and demands that Danny helps him escape the country. Their father, NYPD Commissioner Frank (Tom Selleck), is in the midst of a live interview when the scene unfolds and must monitor his reaction as a public official and their father.
Danny and Erin survive the tense hostage situation by cleverly deploying a Reagan family code phrase, and many fans consider this the season's best storyline.