Whatever Happened To Oliver From The Brady Bunch?
When "The Brady Bunch" made its debut on ABC's Friday night lineup in 1969, the cast included the lovely Carol Brady (played by Florence Henderson), her new husband Mike (Robert Reed), and their kids Greg (Barry Williams), Marcia (Maureen McCormick), Peter (Christopher Knight), Jan (Eve Plumb), Bobby (Mike Lookinland), and, the most adorable of the bunch, Cindy (Susan Olsen). The youngest Brady charmed viewers with her golden curls and noticeable lisp. In an interview with The Bigfoot Diaries, Olsen revealed that she landed the coveted role three days after her seventh birthday.
Five years later, Cindy and the other Brady kids had all hit puberty and beyond, so producers scrambled to bring in another cute blond kid. Enter Cousin Oliver, played by Robbie Rist, who scored the role after auditioning for a "Brady Bunch" spinoff pilot. "When the Oliver thing came along, they called me in and, from what I understand, anyway, called in about 500 other kids, and I won it," the actor told MeTV.
The previously unmentioned 8-year-old nephew of Carol Brady made his debut in the final episodes of the 5th season of "The Brady Bunch," and caused all kinds of trouble with dishes, hair tonic, and, quite possibly, the show's ratings. Rist only appeared in six episodes of "The Brady Bunch" and spawned the dreaded "Cousin Oliver Syndrome," a phrase that references child characters that ruined TV shows, per Entertainment Weekly. "The Brady Bunch" was canceled without warning at the end of Season 5 in 1974.
After the unexpected cancellation, most of "The Brady Bunch" actors couldn't get past their association with the show, but what about the kid who played their cousin?
Robbie Rist went on to have a prolific acting and music career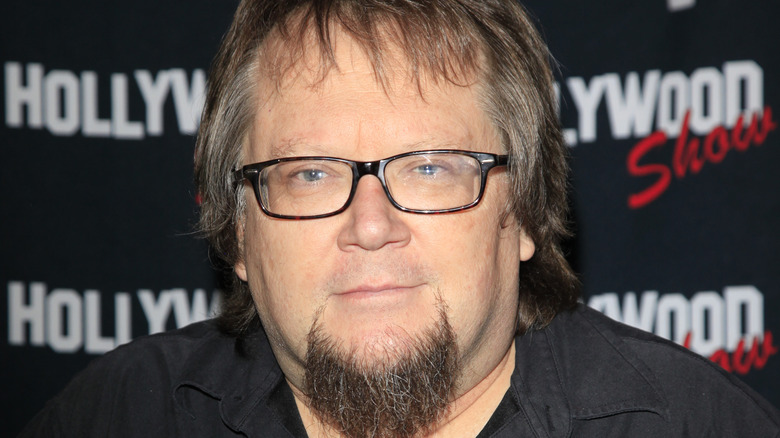 Joe Seer/Shutterstock
Nearly 50 years after Cousin Oliver wreaked havoc on "The Brady Bunch," Robbie Rist is still in the entertainment business. Gone is the blond bowl cut; Rist turned 58 years old in April 2022 and sports gray hair and a matching beard, as can be seen in photos on his Instagram page. His IMDb page lists a steady stream of post-Brady acting credits on shows like "The Bionic Woman," "One Day at a Time," "Knight Rider," and the campy horror flick "Sharknado," with his most recent role in the 2021 TV movie "Blending Christmas," which — surprise! — also featured cameos by several of his "Brady Bunch" co-stars.
Over the years, Rist also enjoyed a prolific career as a voice actor on animated series, including "Teenage Mutant Ninja Turtles," as well as several video games. In a 2015 interview posted by the Los Angeles Times, Rist also talked about his success as a musician with his band at the time, Ballzy Tomorrow. He told the outlet he played music his whole life, and it's just one more thing he does. "I don't really consider myself an actor or a musician." Rist explained. "I am just an entertainment guy. I do all the cartoon stuff, acting. I wrote commercials for a while. I produced a movie in 2006. I have a podcast called 'The Spoon,' and I have my band."