Is Nic Cage Really Like His Character In The Unbearable Weight Of Massive Talent?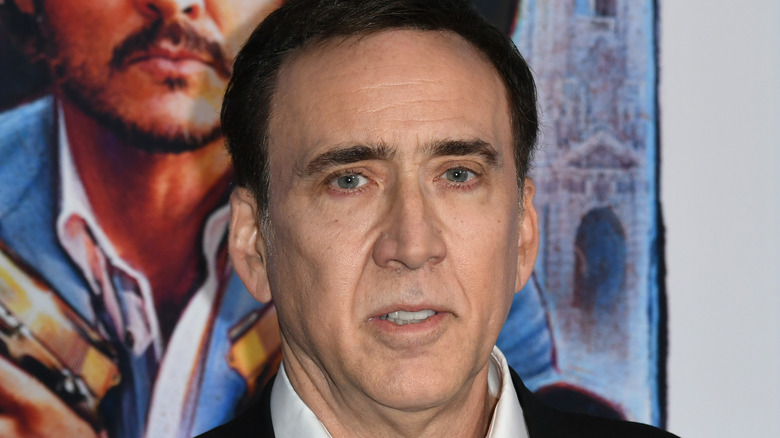 Jc Olivera/Getty Images
In "The Unbearable Weight of Massive Talent," Nicolas Cage takes on his most intriguing, visceral role to date — himself. Yes, the upcoming action comedy sees the prolific actor portray a fictitious version of himself who's forced to accept a $1 million payout to attend a birthday party invitation from a super fan. Things only get wilder when Cage is forced to work with the CIA to help get dirt on the super fan, a notorious arms dealer. 
It sounds like a kooky, absurd ride that plenty of Cage's fans will happily sign up for. But the question that inevitably arises is: How much of "Massive Talent" is based on the actual Cage, and how much is made up? Naturally, there are references to many of Cage's real-life movies, so this is obviously a version of Cage people will be familiar with to an extent. However, according to Cage himself, much of what audiences will see is fabricated for entertainment purposes.
Nicolas Cage doesn't swear as much as his character does
In a recent interview with The Hollywood Reporter, Cage ruminated on the myriad of differences between him and his persona in "The Unbearable Weight of Massive Talent." For starters, there's the matter of how Cage views family. Apparently, his character in the movie is more than happy to get away from his kid for a little bit, as he elaborates, "That is the biggest departure in [director Tom Gormican's] movie. I always put my family first, and I have turned down some enormous opportunities as a result of that."
What kind of opportunities has Cage turned away? Oh, just some little movies called "The Lord of the Rings" and "The Matrix." He was up for parts in both, but they both would've required him to take long stretches of time away from his family, which he wasn't okay with. And there was another facet of the role that required Cage to act outside of his comfort zone for the R-rated project: "I also said to Tom, 'I don't use that much profanity.' He's got me saying the F-bomb every other sentence. Where's this coming from? That's not me. He said, 'Neurotic [Nic] Cage is the best [Nic] Cage.'"
As such, if viewers ever meet Cage in public, it would be best to assume he's not like his character in "Massive Talent." He seems a lot more low-key in real life, and his meme-able performances are precisely that — a performance.