George R. R. Martin Teases Upcoming 'Winds,' But Not The Ones You're Waiting For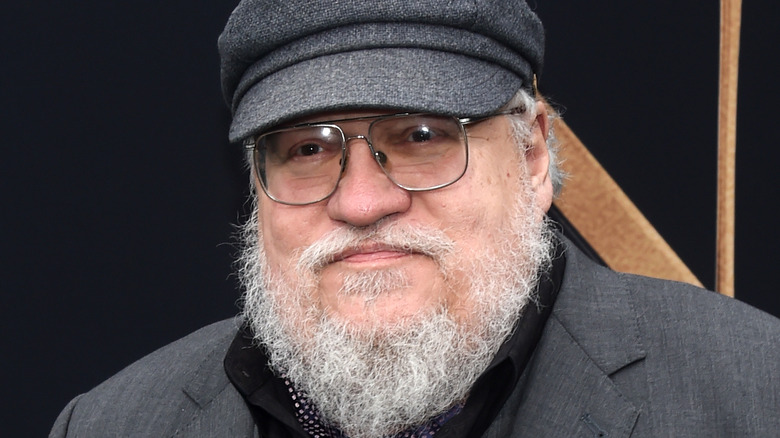 Amanda Edwards/Getty Images
George R. R. Martin fans have been waiting a long time for "The Winds of Winter," the highly anticipated sixth installment of the "Song of Ice and Fire" book series that inspired "Game of Thrones." The series' fifth installment, "A Dance with Dragons," was published way back in 2011, the same year that Season 1 of "Game of Thrones" aired on HBO. Ever since then, fans of Martin's work have been waiting in eager anticipation to see how "The Winds of Winter" will pick up where its predecessor left off and continue the story that Martin first began in 1996.
Unfortunately, it's still unclear when "The Winds of Winter" will actually be released. While Martin has provided occasional updates on the book's status over the years, his fans have grown used to waiting for it, while others have begun to question whether or not Martin will ever finish the novel.
Now, in a new post on his official website, Martin has provided an announcement about a project that definitely has the word "winds" in its title, but isn't the one that will first come to the minds of the author's fans. Instead, it's about a new TV show that, despite being a literary adaptation, is not based on any of Martin's own books.
George R. R. Martin executive produced Dark Winds
George R. R. Martin has shared some exciting news about "Dark Winds," a new original series that is set to premiere on AMC and AMC+ on Sunday, June 12. The series, which is executive produced by Martin, Robert Redford, Chris Eyre, Tina Elmo, and Graham Roland, follows a pair of Navajo police offers as they begin investigating a double murder in the 1970s. It is based on a series of books by Tony Hillerman, an author who Martin says was one of the "first friends" he made when he moved to New Mexico back in 1979.
The show's six-episode first season boasts an impressive ensemble cast, one led by "Doctor Sleep" and "Fargo" star Zahn McClarnon. The show's cast also includes Kiowa Gordon, Noah Emmerich, Jessica Matten, Deanna Allison, and "The Office" star Rainn Wilson. In addition to confirming the show's premiere date, Martin also shared the first trailer for "Dark Winds," which can be seen above.
All of this is to say that, while "Dark Winds" certainly isn't the project Martin's fans are most interested in hearing him talk about right now, the creative team behind it still makes it a title worth seeking out when it premieres. Of course, that probably won't come as much of a comfort to all the "Game of Thrones" fans out there who are still anxiously waiting to read "The Winds of Winter."