The Criminal Minds: Beyond Borders Character You Likely Forgot Paul Sorvino Played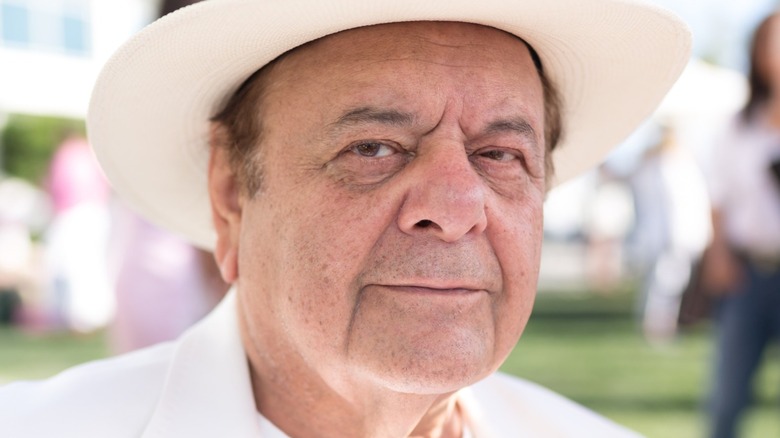 Greg Doherty/Getty
Paul Sorvino has long cast an imposing shadow on the world of acting — an impressive feat for an actor whose most well-known role didn't arrive until 1990. 
Sorvino's first on-screen appearance was in 1970's "Where's Poppa" alongside George Segal and Ruth Gordon. For the next twenty years, Sorvino would rack up small and supporting roles in a number of acclaimed films — including "The Panic in Needle Park" and the epic historical drama "Reds" — but in 1990, the actor secured his most iconic role to date starring as caporegime Paulie Cicero in Martin Scorsese's "Goodfellas." After "Goodfellas," Sorvino took on notable roles as Henry Kissinger in "Nixon" and the House of Capulet patriarch in Baz Luhrmann's contemporary Shakespearian film "Romeo + Juliet." 
He's also known for his work in "Law & Order." For 29 episodes, Sorvino played NYPD Sergeant Phil Cerreta, demonstrating his ability to play formidable authority across the legal spectrum. After leaving "Law & Order," Sorvino was replaced by Jerry Orbach, who would go on to become the face of the series. Sorvino's brief but potent tenure on "Law & Order" would prove to serve him well in future crime drama and procedural pursuits, the most recent of which was a guest role in "Criminal Minds: Beyond Borders."
Paul Sorvino played a murderous surgeon named Dominico Scarpa
Sorvino has gone on record lamenting his long-running association with the gangster stereotype. "It's almost my later goal in life to disabuse people of the notion that I'm a slow-moving, heavy-lidded thug, and most people's impression of me is that," he told Orlando Weekly. No disrespect to Mr. Sorvino, but he's just so darn good at it. And based on the roles he chooses, the actor must enjoy putting on his monstrous thug hat occasionally. Take the 2017 episode of "Criminal Minds: Beyond Borders," titled "Il Mostro." "Beyond Borders" may not have been a successful series in its own right — it was lambasted for rampant xenophobia and poor characterization – but for Sorvino fans, it's a fun one-off performance from the acting giant.
"Criminal Minds: Beyond Borders" follows the FBI's International Response Team as they travel around the world to investigate Americans tangled up in violent overseas crimes. In "Il Mostro," the team goes to Italy to question Dominico Scarpa. As Scarpa, Sorvino brings his roots to the fore with a thick Italian accent. The character is a prolific murderer and venerated surgeon hoping to live out his final days in peace as he succumbs to liver cancer, despite having killed over a dozen victims. Scarpa has his son, Onario Alighieri (Luca Malacrino), carry out new murders using his modus operandi. Unfortunately for Scarpa, his plan is foiled by Agent Seger (Alana de la Garza), who shoots Onario and sends Scarpa to jail, where he dies of cancer.
Despite Sorvino's sinister Season 2 contribution, even the storied actor couldn't keep "Criminal Minds: Beyond Borders" from cancellation. If the franchise's track record is any indication, even the most decorated of actors can't save a doomed "Criminal Minds" enterprise from the brink.