Are Tracy Spiridakos And Jesse Lee Soffer From Chicago P.D. Friends In Real Life?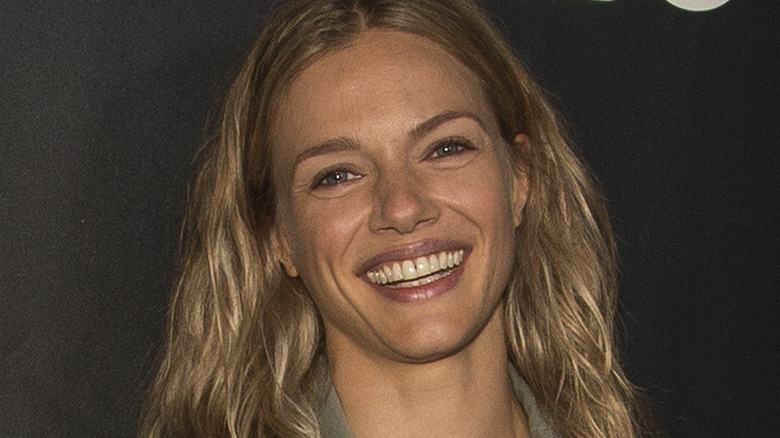 Barry Brecheisen/Getty Images
The crew from "Chicago P.D." has been through a lot over the years. They've worked tirelessly to keep the streets of Chicago safe from criminals and protect the lives of innocents. As of now, the show has nearly 200 episodes to its name, so it's safe to say the unit guarding the 21st district has had plenty of time to bond over the years. But the real question on the tips of fans' tongues is inevitably whether that bonding translated to off-camera, too.
"Chicago P.D." has been prime programming for NBC since 2014, and it shows no signs of slowing down any time soon. The series is currently on its ninth season, and NBC has already picked it up for a tenth. Some cast members have come and gone from the series over the years, but the current lineup is solid. Jesse Lee Soffer, who plays Detective Jay Halstead, has been with the show from the very beginning. He's joined in the current cast by Tracy Spiridakos, who plays Detective Hailey Upton. She joined the cast in a recurring capacity for Season 4 before becoming a regular cast member in Season 5. The two characters have gotten to know each other quite well, even getting married, but how close are Soffer and Spiridakos in real life?
Soffer and Spiridakos appear friendly in real life
Seeing how Soffer and Spiridakos have kissed and gotten close on "Chicago P.D.," it should come as no surprise to see them having a grand time on social media. Soffer uploaded a photo of himself and Spiridakos, as well as a couple of other "Chicago P.D." cast members, on Instagram with the caption, "Show of hands, who is as excited as we are that we're back on tonight??!"
That affection goes both ways, as Spiridakos has also posted plenty of pictures of the two on her Instagram, as well. That includes a series of photos of the two in a car while filming a scene for the show where the actress wrote, "I didn't agree with Jesse's photo choices...a series. Also, new episode of #ChicagoPD tonight!" She even wished him a happy birthday on a separate occasion. The two seem to get along swimmingly, and while photos only provide part of the story, you can actually watch the two actors show off their chemistry in an interview with Tell-Tale TV.
Spiridakos was even asked about what her favorite part of filming was, and she said, "It's so much fun. I mean, I love ... We get on so well together. We tease each other. We're all genuinely good friends, so it's just fun." Soffer even chimes in to describe the dynamic on the show as, "One big happy family." It sounds like the exceptional chemistry extends beyond those two, and everyone who's part of the "Chicago P.D." team has a ton of fun working on the show.