The Lisa Scene On The Simpsons That Went Too Far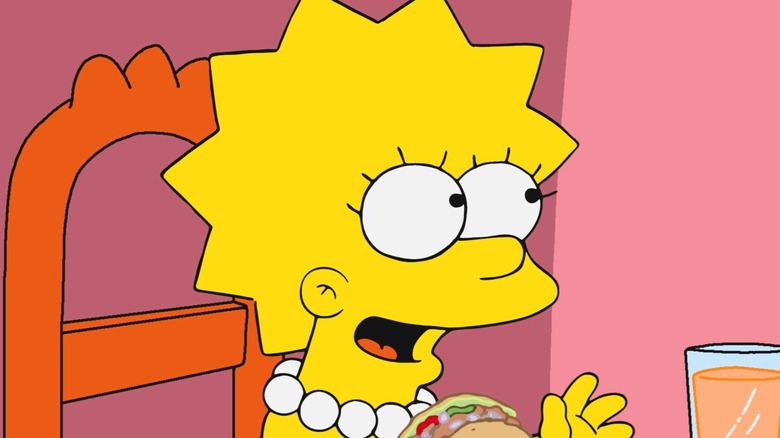 Fox
"The Simpsons" is inarguably one of the most notable shows in the history of television. Since its premiere in 1989, it has broken records for the longest-running sitcom and longest-running animated series, in addition to setting marks with its 800-plus guest stars and 20 Emmy awards, more than any other animated series (via Guinness World Records). In their joint project "TV: The Book," Matt Zoller Seitz of Vulture and Alan Sepinwall of Hitfix chose "The Simpsons" as the best show ever, as did Gregory Wakeman of the UK newspaper Metro and the readers of the Spanish newspaper MARCA. 
In their book, Seitz and Sepinwall wrote that the show "went to more places — tonally and topically as well as geographically — tackled more issues, and told more jokes about more subjects than any comedy has before or since, and at its peak (roughly seasons 3–12) did it better than anyone else." Unsurprisingly, the writers specifically mentioned Lisa Simpson as a particular standout in the series. Of all the members of the beloved yellow-hued clan, Lisa is often thought of as the most intelligent and socially minded. She regularly leads crusades for animal rights and environmental causes, and often her perceptiveness and ability to cut directly to the heart of an issue combine to make for a memorable and powerful mini-speech (via Quote Catalog).
However, in one Season 29 episode, "The Simpsons" addressed its most problematic characterization in a very clumsy way, using the show's most progressive and open-minded character in a particularly ham-fisted manner.
Lisa addresses the Apu controversy with a preachy and out-of-character speech to the audience
In Season 29, Episode 15 ("No Good Read Goes Unpunished"), the show's writers and producers addressed the budding controversy about white actor Hank Azaria's portrayal of Indian shopkeeper Apu Nahasapeemapetilon by having Marge share a classic story from her own childhood with Lisa. After discovering problematic passages in the book, Marge makes her own edits.
Lisa notes that Marge's revised main character, Clara, "starts out pretty perfect. But since she's already evolved, she doesn't really have an emotional journey to complete. Kinda means there's no point to the book." Marge asks what she should have done, and Lisa turns and addresses the camera to deliver a defensive sermon on behalf of the show's creative forces, saying, "Something that started decades ago and was applauded and inoffensive is now politically incorrect. What can you do?" Marge tells her "Some things will be dealt with at a later date," and Lisa responds, "if at all" and the pair give the camera a very long, glum look.
The scene is preachy, forced, and out of place. The moment is clumsy and uses the show's only true progressive voice to defend its most problematic characterization. Azaria later apologized, and the show recast Apu and other characters of color that had been portrayed by white actors (via The Hollywood Reporter). But in this moment, the show's creators — and Lisa, its most sensitive character — were obnoxiously and needlessly defiant.