Richard Anderson, The Six Million Dollar Man Actor, Dies At 91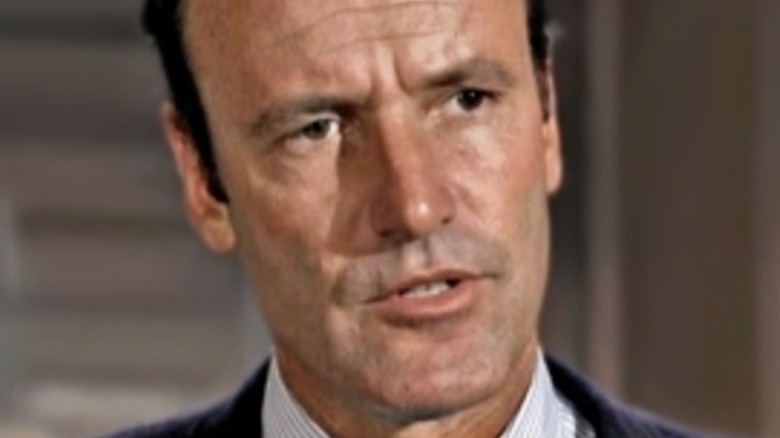 Richard Anderson, the actor known for his role as Oscar Goldman in the hit 1970s series The Six Million Dollar Man and The Bionic Woman, died on Thursday, August 31, Deadline has confirmed. He was 91.
Born in Long Branch, New Jersey in 1926, Anderson was brought up in New York City until he was 10 years old. Then, his family packed up and headed for California. Anderson served in the U.S. Army during World War II later in life. After his military duty days came to a close, Anderson enrolled in the Actors Laboratory in Los Angeles, which later became the Actors Studio in New York.  
Anderson's work in entertainment spanned across over 180 film and television appearances over six decades, a long-standing career that began when he worked as a messenger at MGM. 
The actor will perhaps be best remembered for playing Goldman, the handler of the bionic duo Steve Austin and Jaime Summers, portrayed by Lee Majors and Lyndsay Wagner, respectively. The Six Million Dollar Man spun off into Bionic Woman, and together, the series ran for 150 episodes and sparked a number of television movies—two of which Anderson produced. Anderson even made the rare move of starring in both series at the same time during a two-season span. 
Co-star Majors said of Anderson, "I met Richard in 1967 when he first guest starred on The Big Valley — we worked together on five episodes. In 1974, he joined me as my boss, Oscar Goldman, in The Six Million Dollar Man. Richard became a dear and loyal friend, and I have never met a man like him. I called him 'Old Money.' His always stylish attire, his class, calmness and knowledge never faltered in his 91 years. He loved his daughters, tennis and his work as an actor. He was still the sweet, charming man when I spoke to him a few weeks ago. I will miss you, my friend."
Wagner expressed heartfelt sentiments in light of Anderson's passing: "I can't begin to say how much I have always admired and have been grateful for the elegance and loving friendship I was blessed to have with Richard Anderson. He will be greatly missed."
Beyond his work on The Six Million Dollar Man and Bionic Woman, Anderson was a noted character actor, playing everything from cops, doctors, and government officials to cowboys and wanted criminals. Anderson's film credits include the sci-fi pic Forbidden Planet, John Frankenheimer's Seven Days in May, Stanley Kubrick's Paths of Glory, Martin Ritt's The Long Hot Summer, and John Sturges' Escape from Fort Bravo. On the small screen, Anderson popped up in Gunsmoke, Hawaii Five-O, Dynasty, Dan August, Bonanza, Ironside, Perry Mason, The Man from U.N.C.L.E., The Fugitive, Charlie's Angels, Daniel Boone, The A-Team, and Murder, She Wrote.
Anderson was married to Carol Lee Ladd for one year, from 1955 to 1956, later marrying Irving Thalberg and then Norma Shearer's daughter Katherine Thalberg from 1961 to 1973. He is survived by his three daughters with Katherine: Ashley Anderson, a real estate agent; Brooke Anderson, a onetime UN ambassador; and Deva Anderson, a Playtone music supervisor.
Ashley Anderson said of her late father, "Our dad was always there for us and showed us by loving example how to live a full and rich life with gratitude, grace, humor and fun." 
He will be missed.