Nathan Fillion Rallies Troops For Battle In Insane Destiny 2 Live-Action Trailer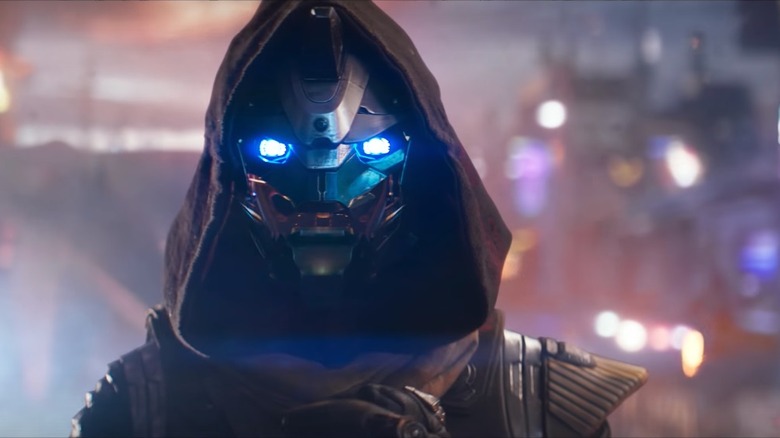 Bungie
Everything you love about Earth is gone in the rollicking live-action trailer for Bungie's Destiny 2, and star Nathan Fillion can tell you exactly why—as well as give you all the motivation you need to fight back.
Fresh off of the success of his creature feature Kong: Skull Island, director Jordan Vogt-Roberts put together this stunning live-action trailer for the upcoming shooter sequel. In it, Destiny character Cayde-6 (voiced by Fillion) runs down the new threat facing Earth: a diabolical rhinoceros named Ghaul. (Naturally.)
It's not the first time the franchise has turned to big-time Hollywood talent to produce its commercial campaigns, with Iron Man director Jon Favreau directing the spot for the first Destiny. In an interview with The Hollywood Reporter, Vogt-Roberts discussed what motivated him to follow up a major studio movie with a video game commercial, as well as the lessons the experience gave him for his upcoming film adaptation of the video game series Metal Gear Solid.
"I'm so proud of the collaborations with Kong, but that was a quarter of a decade, essentially, so I wasn't looking to jump into a project right away," said Vogt-Roberts. "I was sort of looking at commercials and TV stuff. This sort of randomly came up, and I was joking, 'Well, I love comedy, I love sci-fi and I love video games, so this is sort of a perfect combination.'"
In preparation for the live-action film shoot, Vogt-Roberts visited Bungie's Seattle headquarters, where he avidly dove into the lore of the game series. "It's rare to get in the attic, in the spider webs, of somebody else's creation. It was such a nerdy, great experience. Those guys are all such masters."
Vogt-Roberts also told THR that the experience in adapting an active gaming experience into a passive viewing experience gave him vital insight into how he should approach the material for his Metal Gear movie, still in development. "Metal Gear is an infinitely tricky project, and there's a billion ways to go wrong with that," Vogt-Roberts said, to the agreement of probably everyone who's ever played the series. "Every little experiment is ultimately going in that reservoir of knowledge of how to protect an equally important property to people."
Destiny 2 will be released on consoles on September 6, with a PC release following on October 24. Check out the Beastie Boys-scored trailer above, and check out our feature on these valuable PlayStation games that might be sitting in your closet.