The Best Bensler Moment In Law & Order: SVU Season 22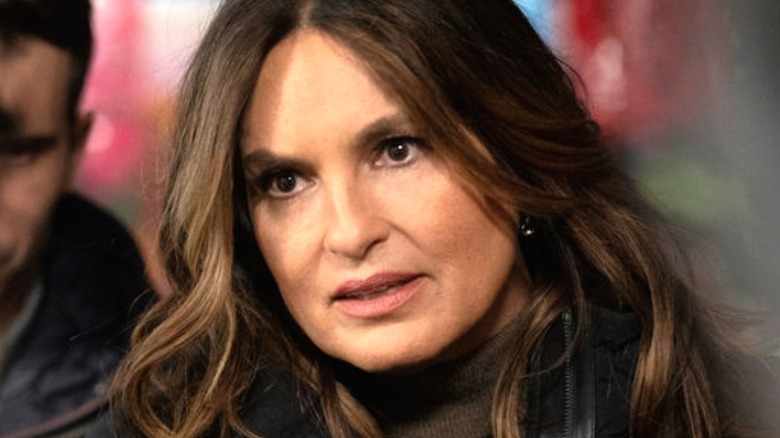 Virginia Sherwood/NBC
They might have one of the most recognizable nicknames on television, but somehow they still aren't a couple. Olivia Benson (Mariska Hargitay) and Elliot Stabler (Christopher Meloni), aka Bensler, were one of the great television drama duos of the early aughts. Their will they, won't they storyline ended abruptly when Meloni departed "Law & Order: Special Victims Unit" after Season 12. Diehards of the series were devastated, as they spent over a decade hoping for a romantic relationship between the two. Sure, there were some viewers who didn't want them together, but it seemed like a vast majority had their fingers crossed.
Bensler had so many great moments together throughout those first 12 seasons of "Law & Order: SVU." From their nearly nude embrace in Season 10, Episode 7 ("Wildlife") to that hug in Season 9, Episode 9 ("Paternity"), the duo certainly has kept us wanting more. Meloni returned to the "Law & Order" universe in 2021 with a bombshell appearance on the 22nd season of "SVU." His comeback proved difficult for Stabler and Benson to navigate, and the season was full of tense moments — but only one can be labeled as Bensler's most memorable.
The prodigal son returns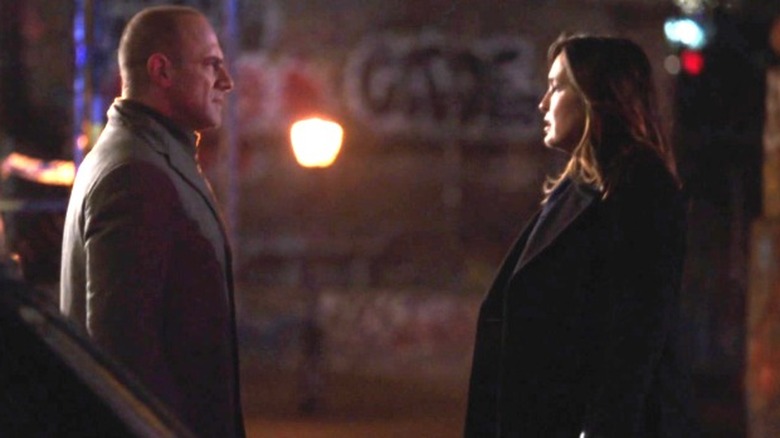 NBC
This one should come as no surprise as Olivia and Elliot's most memorable moment of "Law & Order: SVU" Season 22 came in Episode 9 ("Return of the Prodigal Son"). It had been 10 long years without a Bensler moment, or even the promise of one at that. So the second Olivia and Elliot come face to face in the show's cold open, one of the great Bensler moments is born. The pair haven't seen each other in a decade, and they battle with not just the emotions of their reunion but the fact that Kathy Stabler (Isabel Gillies) is fighting for her life after being the victim of a car bomb.
As Kathy is loaded into the ambulance, Elliot screams out, "Liv," and you can see Olivia's soul leave her body. She whispers her old partner's name, and the two approach one another but don't embrace. The moment is so tense and jaw-dropping, which says a lot given everything we've witnessed over the years on "SVU." This moment is the beginning of Bensler 2.0, and while Season 22 was not smooth sailing for the duo, it looks like clear skies are ahead — we think.