Denzel Washington Suits Up For Justice In First Photos From Roman J. Israel, Esq.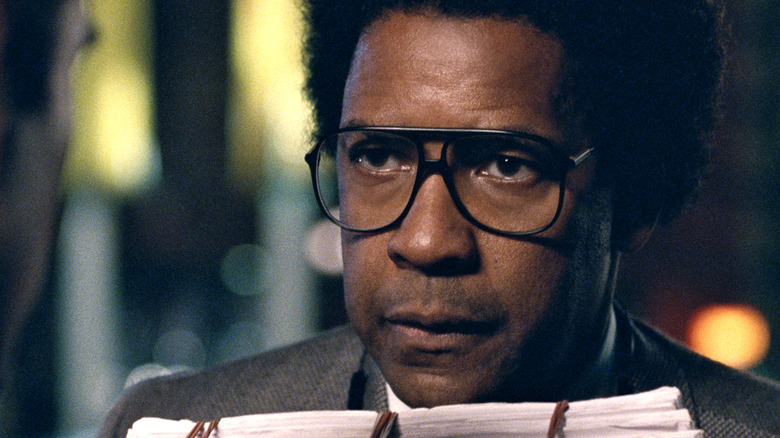 Columbia Pictures
Denzel Washington is checking in for work as Roman J. Israel, Esq., as we get our first look at photos of the actor's unique look in the upcoming feature.
The film, which was previously titled Inner City, is the second feature from writer-director Dan Gilroy, who made waves in 2014 with his gripping, Jake Gyllenhaal-starring examination of a ladder-climbing sociopath, Nightcrawler. Gilroy also wrote the screenplay for director Jordan Vogt-Roberts' Kong: Skull Island.
According to reviews of the script, Washington will play the lead character Roman Israel, a brilliant, idealistic, but socially awkward defense attorney with an impeccable legal mind who gets wrapped up in some criminal scheming that may be far too much for him to handle. The photos reveal Washington to look, uncharacteristically, like a pretty big dork, so that socially awkward sum-up is probably spot-on. 
While not too much is known about the plot of the feature, based on the tour-de-force of Nightcrawler, excitement for Roman J. Israel, Esq. is pretty high. It'll be interesting to see what kind of performance Gilroy will get out of the two-time Academy Award-winning actor when the film opens in limited release on November 3, followed by a wide release on November 10. Prior to its release, the movie will have its world premiere at the Toronto International Film Festival in September.
Check out the photos from the film below, and read all about the famous role that Washington turned down in our feature on famous movie roles actors were too afraid to take.