The Season 10 Joe Cruz Storyline On Chicago Fire That Highlights A Dick Wolf Trend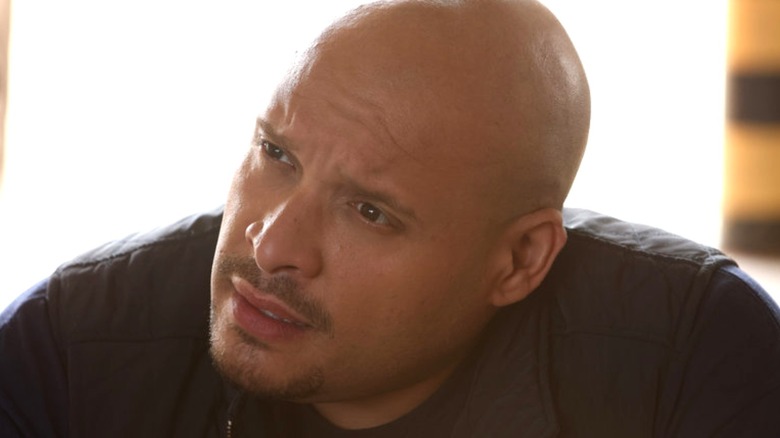 Adrian S. Burrows Sr./NBC
Series in the Dick Wolf catalog definitely have a unique feel to them. Compelling storylines on both an episodic and seasonal scale and memorable characters keep the viewers coming back year after year. The master producer and show creator also creates universes with ease, with sister shows working alongside one another with occasional and much-loved crossover events. These are just some of the factors that make a Wolf property recognizable.
Recent events on "Chicago Fire" have also highlighted a trend that Wolf series seem to adopt. In Season 10 of the NBC series, Joe Cruz (Joe Minoso) saves three immigrant children during an apartment fire, and he bonds with one of the little boys named Javi (Carlos S. Sanchez) right off the bat. The kids were staying with a volunteer who helps immigrant children without family, but three were too many for her. With the approval of his very understanding wife, Chloe (Kristen Gutoskie), Joe decides to volunteer to bring Javi home with him while a search for the young boy's family is conducted. That search dead ends, as Javi doesn't appear to have any relatives in the states. So what do Joe and Chloe do? They tell Javi he can stay with them seemingly indefinitely. It looks like the family of three will soon become four, and we sense an official adoption on the way. Smell familiar?
Dick Wolf characters have an itch to adopt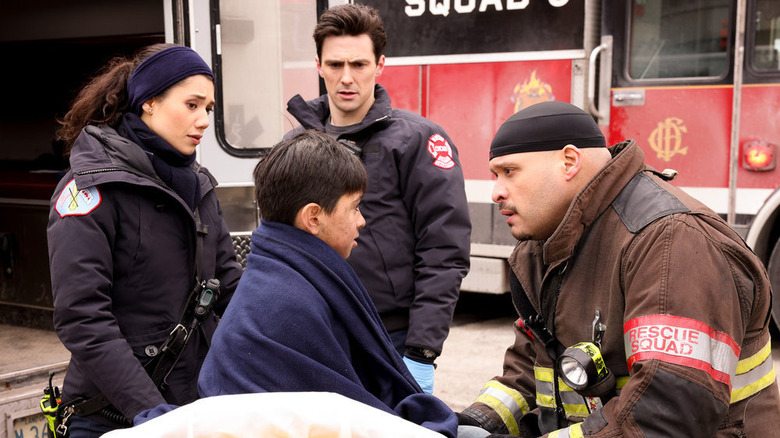 Adrian S. Burrows Sr./NBC
Ah yes, the public servant who adopts or fosters a helpless child. It's a tradition we've seen time and time again in the Dick Wolf world. Joe is hardly the first main character of a Wolf-produced series to do so. "Law & Order: Special Victims Unit" fans know Olivia Benson (Mariska Hargitay) adopted Noah (Ryan Buggle) in the Season 15 finale of the series after the death of his parents. Gabby Dawson (Monica Raymund) made it her mission in Season 5 of "Chicago Fire" to adopt Louie, a young boy she rescued from a fire at the end of Season 4. She and then-partner Matt Casey (Jesse Spencer) foster Louie for some time, but their hearts are broken when Louie's birth father shows up and is granted full custody.
Over on "Chicago Med," nurse Maggie Lockwood (Marlyne Barrett) falls for recurring patient Auggie Roberts (Christopher Farrar), who needs a home, so she and her husband Ben decide to foster him. The two eventually decide to officially adopt Auggie before his half-brother's adoptive parents track him down. Maggie decides to let him go, not wanting to keep Auggie away from a blood relative.
But wait! There's more. What loyal "One Chicago" fan could forget the current struggles of definitely-not-a-couple Kim Burgess (Marina Squerciati) and Adam Ruzek (Patrick Flueger)? Kim officially adopts Makayla (Ramona Edith Williams) in Season 8 and raises her with Adam (when she feels like including him).
While these storylines can be fun for the viewers, it's definitely a trend that we no longer need to see in the Dick Wolf world. It's hardly believable at this point, and while we're happy for the kids, it can cause major problems for the main characters — like Kim and Adam.