Saul Goodman's Best Moment In Better Call Saul Season 4
Season 4 of AMC's hit drama "Better Call Saul" meets the "Breaking Bad" spin-off and prequel in a precarious place.
It's the first season of the show that takes place after Chuck McGill's (Michael McKean) death from a house fire, and therefore spends much of its time showing how the character's death affects Jimmy McGill (Bob Odenkirk), Kim Wexler (Rhea Seehorn), and Howard Hamlin (Patrick Fabian), Chuck's former law partner. Season 4 tracks Jimmy's final descent into taking on the Saul Goodman persona in his work as an attorney once he is allowed to practice law again, while Mike Ehrmantraut (Jonathan Banks) sinks deeper into working for Gus Fring (Giancarlo Esposito), who starts building the meth lab that Walter White (Bryan Cranston) and Jesse Pinkman (Aaron Paul) work out of during "Breaking Bad."
"Better Call Saul" Season 4 also moves the needle in a major way for the series by introducing Lalo Salamanca (Tony Dalton) as the long-speculative character who Saul refers to when Jesse and Walt kidnap him and first retain his services all the way back in "Breaking Bad." Lalo's arrival to take over the Salamanca business north of the U.S. border corresponds with Gus taking on Nacho (Michael Mando) as a double-agent against the Salamancas, further careening this prequel series to its endgame.
Despite the amount of pivotal events that go down in the "Better Call Saul" timeline in this season, though, Saul Goodman's best moment in the season actually comes several years ahead of Jimmy's journey through much of its episodes.
Saul Goodman leaves his office for good in a flash-forward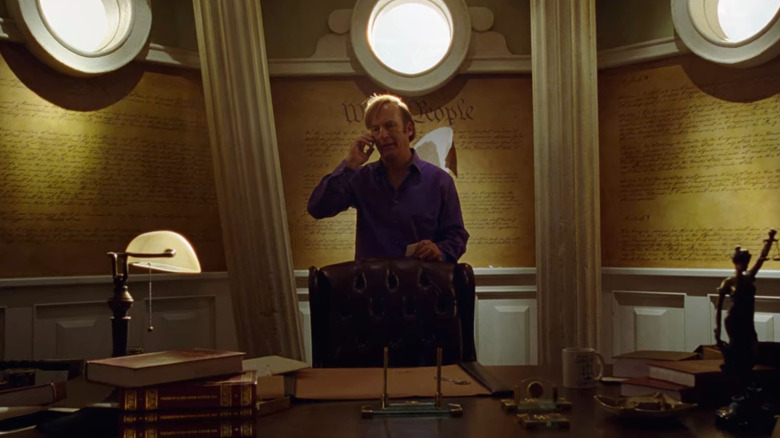 AMC
The "Better Call Saul" Season 4 episode "Quite a Ride" opens with a nearly unprecedented scene for the series: a flash-forward sequence to a scene that takes place during "Breaking Bad." 
In this scene, Saul Goodman breaks walls to retrieve hidden cash and hands his secretary, Francesca (Tina Parker), a business card for an attorney to turn to when police track her down and start asking questions; he specifically tells Francesca to tell these lawyers that Jimmy, not Saul, sent her their way. Saul and Francesca also speak about an event on November 12 at 3 p.m. in which he expects her to take a call specifically at that time, but they don't reveal exactly where Francesca is planning to take that call from. The episode takes its title from this scene, as Saul tells his longtime secretary Francesca that they've had quite a ride together before she leaves the office for good, and Saul calls Ed the Disappearer (Robert Forster) to order a new vacuum repair and says his situation is red-hot.
An Entertainment Weekly piece identifies this scene as taking place sometime between "Breaking Bad" Season 5 episodes "Ozymandias" and "Granite State." In the same piece, Bob Odenkirk confirms that fans will see what happens on Nov. 12 at 3 p.m. and that "Better Call Saul" will visit the "Breaking Bad" era again — making these moments even more tantalizing ahead of the final season of "Better Call Saul."