Star Wars: Force Friday II Toys Revealed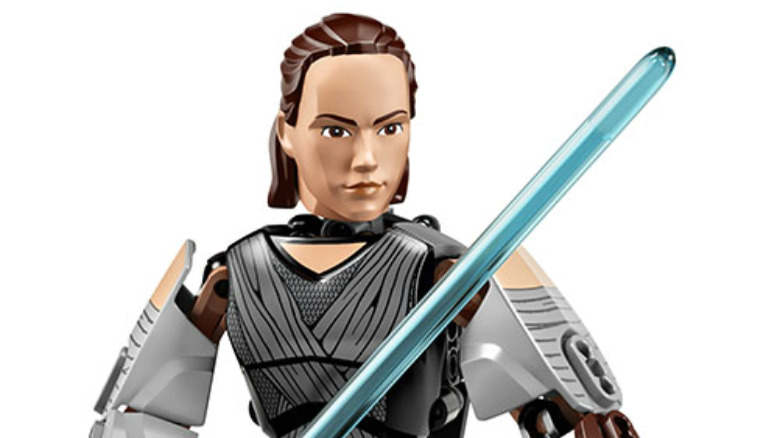 Hasbro
If you want to snag the coolest new toys from Star Wars: The Last Jedi, you'll need a personal day and all the strength and speed of a Jedi. It'll probably help if you've got a bounty of expendable income, too.
Force Friday II is tomorrow (Sept. 1), and that's the day that toy companies unleash their new Star Wars lines upon the world. The merchandising blitz begins at midnight, and the new items aren't just awesome (and, in some cases, expensive), they also give us a peak at what to expect long before the movie hits theaters on Dec. 15. 
Disney, Hasbro, Lego, Toys"R"Us, and other companies are doing giveaways, treasure hunts, and midnight madness events, so it'll be much more than an average trip to the store. Lucasfilm also launched an augmented reality experience that will allow fans to use their phones to reveal characters from the upcoming movie right there in the store at more than 20,000 retailers in 30 companies. 
Take a look at some of the offerings that will be coming out below.
Hasbro 3.75-inch Action Figures
They're classics in the world of Star Wars and they just keep getting better. The first wave of Hasbro action figures, which have five points of articulation, will feature major heroes and villains from The Last Jedi, including Luke Skywalker, Rey, Finn, Poe Dameron, Kylo Ren, General Hux, and newcomer Rose. They'll run you about $8 each.
There will also be deluxe two-packs available. One features Rey and Elite Praetorian Guard, and another is based on The Empire Strikes Back with Han Solo and Boba Fett. They'll be $15 each.
BB-8 Mega Playset
After you've got your 3.75-inch action figures, you'll need somewhere to keep them (if they're not in an elaborate display case). This huge playset shaped like BB-8 opens and transforms into massive Star Wars Destroyer playset with multiple levels and three Force Link areas that play sounds and dialogue. It also comes with two exclusive figures: Supreme Leader Snoke and an Elite Praetorian Guard. Buckle up for the price tag, however, as it'll run you $180.
The Last Jedi: The Black Series
Hasbro's Black Series ranks right up there among the top draws on Force Friday. The prestigious line features six-inch figures that are intricately detailed, and another line of 3.75-inch figures that come in bundles. The Hollywood Reporter points out that the six-inch First Order Stormtrooper Executioner figure, which will be exclusively available at Target, will retail for $19.99, while the Amazon-exclusive First Order Stormtrooper with a ton of accessories will cost $34.99. Toys"R"Us will sell a Black Series Admiral Ackbar and First Order Officer two-pack for $39.99.
The 3.75-inch figures come in an assortment pack with Luke Skywalker, the Elite Praetorian Guard, Resistance Tech Rose, and the Stormtrooper Executioner. You can find those exclusively at Walmart for $12.99.
Funko Pop! Vinyls and Plushes
The hugely popular Funko line wouldn't miss out on The Last Jedi. There will be a full line of bobbleheads including Rey, Luke, Leia, Snoke, Poe, Finn, Rose, and Chewbacca for $12 each. If you need something a little cuddlier, there will also be plush toys of Rey, the evil droid BB-9E, and the adorable new Porgs for $10 each.
Disney Elite Series Die Cast Figures
Available only at The Disney Store, this line of metallic, poseable 6-inch action figures will return for The Last Jedi. The new figures include Luke, Rey, R2-D2, Kylo Ren, and the Praetorian Guard, along with a First Order Executioner who carries a spiked axe.
Interatech Kylo Ren
This 12-inch figure of Kylo Ren features 65 light and sound effects that activate based on how you play with him. It's officially the future. If you wave him around, you'll hear his lightsaber. Put his helmet on and you'll hear him make threats in a muffled voice. It's surprisingly affordable at $30.
The Last Jedi: LEGO sets
Lego is another company that always makes sought-after Star Wars toys. This year, there will be a diverse array of offerings (via The Hollywood Reporter), from a 780-piece set featuring Poe Dameron and Vice Admiral Holdo in a Resistance Bomber for $109.99 to a massive 1,416-piece First Order Star Destroyer, which will retail for a wallet-busting $159.99.
There's also a really sweet 1,106-piece BB-8 set, a 1,376-piece First Order Heavy Assault Walker, and buildable figures of Rey, Chewbacca, an Elite TIE Fighter Pilot, and an Elite Praetorian Guard.