The Most Heartbreaking Mare Moment From Mare Of Easttown
Realistic, heartfelt, and thought-provoking, HBO's "Mare of Easttown" shows a different side of the murder mystery formula. Though HBO has had successful detective shows before, the recent limited series demonstrates an entirely new perspective. Starring Emmy winner Kate Winslet as the titular detective, "Mare of Easttown" examines grief through the lens of a small town. Taking place in the Delaware County area of Easttown, PA, mastering the difficult Delco accent was just one of the challenges that the production underwent (via Slate). In an article for The New York Times, Winslet was adamant that her character be a realistic version of a 40-something woman, and so she resisted the common practice of airbrushing and glamorizing her character unnecessarily.
These are just some of the elements that make the series feel so realistic. But the main aspect that makes "Mare of Easttown" truly remarkable is its handling of the repercussions of loss. Everyone has been touched by trauma in their own way, with no character coming out unscathed by the ending of the series. This makes certain that there are many heartbreaking moments in "Mare of Easttown." But without a doubt, the moment that is the most devastating affects multiple people at the heart of Mare's story.
Mare is forced to face her and Siobhan's trauma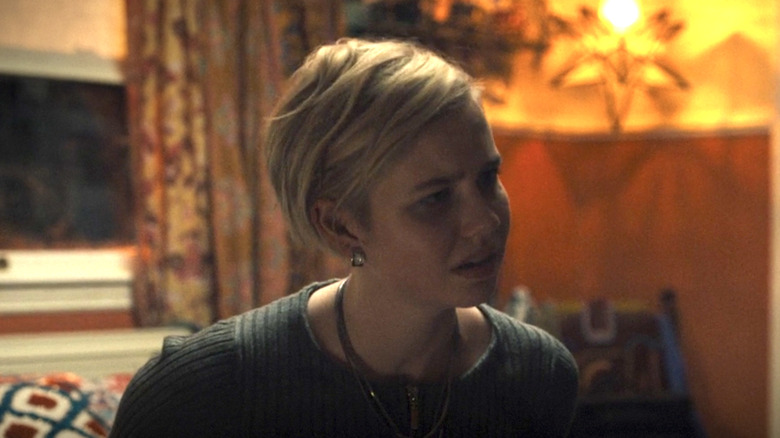 HBO
At the center of the mystery, "Mare of Easttown" revolves around the fallout of a family tragedy. The death of Mare's son Kevin (Cody Kostro) by suicide destroys Mare and almost all of her relationships. But while this is heart-wrenching on its own, what is even more devastating is how it affects Mare's daughter Siobhan (Angourie Rice).
In the penultimate episode of the series, the audience comes to understand what is really so wrong with Mare and Siobhan's relationship. After coming home intoxicated one night, Siobhan breaks down, revealing that she is the one to find Kevin after his death. Though there are many heartbreaking moments in the limited series, this is the scene that lays out the characters' souls to bare. The heart of the family's conflict is Kevin's death and how everyone grieves in their own way, but it is arguably the worst for Siobhan.
She is a child and has to discover her brother's death in the most brutal way possible. As both Kevin and Siobhan's mother, Mare should be sheltering her daughter from significant trauma. Instead of healing from this event, Mare doesn't talk about Kevin at all, leaving Siobhan to feel the loss of her mother as well as her brother. When Siobhan tells Mare, "You should've been the one to find him!", Mare finally understands how deep this grief goes.
If you or anyone you know is having suicidal thoughts, please call the National Suicide Prevention Lifeline​ at​ 1-800-273-TALK (8255)​.