In Killing Eve, One Episode Stands Above The Rest
Over the course of its four seasons, "Killing Eve" hit more than its fair share of shocking highs and lows. The show's first season, which was overseen by "Fleabag" creator Phoebe Waller-Bridge, premiered in 2018 to overwhelmingly positive reviews from critics and fans alike (via Rotten Tomatoes). The three seasons that followed it, however, were all run by different writers (via The Hollywood Reporter) and, as a result, were met with varying levels of praise. The series finale of "Killing Eve," in particular, received an overwhelmingly negative reaction from both critics and the show's longtime fans.
Despite the unevenness of its latter seasons, "Killing Eve" still managed to deliver a surprisingly high number of beloved and acclaimed episodes during its time on the air. It's for that reason that "Killing Eve" fans are able to so easily name a handful of their favorite episodes of the show when discussing it online, and it's why the series' legacy will likely live on in spite of its lackluster conclusion.
With all that said, now that "Killing Eve" has finished telling its story, it's worth taking a look back at the show's run and determining which of its episodes is its best.
You're Mine struck a chord with Killing Eve fans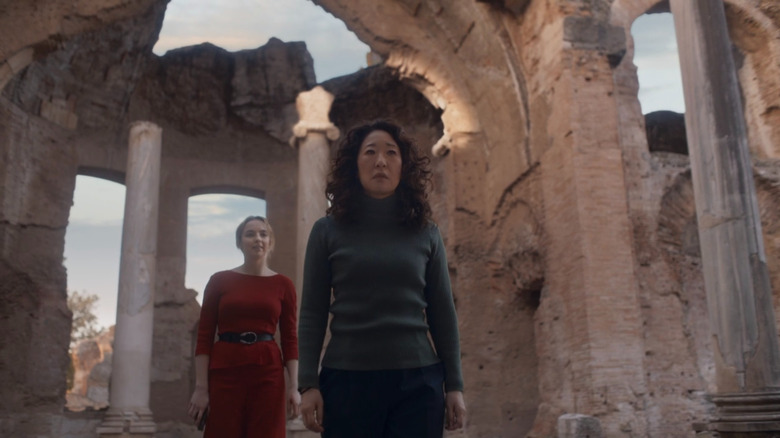 BBC America
There are many memorable "Killing Eve" episodes that could rank as the show's best, whether it be the Season 1 installment in which Eve (Sandra Oh) and Villanelle (Jodie Comer) share their first real encounter together or the latter's standalone trip home to Russia in the series' third season. That said, the episode that actually ranks as the show's highest-rated installment on IMDb is none other than its Season 2 finale. The episode, titled "You're Mine," currently holds an impressive 8.7 average rating out of 10 on IMDb.
When looking back on the show's episodes, it's easy to see why "You're Mine" is still as well-regarded as it is today. The episode, which was written by "Promising Young Woman" filmmaker Emerald Fennell, brings Eve and Villanelle's relationship to an interesting point. Several violent encounters throughout the episode force Eve to move further into the brutal and bloody world that Villanelle inhabits only for Eve to panic in the installment's closing moments and try to reverse her decisions. Eve's desire to go back to the world she's always known, unfortunately, does not sit well with Villanelle, who shoots Eve in the back just moments before "You're Mine" cuts to black for the last time.
The episode made a mark on "Killing Eve" fans. In a Reddit thread dedicated to discussing their favorite episodes of the show, one user mentioned "You're Mine," writing, "I'm OBSESSED with the tension of the last scene. Eve denying her feelings, [Villanelle] confusing possession with love. It's what eventually led them to understand their feelings for one another." In a separate thread, another fan similarly wrote that the show's Season 2 finale is "really strong and beautifully filmed."