15 Best Golf Movies Of All Time Ranked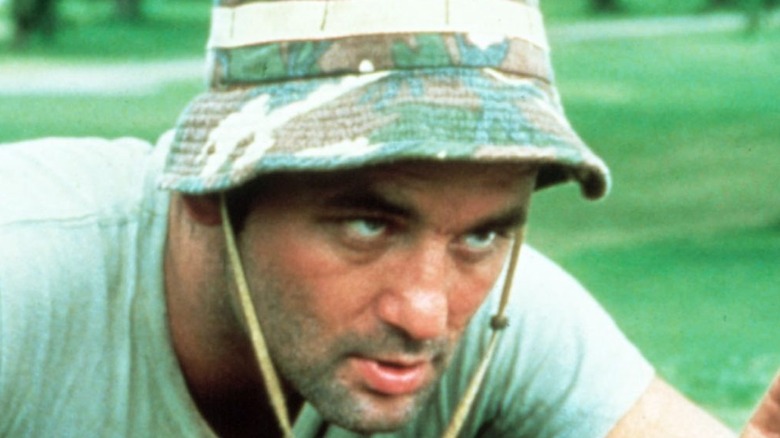 Warner Bros.
Golf itself is not for everyone. Many see it as a sluggish hobby that requires too much skill, too much attention, and too much patience to play and fully enjoy. In their eyes, a better option than playing (or even watching golf on television) is watching a movie about golf; the sport lends itself to cinematic depictions of cinderella stories, drama measured in inches, and humor over grown-ups taking such an infuriating game seriously.
These movies might be biopics, documentaries or comedies, and although other sports may sometimes feel more action-packed and therefore intrinsically cinematic, the sport is every bit as likely to yield a "Rocky," "Slap Shot," or "Bad News Bears" when writers, directors and actors harness the charms of the game.
Nevertheless, decent golf movies can be hard to find. In an effort to help, below is a ranking of the very best.
15. Bobby Jones: Stroke of Genius (2004)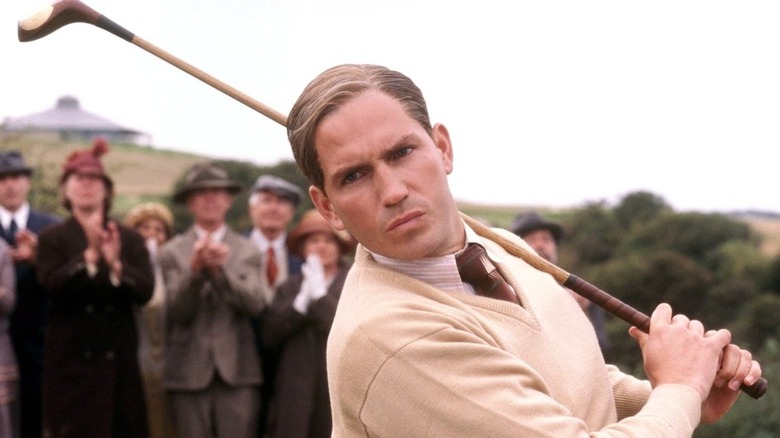 Film Foundry Releasing
The early to mid 2000s saw a resurgence of golf movies, among them this Jim Caviezel-starring biopic about the first (and so far only) player to win all four major golf tournaments in the same year.
It's 1930, and no golfer can approach Bobby Jones, one of the most important figures within the sport; the film tracks his career from humble beginnings as a mere observer to a promising talent who'll win high-profile tournaments while a mere teenager against veteran players like Walter Hagen. As the young man's interest in the sport wanes and a career in law replaces it, he challenges himself to win all four major golf championships (the Amateur Championship, the U.S. Amateur, the Open Championship, and the U.S. Open) before hanging up his nine-iron for good at the age of 28.
Admittedly, "Genius" is more targeted towards hardcore golf fans (who will get a kick out of seeing legends like Jones, Hagen, Harry Vardon, or Stewart Maiden teeing off) than casual viewers. They'll also enjoy the film's distinction as the first movie granted permission to film on the prestigious fields of The Royal and Ancient Golf Club of St Andrews, one of the oldest golf clubs in the world.
For the casual golfer, the film's depiction of the golfing legend's rise to the top and shocking retirement — as well as the overly emotional side that drove such a narrative — is well worth lining up on the green to watch.
14. A Gentleman's Game (2002)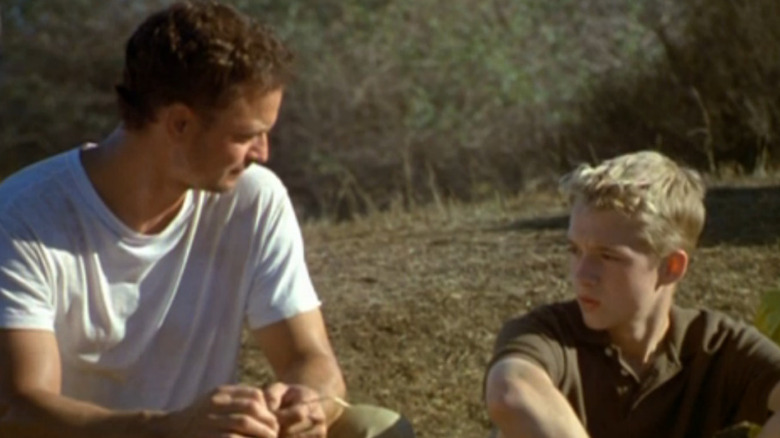 First Look Studios
A golf movie backed by a who's who of underrated, under-appreciated supporting vets, this little-seen drama is worth seeking out. 
Gary Sinise, Philip Baker Hall, Dylan Baker and Brian Doyle-Murray are among the familiar faces in "A Gentleman's Game," which uses golf to deliver an important message when it comes not just to golf, but life in general: there's more to living than simply winning.
The film follows Timmy Price (Mason Gamble), a young man who develops an interest in golf and begins improving himself as a player after getting his start as a caddie. Under the tutelage of talented former amateur player Foster Pearce (Sinise), Timmy learns to accept that, despite his enthusiasm and love for the sport, there's more to life than 18 holes.
"A Gentleman's Game" may not be a masterpiece in terms of sports or even golf movies, but it does a fine job emphasizing that winning isn't everything, and that there's room for individual interests (whether it's golf or any other hobby) and the more personal things we hold dear in life as well, such as potential romantic relationships. With so many sports dramas focused on the importance of winning championships and tournaments, "A Gentleman's Game" refreshingly stands apart — and is a good viewing choice for movie night with any young people in your life.
13. The Legend of Bagger Vance (2000)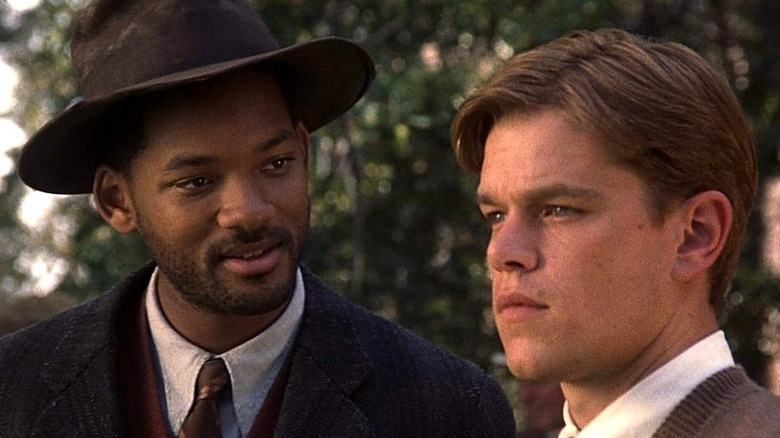 20th Century Fox/DreamWorks
Although time has not been kind to this Robert Redford flick (which some believe perpetuates a dangerous Hollywood cliche), golf fans may find value in the film's performances and production.
Based on Steven Pressfield's 1995 novel of the same name, "Vance" follows a troubled golfer (Matt Damon) who once had it all: wealth, a fantastic relationship with the woman he loved, and both skill and acclaim as a promising young golf player, but who has since lost it all as a result of his traumatic experiences fighting in WWI. Asked to participate in a tournament thrown by his estranged girlfriend (Charlize Theron), he reluctantly agrees; a mysterious caddie (Will Smith) teaches the young man how to cope with his past while rekindling a love for golf.
Upon release, "Vance" was the subject of equal parts scorn and praise. Some critics complimented the emotional elements of the movie and the A-list cast involved, but criticized the lack of plot and the film's mediocre script (the chief complaints found on Rotten Tomatoes' review page for the movie). Others, like Roger Ebert (who gave the movie three and a half out of four stars), were far more receptive, complimenting the film for its "zen" approach and illustrating the value of personal interests — whether golf, music, or anything else people find a connection with — that help people manage their internal pain.
12. The Founders (2016)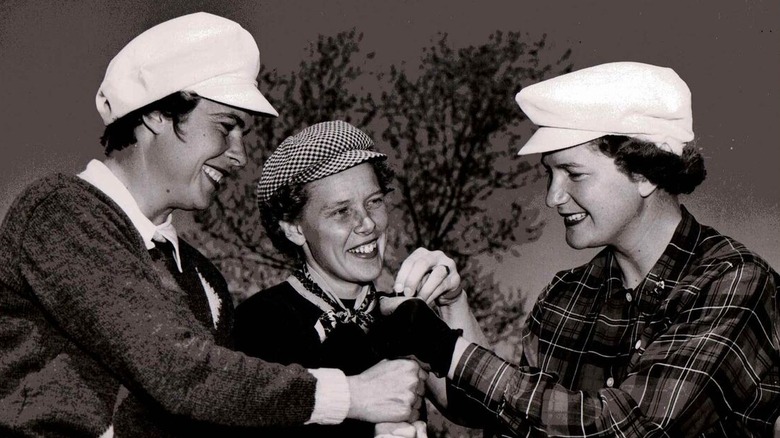 Level 33 Entertainment
Like most sports, golf has not always been known for being inclusive of women; in fact, women were barred from playing golf at all until the 1950s, when a forward-thinking group of women founded the Ladies Professional Golf Association and broke significant barriers in the sport.
"The Founders" tracks the tales of these women, detailing how 13 of the best female golf players — tired of being limited by the sexist standards of their day — formed an organization of their own, one that supported the best female players from around the globe. Their battle was an uphill one, forcing them to contend with regulations, financial issues, and restricted viewership. Against all odds, however, they forged a new era in professional golf.
Following the history of the LPGA from back when it was still a minor golfing organization few people took seriously through today, "The Founders" is an inspirational story that shows women breaking down social barriers by embracing the value of one's skillset, not sex. Boasting a favorable score on Rotten Tomatoes and IMDb, it's a documentary that is ideal for all audiences, golfers and non-golfers alike. 
11. From the Rough (2013)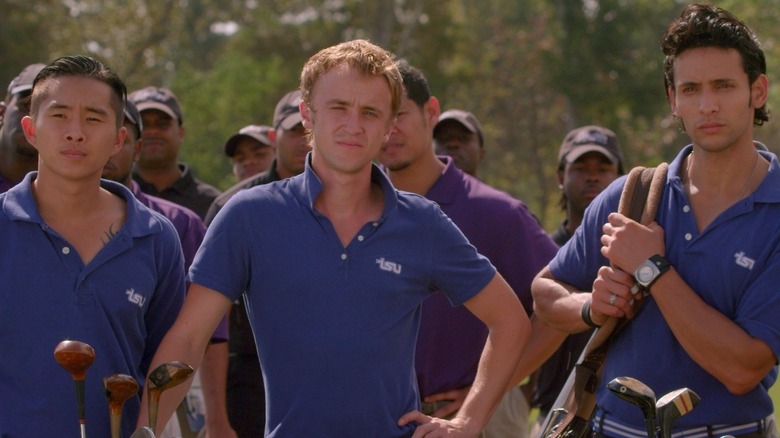 Freestyle Releasing
A sports drama loosely based on Catana Starks, the former swim coach at Tennessee State University who became the first woman to ever coach a college men's golf team, "From the Rough" follows an underdog story about a talented but undisciplined group of players who learn valuable lessons about golf and life in general from an older, more experienced former athlete.
Taraji P. Henson plays Starks, a dedicated college sports coach out of her element coaching a men's team with little funding or support from the university's administration. Using every resource available, Starks recruits skilled players from around the world, but many have underlying behavioral issues that threaten to undermine their skill and personal lives (one player has a bad temper, another a severe self-confidence problem). Under Starks' supervision and tutelage, this rag-tag collection of golfers improve not only their game, but their lives.
Another inspirational film depicting an underdog's climb to the top, "From the Rough" depicts insightful parallels in exploring lessons about life and lessons about golf, and how frequently related the two are to one another. It boasts a talented cast that includes Henson, Tom Felton, Michael Clarke Duncan, Henry Simmons, LeToya Luckett, Justin Chon, and emphasizes that, no matter your background or temperament, anyone can and should play golf if they have the skill or desire to. Favorably reviewed on Rotten Tomatoes and IMDb, it's a story rooted largely in fact that anyone might find interesting to see.
10. Tommy's Honour (2016)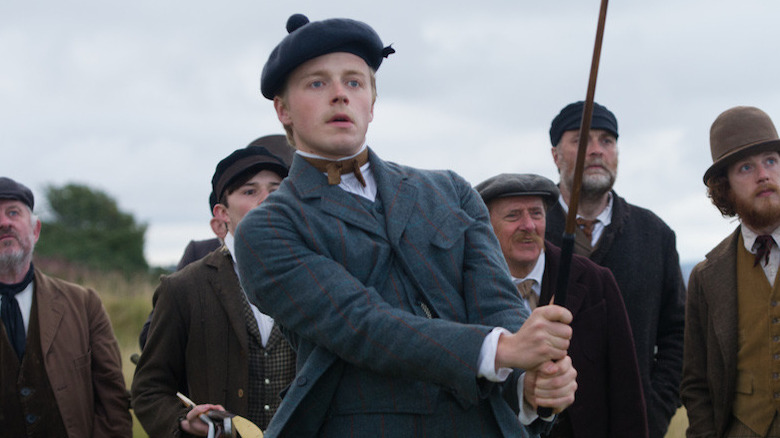 Roadside Attractions/Timeless Films
If you're a director who chooses to adapt a book for the big screen, you're bound to have a fair amount of challenges ahead of you. However, when you choose to adapt what is frequently considered one of the best books within a set genre (in this cast, sports nonfiction), you're likely to face increased scrutiny.
This 2016 adaptation of Kevin Cook's 2007 book, "Tommy's Honor: The Story of Old Tom Morris and Young Tom Morris, Golf's Founding Father and Son" does a phenomenal job in capturing the spirit of its nonfiction counterpart. Both the film and the book provide an interesting glimpse into the lives, careers, and relationship between Old Tom (Peter Mullan) and Young Tom Morris (Jack Lowden), a father-son duo who became influential golf figures active in Scotland during the 1860s. Despite both men being experts in golf and earning a variety of achievements within the sport, they shared very differing views of social etiquette and how to properly conduct themselves, leading to frequent clashes on and off the field.
The Morris family were prone to squabbling, perhaps providing some relatability for audience members while illustrating how generational differences contribute to family arguments. Upon its release, "Tommy's Honour" earned mostly positive reviews, with Mullan and Lowden's leading performances receiving the highest praise from critics (Lowden earned a nomination for Best Film Actor at the British Academy Scotland Awards). The film won for Best Feature Film at the 2016 BAFTA Scotland Awards, and has a fairly high rating on Rotten Tomatoes.
9. Loopers: The Caddie's Long Walk (2019)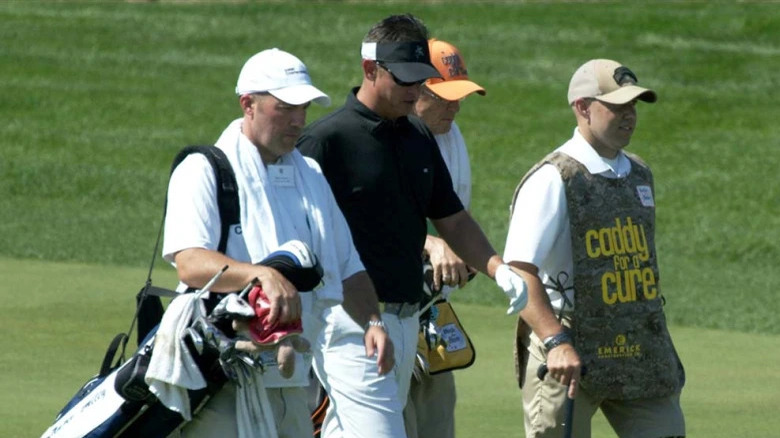 Gravitas Ventures
Golf is an intriguing sport for many reasons, one being the unique relationship a golfer can form with a caddy. Unlike other sports like baseball or football, the lack of team dependency means that golfers have only a limited number of people to rely on and provide advice; the caddie is a unique position in all of sports.
Defined by trust, loyalty, and in most cases friendship, the one-of-a-kind partnership between golfers and caddies is examined in this documentary, narrated by Bill Murray (a well-known amateur golf enthusiast). "Loopers" traces the history of the sport and caddies, as well as how instrumental they can be during an actual game. Included are such legends as Tiger Woods and Jack Nicklaus, shedding light on one of the most under-appreciated, thankless jobs in the world of sports.
"Loopers" may be more tailor made for audience members with a strong interest in golf and the history of the sport, but filmmaker Jeff Baffa does a great job building a documentary about caddying and caddies' relationship with professional players. The movie has an overall favorable rating on Rotten Tomatoes and IMDb, with The Hollywood Reporter's John DeFore's writing, "Jason Baffa's 'Loopers: The Caddie's Long Walk' is a glossy, good-natured documentary celebrating men (and one woman) who are vastly less famous than Tiger Woods and Jack Nicklaus ... the pic's mission to shine a light on the expertise of bag-toting sidekicks is admirable, and the story's told in breezy fashion."
8. The Short Game (2013)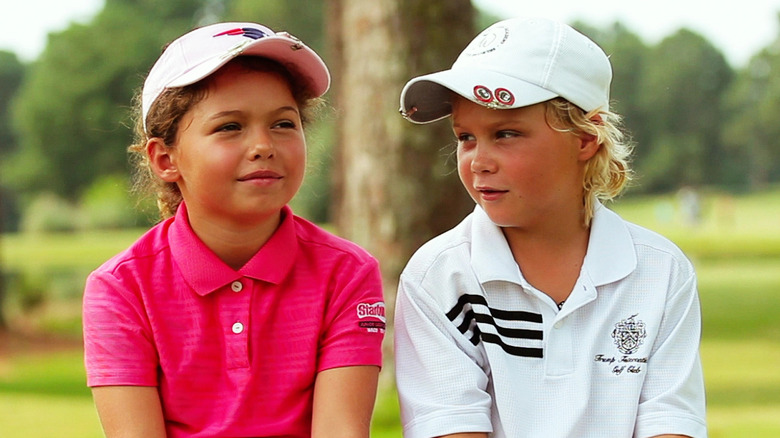 Netflix
This unique documentary focuses on talented youth players 7 and 8-years-old, in possession of enough skill and talent to inspire jealousy in anyone who has ever picked up a 9-iron.
Introducing an array of young players (boys and girls) from around the world, the film focuses on what their lives and training regimens entail. In the second act, we see these players competing in the 2012 U.S. Kids Golf World Championship, with the film tracking their progress through the tournament and the many challenges faced along the way.
While many people (fairly) consider golf to be a sport for older folks, "The Short Game" presents a future generation of golf players perhaps destined to join the elite ranks of the all-time best. Provided throughout are insightful interviews with past golf legends like Jack Nicklaus, Annika Sorenstam, and Chi-Chi Rodriguez, making it a movie for those with intimate knowledge of the sport as well as those looking for the golf equivalent of sports documentaries like "Spellbound" or "Cheer."
The winner of the Audience Award at the 2013 SXSW Film Festival, "Short Game" has earned an 84% rating on Rotten Tomatoes (both on the Tomatometer and the Audience Score). Variety's Peter Debruge wrote that the movie finds "the most entertaining angle on one of the world's dullest sports," with USA Today's Scott Bowles writing, "For astute viewers and golf fans, 'Short' hits the green consistently and is, at times, a hole-in-one."
7. Seve: The Movie (2014)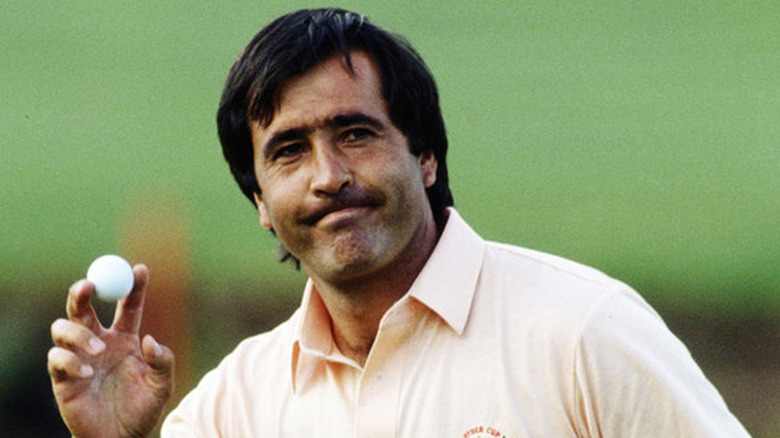 Level 33 Entertainment
Recounting the life and career of influential Spanish golf player Seve Ballesteros (a player who dominated the golfing world from the 1970s to the 1990s), "Seve" tells the story of the top-ranked player in the world for five different years, as well as the unorthodox style of play (golfing on his knees, teeing off underneath one raised leg) that made him a sensation. Even for those who hated watching golf, Ballesteros made it an entertaining spectacle, mixing comedy, skill, and showmanship into his routine.
Unfortunately, Ballesteros's life was cut tragically short after a three-year battle with brain cancer, passing away at the age of 54. But the man's impact on golf cannot be overstated, and in "Seve: the Movie," viewers are able to track a journey from farmer's son to one of the greatest golf players of his day. Peppered by interviews with Ballesteros filmed throughout his life, viewers will witness some of the most memorable shots and momentous achievements from his career, as if given a personal tour by the legend himself.
Although it may lean a little too heavily on dramatizations in places (some scenes reenact a childhood in rural Spain), "Seve: the Movie" enjoyed critical success at the time of its release in 2014, with many people calling it a fitting homage to one of the most entertaining players in modern golf. The movie has decent ratings on Rotten Tomatoes, with critics like The Guardian's Peter Bradshaw writing, "Golf may not provide the same immediate thrills as motor racing but this film — as lengthy and leisurely as the game itself — is endearing."
6. Pat and Mike (1952)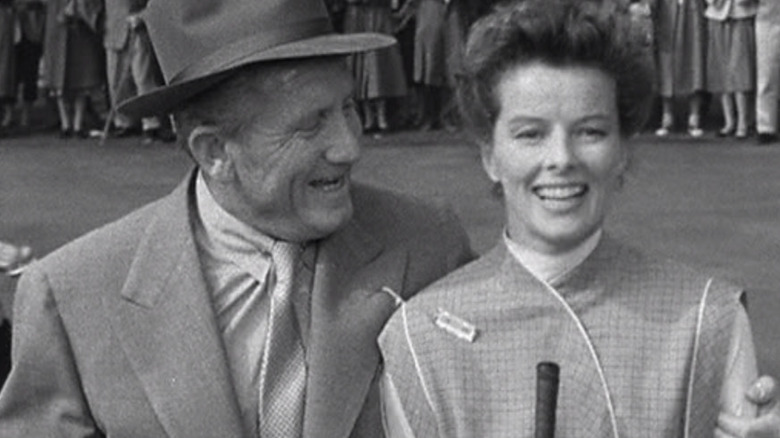 Loew's Inc.
Shifting gears considerably, this George Cukor classic harnessed the considerable charms of one Hollywood's all-time great pairings — Katharine Hepburn and Spencer Tracy — in telling its tale of a first-rate golf player held back by her kind but demeaning fiance (William Ching). Seeking a way to improve her game and combat her husband-to-be's distracting appearances on the course, Pat enlists the help of a sports promoter with a shady past (Tracy); as they spend more time together, Pat and Mike develop romantic feelings while dodging gangsters, vindictive boxers, and Pat's fiance.
While golf may not be featured as prominently in "Pat and Mike" as the other movies on this list (Hepburn and Tracy's onscreen romance is the real star here), it's a supremely enjoyable film with great ratings on Rotten Tomatoes and IMDb, and was widely praised upon its release. The humorous script by Ruth Gordon and Garson Kanin earned an Academy Award nomination for Academy Award for Best Original Screenplay, and Hepburn herself received a Golden Globe nomination for Best Actress.
Golf fans will likely appreciate Hepburn's playing in the movie (a skilled golfer, she performed every golfing move seen in the film), and astute cinephiles might even spot a young Charles Bronson (then billed under his birth name, Charles Buchinski) as a quick-tempered thug who gets beat up by Pat. If you ever wanted to watch Katharine Hepburn give Charles Bronson a smackdown, here's your opportunity. 
5. The Caddy (1953)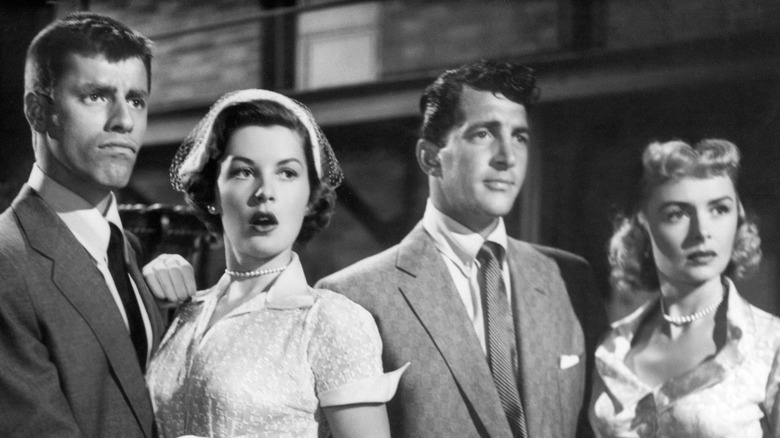 Paramount Pictures
Another early Hollywood film to feature golf as a plot point, this Martin and Lewis comedy contrasted the competitive worlds of golf and show business.
Jerry Lewis plays Harvey, a kind, good-natured golf player  unable to go pro because of his crippling fear of crowds. Listening to his girlfriend's (Barbara Bates) advice, he instead begins teaching the sport to others, including his girlfriend's brother Joe (Martin), who he eventually begins accompanying to tournaments as a caddie. When Joe gets better and better, his ego continues to grow, resulting in friction between the teacher and student.
While "The Caddy" isn't the best Martin and Lewis film the two ever worked on, it's worth seeing for multiple reasons. It's the movie that features the first appearance of the Martin standard "That's Amore," and also has a meta twist ending where Martin and Lewis' characters in the film encounter ... Martin and Lewis. It's funny, fast-paced, and a must-watch for any fans of Martin and Lewis or golf itself.
4. Happy Gilmore (1996)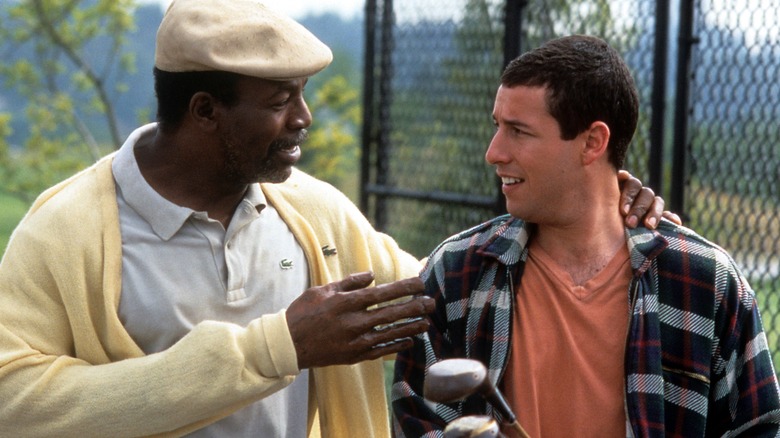 Universal Pictures
One of Adam Sandler's most popular movies, "Happy Gilmore" is a humorous take on competitive golfing tournaments, featuring a loud-mouthed, hot-headed, thin-skinned failed hockey player who takes to the green after discovering his natural talents might be better suited for golf. Out of financial necessity, Sandler's Gilmore climbs to the top of professional golf, competing in national tournaments against some of the best players in the country — including the arrogant, elitist Shooter McGavin (Christopher McDonald) — assisted by an unhinged former pro golfer (Carl Weathers) who lost his hand to an alligator.
"Happy Gilmore" may not be for everyone, relying frequently on Sandler's rowdy, in-your-face comedic style and containing humor that might be labeled "juvenile" by some (a word used in the critics' consensus on the movie's Rotten Tomatoes page). But it has a lot of heart, and even folks like Variety's Brian Lowry praised such standout scenes as the epic brawl between Happy and gameshow host Bob Barker.
Golf-related websites have been known to profess their love for the movie, particularly McDonald's Shooter, one of the funniest antagonists in any sports movie.
As is the case with "The Caddy" or "Pat and Mike," "Happy Gilmore" doesn't altogether focus too much on the game of golf, using the sport more as a jumping-off point. It was a hit at the box office, and has been referenced multiple times by current golf professionals, some of whom have even attempted to replicate the powerful, running "Happy Gilmore swing" shown in the movie.
3. Caddyshack (1980)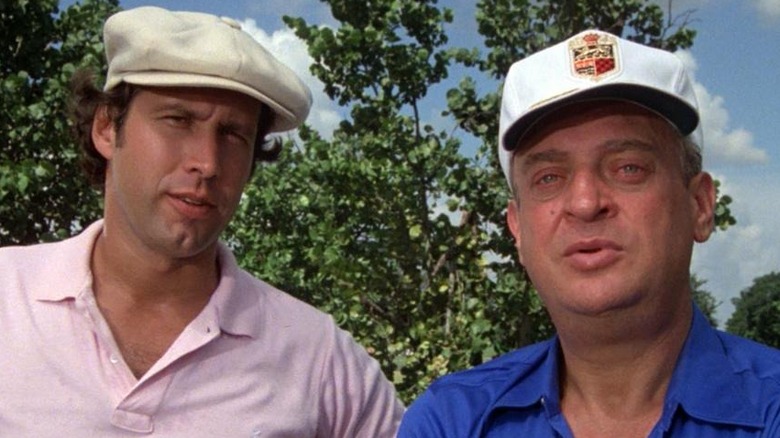 Warner Bros.
A beloved comedy classic, "Caddyshack" might just be the most celebrated sports comedy in existence (ESPN even called it "perhaps the funniest sports movie ever made"), featuring an all-star cast of comedy legends (Chevy Chase, Bill Murray, and Rodney Dangerfield) and directed by the late Harold Ramis (in his directorial debut). The flick is blessed with some of the funniest, most endlessly quotable lines in film history, following various golfers at an exclusive country club run by the arrogant, snobbish Judge Smails (Ted Knight).
Such members include a fun-loving party-animal (Dangerfield) and an eccentric, laidback, free-spirited golfer (Chase), peripherally served by a crazed, Ahab-like groundskeeper (Murray) hunting a crafty gopher and an aimless caddy (Michael O'Keefe) learning the ropes.
"Caddyshack" enjoyed minor critical success upon release, but has since gone on to widespread popularity and a dedicated cult following. It has been included in the number two spot on Bravo's list of the "100 Funniest Movies," and earned spots on the American Film Institute's lists, "100 Years... 100 Laughs," and on the AFI's list for the "Top 10 Sport Films" (the now-famous monologue by Bill Murray also made the list for the AFI's "100 Years... 100 Quotes"). A number of publications like Rolling Stone have also included "Caddyshack" high on their list for the "Best Sports Movies." As the magazine's James Montgomery wrote of the movie, "You can argue that it's not the greatest golf movie of all time, but you'd be wrong."
2. Tin Cup (1996)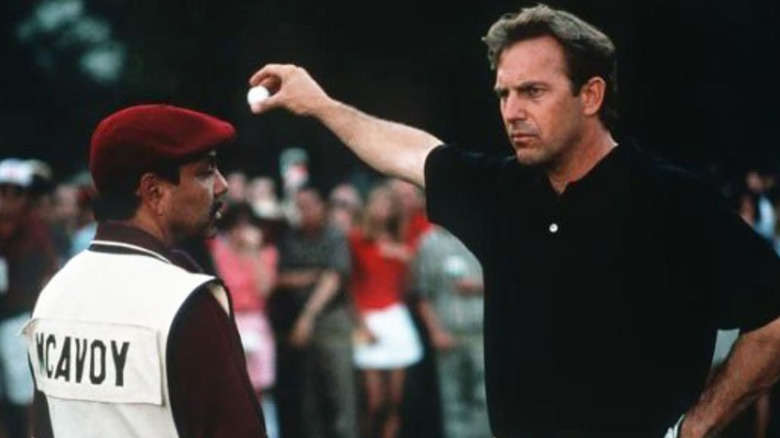 Warner Bros.
After their award-winning "Bull Durham" (still considered one of the best sports movies ever made), Kevin Costner teamed again with filmmaker Ron Shelton for this follow-up, which would become a beloved film in a very different sport.
Cast this time as washed-up former pro golfer Roy "Tin Cup" McAvoy — who has since quit the sport and now oversees a rundown driving range — Costner's character falls for Rene Russo when she comes to the driving range for lessons, galvanizing him to return and compete for the US Open.
Part sports movie, part romantic comedy, "Tin Cup" feels very much like a "Bull Durham" companion piece, and it garnered positive reviews from critics. "'Tin Cup' is well written," Roger Ebert said in his review of the film for the Chicago Sun-Times. "The dialogue is smart and fresh, and when Tin Cup and Molly are talking to each other they savor the joy of language."
Particular praise was aimed at Costner's performance in the film, with Variety's Todd McCarthy writing, "Amiable and constantly amusing rather than uproarious, this mangy tale of a ne'er-do-well's fitful assault on personal and professional respectability benefits greatly from Kevin Costner's ingratiatingly comic star turn, his most appealing work in years." For his role as Tin Cup, Costner received a Golden Globe nomination for Best Actor – Motion Picture Musical or Comedy.
1. The Greatest Game Ever Played (2005)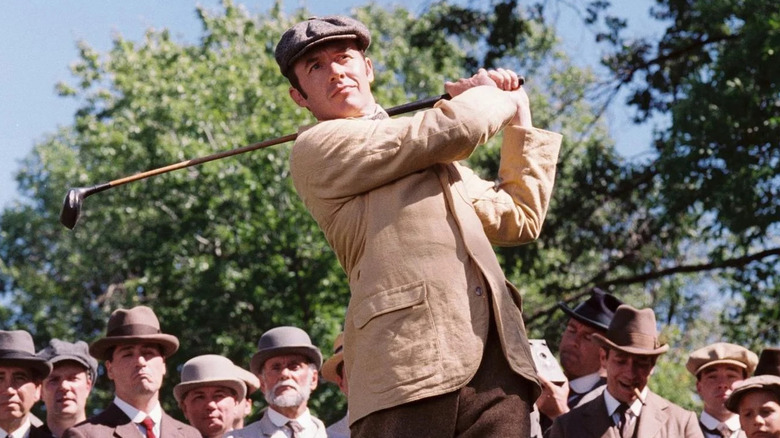 Buena Vista Pictures
As long as there has been golf, there has been its unfortunate reputation for catering towards the elite and upper class; a significant crack in that veneer came in the 1910s, when Francis Ouimet became the first amateur golfer to win the US Open in what was considered a major upset, beating veteran players like Harry Vardon.
In this 2005 biopic, Shia LaBeouf stars as Ouimet, the son of a hardworking, lower class immigrant family who aspires to one day become a world renowned golfing champion. Held back by his demeaning father and the social standards of the day, Ouimet hones his skills while the film reminds us of a timeless sports lesson that has fueled everything from "Rocky" to "Tin Cup": greatness isn't dependent on a person's background or upbringing, but instead on their skill, talent and resolve. It's a simple message that "The Greatest Game Ever Played" flawlessly enforces, built around one of the most inspirational real-life underdog stories in the sport's history.
While it was a box office failure, the film still did very well critically, earning a number of positive reviews. Roger Ebert wrote: "I am not a golf fan but found 'The Greatest Game Ever Played' absorbing all the same, partly because of the human element, partly because Paxton and his technicians have used every trick in the book to dramatize the flight and destination of the golf balls."