Law & Order: SVU Fans Have Strong Feelings About Carisi's Profession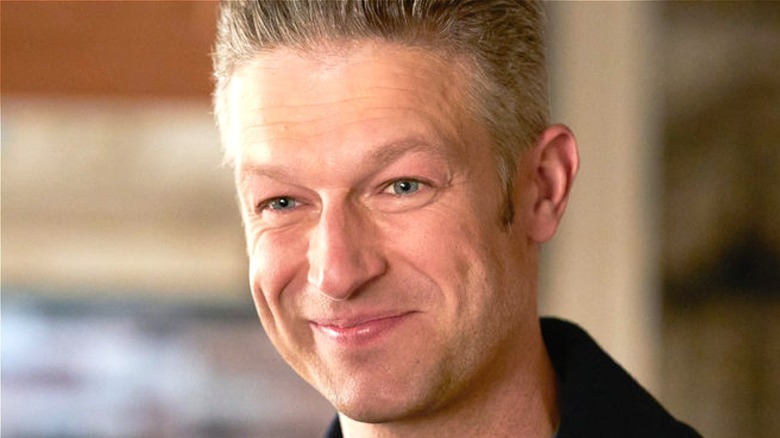 Michael Greenberg/NBC
When someone changes profession, it can sometimes cause more trouble than it's worth. "Law & Order: Special Victims Unit" has seen several characters promoted, fired, or stepping into a new role or job for other reasons. The character Dominick Carisi Jr (Peter Scanavino) is one such example. Originally a detective on "Law & Order: SVU," Carisi has also appeared in related series like "Law & Order: Organized Crime" and "Chicago P.D."
During Carisi's initial foray into the world of "Law & Order," he comes off as a little rough around the edges, and his blunt personality ruffles the feathers of a few of his new coworkers. However, his acumen in detective work and skill during interrogations eventually earns the detective some accolades in the police precinct. He later takes the bar exam and passes, which leads to him taking the position of assistant district attorney in Season 21. This career shift for Carisi is still on the minds of viewers, and it appears as if fans have a lot to say about the detective-turned-lawyer's professional change.
Some fans prefer Carisi as a detective and not a lawyer
The opinions on Carisi's professional shift have coalesced on several different Reddit threads, where many fans have shared that they aren't really convinced by his new role in the series. In one Reddit thread, u/Sufficient_Display stated, "I liked him better as a cop, but I love him with Rollins and I don't think that could have happened if he was still a cop," while another user replied, "Preferred him as a cop, as an ADA I don't think he has enough independence from SVU. Frankly Liv bosses him around like he's still her subordinate more or less."
In another Reddit thread, u/yoshisushi23 said, "Yeah, the transition sucked. He morphed into a big ball of stress (understandably, I suppose), and I'm not a fan," to which u/jedda_walker replied, "I liked him more as a cop, personally." In yet another Reddit thread regarding Carisi, u/bluelightsonblkgirls said that they don't think that Carisi is believable as an ADA. Redditor u/hanimal16 added that they love Carisi, but don't think his new role feels natural. They said, "I feel like every time we see him in the courtroom, it's his first day all over again." 
It appears as if the general consensus is that Carisi is far more effective as a detective as opposed to being a lawyer.