Professor Marston And The Wonder Women Gets New Release Date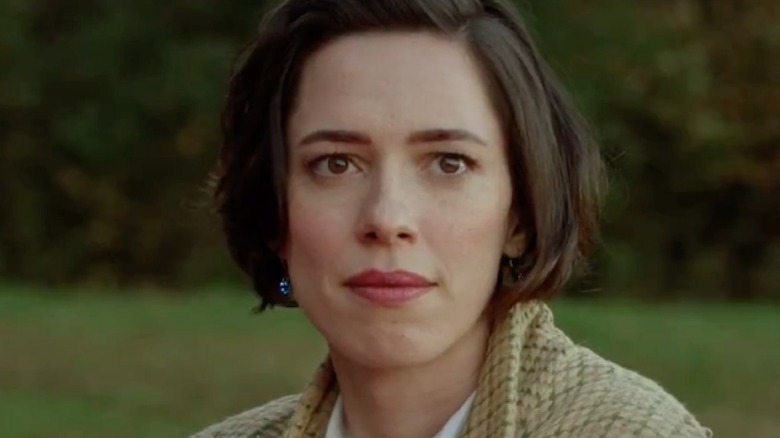 You're going to get to learn about Wonder Woman's creator a bit earlier. Professor Marston and the Wonder Women director Angela Robinson revealed on her Twitter account Wednesday that the movie's release date has been moved up, going from Oct. 27 to Oct. 13.
Beauty and the Beast's Luke Evans leads Professor Marston and the Wonder Women as William Moulton Marston, a psychologist and inventor who first started publishing comics featuring Diana Prince under a pseudonym in 1941. The film chronicles the love affair between Marston, his wife Elizabeth (Rebecca Hall), and his former student Olive Byrne (Bella Heathcote). 
The movie's three stars are highlighted in new character posters that Robinson also shared, showing Olive wearing Wonder Woman's costume, as was shown in the movie's first trailer. The posters, which also feature Elizabeth holding Wonder Woman's lasso and Marston staring thoughtfully ahead, were all accompanied by the caption, "Ever wonder?"
Big News on Professor Marston & The Wonder Women! New posters and new release date! October 13th #MarstonMovie pic.twitter.com/ScnKYFzzFW

— Angela Robinson (@RobinsonAngela) August 30, 2017
Professor Marston and the Wonder Women comes at a time when the title character is at the center of the national conscience due to her wildly successful standalone film. Robinson has previously said that the movie will use the relationship between the central trio to further explore the beloved character, saying, "I really think it's time for their story to be told and for them to kind of get the respect and admiration that I think they deserve. It's their core ideas and core values that really infused this superhero who we all, right now, love." 
The director has described the movie as "fundamentally a love story" between the three main characters, adding that it's also an exploration of the ideas of feminism, bondage, and pacifism, and how that all played into the creation of Diana Prince. "People have had all sorts of relationships since the beginning of time and they were really progressive, exciting, incredible people, who I think shared a deep love for each other," she said of the movie's main characters. "To me, they're heroes in and of themselves."
Connie Britton and Oliver Platt also star in Professor Marston and the Wonder Women. Although the film's new release date means there will be a little bit less of a wait before we get to learn about Marston's storied past, there is no need for you to hold out– we already have a breakdown of everything you need to know about the mysterious Wonder Woman creator.