The Creepiest Crime Scene From CSI Season 7
"CSI: Crime Scene Investigation" was hugely popular during its original run, as well as influential. With a focus on the nitty-gritty aspects of forensic investigations, the series set itself apart from other crime procedurals of the era, such as "Law & Order." Of course, with the crime scenes themselves being front and center in the series, they needed to be particularly eye-catching, and "CSI" certainly delivered on that front. 
Season 7 of "CSI" saw the Las Vegas Police Department's crime scene investigation team — made up of characters like Gil Grissom (William Petersen), Catherine Willows (Marg Helgenberger), Sara Sidle (Jorja Fox), and Warrick Brown (Gary Dourdan) — getting to the bottom of a series of grisly and gruesome cases. However, in a show famous for graphic depictions of the results of horrible criminal acts, one investigation in Season 7 manages stands out for its level of creepiness. This particular crime scene not only features some uniquely spine-tingling details, but the sheer scope of the awfulness puts it over the top.
An investigation after a police shootout uncovers a variety of horrors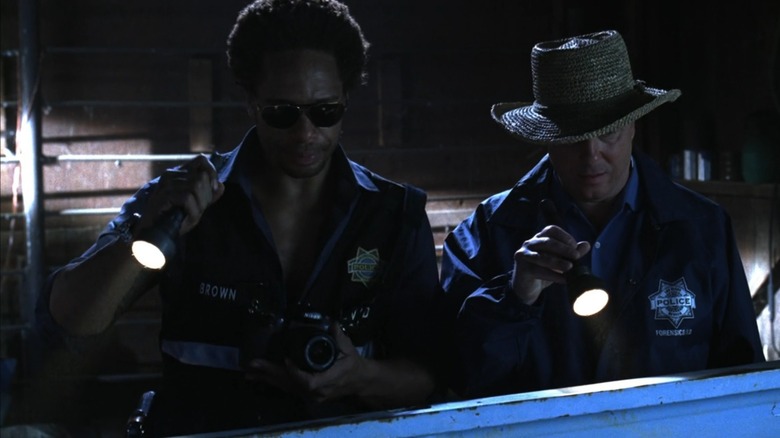 CBS
Season 7, Episode 22, "Leapin' Lizards," begins with a police raid on a ranch and a shootout with a suspect in the kidnapping and potential murder of a local casino dealer and her husband. When the man kills himself, police find his extensive doomsday preparation supplies and a taxidermy collection — including the head of the female victim mounted on a plaque like a trophy deer. 
CSI investigators later dig through the man's belongings and uncover a stash of videos and books claiming that the world is run by a cabal of alien serpent-people, and a second suspect emerges — conspiracy believer Shannon Turner (Ally Sheedy). Chief Medical Examiner Al Robbins (Robert David Hall) is tasked with removing the victim's head from its mount and graphically describes to his assistant how the killer would have gone through the process of displaying the head. 
Investigators suspect the man may have fed his victims to his pigs and when they return to the ranch, they find charred bones and wedding rings — with the inscriptions "Until death do us part" — in a burn pile. Between the bizarre reason behind the murders, the human bones found in the pig pens and ash piles, and the mounted human head, this particular crime scene stands alone as the creepiest in Season 7.