The Real-Life Location Where All The Bar Scenes Were Filmed On Cheers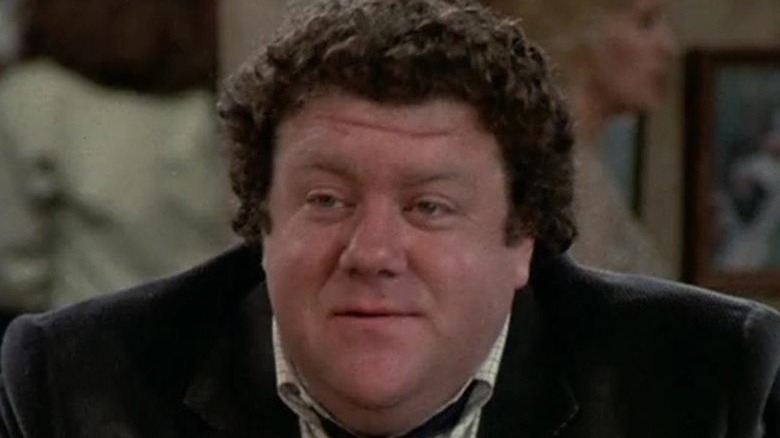 NBC
There was never really anything quite like "Cheers." The massively popular and enduring show ran on NBC for 11 seasons from 1982 to 1993, spanning 270 episodes. Centered around an eclectic cast of characters whose lives are all tied to a quaint Boston pub, the laughs are never watered down. Owner and bartender (and former Red Sox pitcher) Sam Malone (Ted Danson) serves up the drinks, and spends the rest of his time chasing women, like pseudo-intellectual waitress Diane Chambers (Shelley Long), and then wishy-washy bar manager Rebecca Howe (Kirstie Alley). Along for the ride is snarky waitress Carla Tortelli (Rhea Perlman), know-it-all mailman Cliff Clavin (John Ratzenberger), everyman couch potato Norm Peterson (George Wendt), country bumpkin bartender Woody Boyd (Woody Harrelson), and psychiatrist Frasier Crane (Kelsey Grammer) — who lived on for many years more in the hit spinoff "Frasier." 
Many of the plots revolve around someone getting in over their head and trying to squirm their way out of it. This dynamic is a staple, especially in the early years as the love/hate chemistry between Sam and Diane plays out in humorously torturous ways. Even when Sam finally proposes, Diane says no (twice), leading to a chase that ends with Sam in a courtroom facing either jail or marriage, and he has to think about it. There's also a classic episode where the gang celebrates Thanksgiving together and the tension builds until an epic food fight breaks out.
While "Cheers" was filmed in Los Angeles, the bar itself was actually based on a real pub in Boston. That meant exterior shots (sometimes involving cast members) were shot on location, at the very source of the show's inspiration.
Cheers is on Beacon Street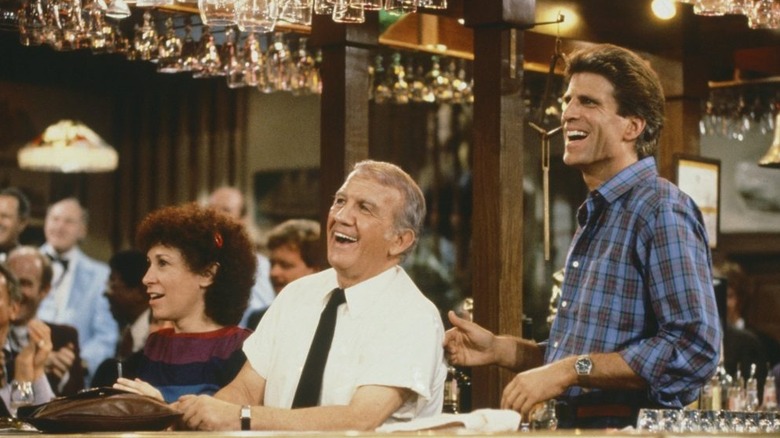 NBC
Yes, the real "Cheers" resides on Beacon Street in Boston, per Forbes. It was originally called "The Bull & Finch Pub" when it opened in 1969 (the 1895 year seen on the sign applies only to the fictitious dive), but after the enormous success of the sitcom, it eventually changed its name officially to "Cheers." The cast of the show went to the real "Cheers" on occasion, for filming as well as celebrating certain milestones, like the series finale in 1993, as well as the show's 200th episode in 1990.
So if you ever watched the show and wondered about those exterior glimpses of the bar, they are pretty much as close to real as it gets — at least as far as location goes. The series also made use of another authentic Boston spot (via Decider), filming a scene in the legendary Boston Garden arena, with real-life Celtic Kevin McHale (who appeared in two episodes), no less. Why? Because the "Cheers" gang and McHale need to count all the bolts in the floor one by one to satisfy some bar trivia (or the Celtics' season will be ruined). Then they lose track and have to start over.
Even with so much of the "Cheers" action taking place inside the bar, the producers still found fun ways to take advantage of the real thing in Beantown. It's also nice to know there's still really a place where everybody knows your name.