Saul Goodman's Best Moment In Better Call Saul Season 1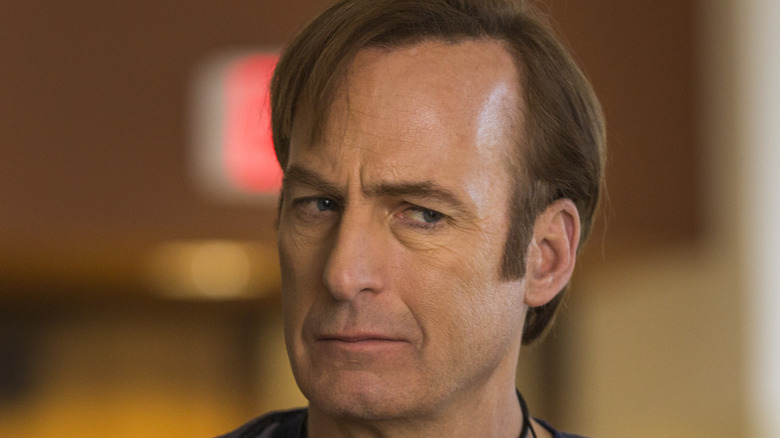 Michele K. Short/AMC
Season 1 of "Better Call Saul" arrived on AMC in 2015 as the hotly-anticipated successor series to the beloved crime drama "Breaking Bad." The Saul Goodman-focused spin-off has grown into a phenomenon of its own as one of the 2010s most acclaimed series not just for tying itself so neatly into the world of "Breaking Bad," but also for creating its own, as well. The prequel kicks off some six years prior to the start of "Breaking Bad," reintroducing audiences to Saul under his real name, Jimmy McGill (Bob Odenkirk), as he tries to make his own way out from behind his brother's shadow and establish himself as a lawyer.
One of the great successes of "Better Call Saul" has been in its ability to draw out Jimmy's long journey from a struggling above-the-board lawyer with a checkered past to Saul Goodman, the full-fledged criminal and scam artist. The series' characters and setting feel realistic, and Jimmy's personal downfall — while not as initially dramatic as Walter White's (Bryan Cranston) — tracks for fans and critics alike all the way through its first five seasons.
In Season 1 of "Better Call Saul," series creators Vince Gilligan and Peter Gould and their creative team waste little time reminding audiences what their fictional universe is all about: high-stakes scenes with dangerous and violent criminals.
Jimmy McGill talks his way out of his first run-in with Nacho and Tuco
Lewis Jacobs/AMC
In the "Better Call Saul" Season 1 episode "Mijo," Jimmy has his first run-in with the cartel when his attempted scam with Lars and Cal Lindholm (Steven Levine and Daniel Levine) accidentally targets Tuco Salamanca's (Raymond Cruz) grandmother. Tuco and other Salamanca gang members, including Nacho Varga (Michael Mando), kidnap Jimmy and his associates and take them to the desert in a scene that closely resembles one of Saul Goodman's first appearances in "Breaking Bad." 
Jimmy, who suddenly finds himself in a life-or-death situation with ruthless criminals, conjures all of the wits that he regularly uses later as Saul Goodman to talk Tuco and Nacho out of killing him or the Lindholms. It's the second episode of the series, and it takes great care to put Jimmy in a scenario "Breaking Bad" fans could appreciate based on their familiarity with Tuco in the original Vince Gilligan-helmed series. Jimmy pulls out all the stops to convince Tuco and Nacho not to harm him, even claiming he is an FBI agent at one point to try and get out of the rapidly-intensifying situation.
This scene makes for the best Saul Goodman moment in "Better Call Saul" Season 1. It's the first time audiences see how the ingredients that eventually mark Jimmy McGill's transformation from regular lawyer to cartel-affiliated criminal attorney mix together. As Nacho notes to Jimmy at the episode's end, this moment denotes Jimmy/Saul's induction into Albuquerque's criminal network.