The Major Lost Actor You Likely Forgot Starred In World War Z
Adapted from Max Brooks' 2006 book "World War Z: An Oral History of the Zombie War," the 2013 film "World War Z" explores a dramatic zombie epidemic (via The Guardian). Starring Brad Pitt as Gerry Lane, an employee of the United Nations, the film follows various efforts to find patient zero and stop the mass spread of the flesh-eating monsters. Although the film differs from the book's oral history format in a number of obvious ways, "World War Z" probably seemed quite familiar to audiences at the time of its release for another reason. "World War Z" followed a wave of zombie-centered stories released in the wake of the success of other productions like 2009's "Zombieland," 2010's "The Walking Dead," and 2013's "Warm Bodies."
Yet despite high expectations for the project, "World War Z" ultimately faltered before it even really began. According to Entertainment Weekly and Vanity Fair, the third act of the film required heavy rewrites and costly reshoots. After heavyweight writers Drew Goddard and Damon Lindelof reworked the last third of the film, much of the final product looked decidedly different. Indeed, these last-minute alterations were so extensive that one notable actor's role went from sizable to easy to miss.
Matthew Fox was almost entirely cut from the film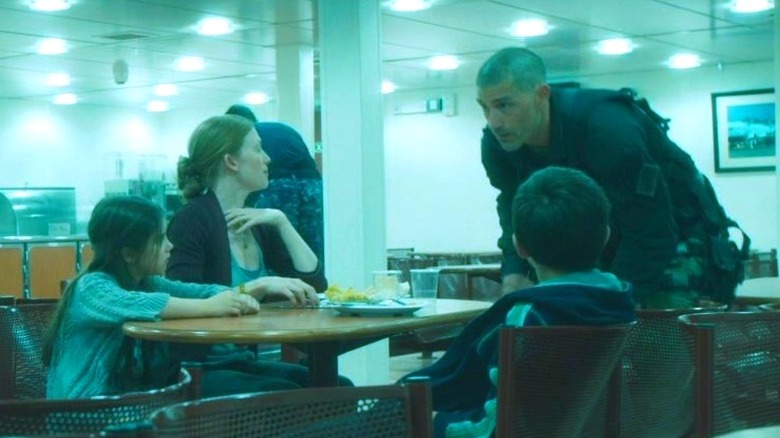 Paramount Pictures
From breaking out in "Party of Five" to starring in the pop culture phenomenon "Lost," Matthew Fox has certainly enjoyed a notable amount of time in the limelight. In the immediate aftermath of the divisive 2010 series finale of "Lost," it appeared as though he would continue this momentum in the next steps of his career. In fact, a look at Fox's IMDb profile shows that the actor seemed poised to make quite a splash on the big screen. However, only one year after starring in a pair of silver screen duds ("Alex Cross" and "Emperor"), Fox appeared in "World War Z" in a role only credited as "Parajumper" (via IMDb). Interestingly, Fox was initially promised a significantly bigger role. 
According to CinemaBlend, early versions of "World War Z" included a storyline in which Fox's character becomes romantically involved with Gerry's wife, Karin (Mireille Enos). After Gerry goes to find patient zero, Karin and her children become stuck in a refugee camp in the Everglades. Because of the difficult culture of the camps, Karin is forced to sell her body to the Parajumper in exchange for protection. However, in the end, this storyline simply never came to fruition. After numerous rewrites and reshoots, the entire ending was slashed, and Fox can now only be seen in a few scenes of the final product. These moments include a scene in which the Parajumper helps save Gerry and his family on a rooftop in Philadelphia and another in which he speaks to Karin only briefly. 
In 2022, Fox will appear on television screens in the Peacock limited series "Last Light" (via Deadline). This will be Fox's first on-screen appearance since 2015's "Bone Tomahawk" and his first television role since the series finale of "Lost."