The NSYNC Cameo You Never Got To See In Star Wars: Attack Of The Clones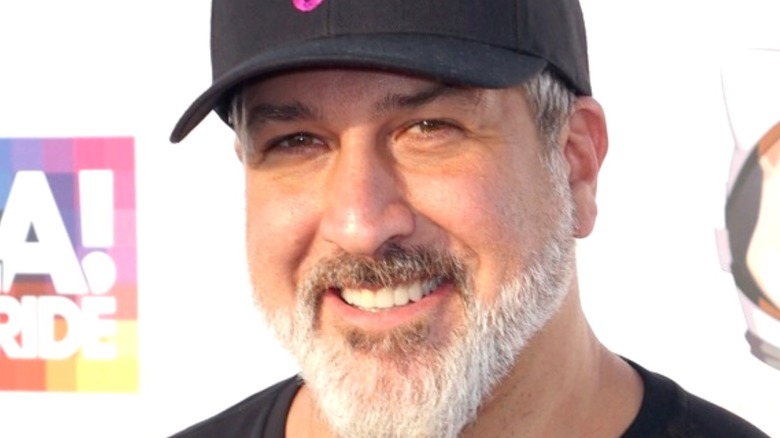 Kevin Winter/Getty
When it comes to celebrity cameos in beloved entertainment franchises, there's often backlash from the fandom. For example, when Ed Sheeran appeared as a Lannister soldier on HBO's "Game of Thrones," with Arya Stark (Maisie Williams) joining his group for a fireside song, viewers were livid. They felt the casting choice of such a well-known artist distracted from the happenings of Westeros, much to the disappointment of Sheeran (via The Hollywood Reporter).
Another franchise that features a few famous faces is "Star Wars," but their scenes are less blatant than that of Sheeran. James Bond actor Daniel Craig serves as a stormtrooper guard for Rey (Daisy Ridley) in "Star Wars: The Force Awakens," for example (via People).
While these appearances didn't spark any heated conversations among "Star Wars" fans, one major cameo in "Star Wars: Attack of the Clones" would have created quite the buzz if it wasn't scrapped. NSYNC, one of the hottest boy bands of the late '90s and early 2000s, was supposed to be part of the second prequel. Here's what they filmed and why it was cut.
Three NSYNC members filmed scenes as Jedi Knights
When "Star Wars: Attack of the Clones" was released in 2002, NSYNC was in the midst of its final days as a group. The guys had just released their "Celebrity" album and were on a brief break from their PopOdyssey tour. It was at this time that the quintet was approached to portray Jedi Knights in the famous Geonosis battle (via HuffPost). Though Justin Timberlake and Lance Bass declined, JC Chasez, Chris Kirkpatrick, and Joey Fatone, along with his brother Steven Fatone, jumped at the opportunity.
"We all had the Jedi garb, the brown and tan robes," reflected Steven. He and the three NSYNC singers had a blast filming two scenes and pretending to take on a droid army with a "rubber, little lightsaber."
For Joey, an avid "Star Wars" fan and memorabilia collector, it was a disappointment to learn that those two scenes would be cut from the finished product. The Fatones believe this was due to SAG payment conflicts, backlash from the "Star Wars" community, or both (via HuffPost). Still, it was the chance of a lifetime and one that he'll never forget.
"The whole thing felt surreal for us. Because of the fact that we were such huge 'Star Wars' fans, to be able to do something like that was pretty amazing," Joey said.
Some fans on Reddit, such as u/Rocket_AG, believe "Star Wars" creator George Lucas "dodged a bullet" by axing the band from the film. Yet others, including u/temetnoscesax, who prefer the original trilogy over the prequels, said, "Honestly, they should have just left them in. It wasn't like the movie could be any worse."