How The Karate Kid's Cast Confirmed What We Suspected About Pat Morita
Actor Pat Morita led an immensely compelling life, which included spending about a decade of his childhood hospitalized due to spinal tuberculosis, living with his family at an American internment camp during World War II, becoming a stand-up comedian (per Stars and Stripes), and then turning to acting and breaking barriers on-screen and off (via Entertainment Weekly). The actor, who famously almost didn't get cast in "The Karate Kid" because of his comedic chops, remains a lingering and legendary presence thanks to "Cobra Kai."
In those films, his character was wise, wonderful, and strong, but haunted by his past and the loss of his family. He was a true mentor to Daniel (Ralph Macchio). And he was so convincing as Mr. Miyagi that several generations of moviegoers fondly remember him best in that role: the almost-mystical old gentleman who steered a troubled teenager through rough times with humor and kindness. Was he like that in real life, though? It turns out that his castmates have confirmed the best things about Morita, who died in 2005 (via The New York Times).
Morita's on-screen adversaries have nothing bad to say
By the time "Karate Kid" came around, Pat Morita was a veteran actor with shows like "M*A*S*H*," "Happy Days," and "Sanford and Son" under his belt (via IMDb). His younger and less experienced co-stars knew him as a skilled actor with great timing that they could learn from.
In the Cobra Kai Companion podcast, Thomas Ian Griffith, who played his nemesis Terry Silver in "The Karate Kid Part III," had only good things to say. "He was so kind, so generous, and ... so welcoming," the actor said, calling Morita a "super great guy" who was very supportive as Griffith took on his first major movie role. "It just made me feel so at home. Funny as hell off-set, but really made it such a great experience."
And it turns out that Morita was a mentor to more than just Daniel-san. Another one of "The Karate Kid" franchise's antagonists, William Zabka as Johnny Lawrence, said, "[The] Karate Kid was my first film, and when I walked onto the set, when we were doing rehearsals, there's Pat Morita and Ralph Macchio from 'The Outsiders,' and Pat really took me under his wing. And in a way [he] kind of was my Miyagi, as far as ... helping me feel at place and at home," said Zabka. He explained to The View that he called the older actor "Uncle Pat," and during rehearsals for one fight scene, the older actor advised him to give it his all so that the actual filming would be "bread and butter." 
Ralph Macchio called their scenes 'the perfect tango'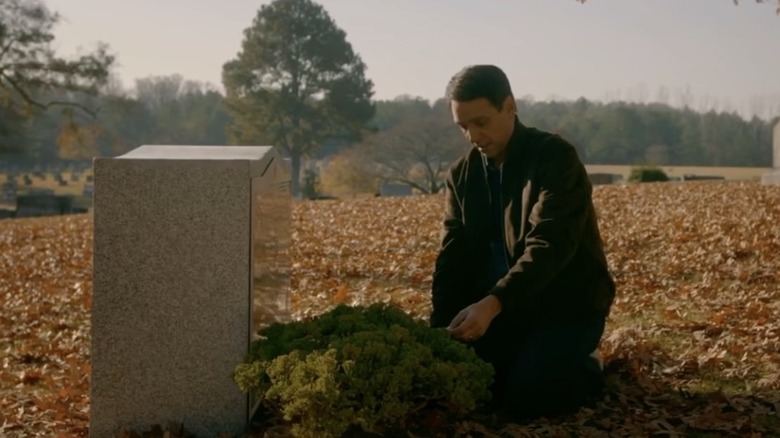 Netflix
Ralph Macchio has described Pat Morita as Yoda and Obi-Wan Kenobi and has also spoken about the actor's "soulful magic" at C2E2, but the two weren't personally close, as he told Kara Swisher in a "Sway" podcast episode from January 2021 (27-minute mark). He said, "I was personally close to him in the sense of as time and years went on, the significance and relevance of our screen partnership around the world became so clear to me."
Still, there was a bond — one that Macchio didn't fully appreciate until later. In 2014, he couldn't even articulate it completely: "What I did feel when we were making the movie is that Pat Morita and I had a natural organic ease in our acting styles. Those scenes just really — I don't know how to describe it," the actor told USA Today. But by 2021, he was able to elucidate his feelings more precisely. "It was truly the definition of magic when we did those scenes. There was a give and take; it was like the perfect tango, and without effort," he told Swisher, referring to the rapport between the two actors as "otherworldly."
After Morita's death, Macchio released a statement that included the words, "Forever my Sensei" (via E! News). He also spoke at both of the late actor's memorial services. When he got involved in "Cobra Kai," it was important to him that Morita's presence was felt within the show (via Antenna TV). Today, it continues to keep his generous spirit alive.