Whatever Happened To '80s Star Corey Feldman?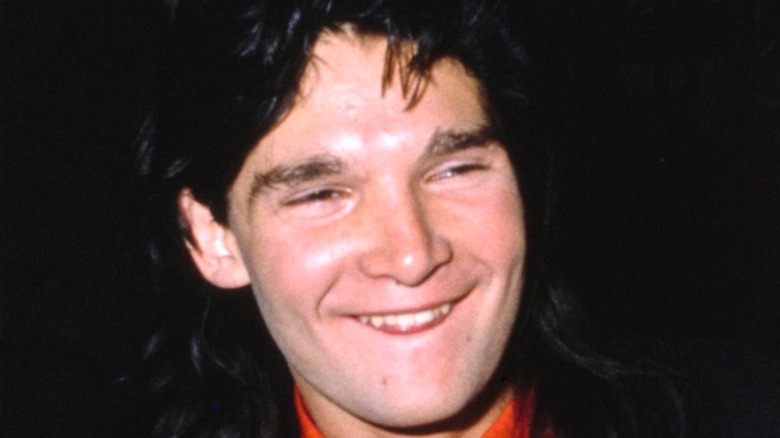 Michael Ochs Archives/Getty
The following article includes allegations of child abuse, drug abuse, and sexual assault.
Corey Feldman, best known for his role as Mouth in "The Goonies" and Edgar Frog in "The Lost Boys," is an absolute '80s icon. He has become a bit of an enigma since his days as the lovable child actor, but the star has also experienced a lot of awful things throughout his life, which led him down such a path. Since his childhood, the star has overcome an insurmountable amount of challenges like child abuse and drug abuse.
At a very young age, Feldman was forced into acting by his mother, as he recalled in an interview. "Well, at 3 years old, kids don't really find their way into anything or make any type of decisions," he said (via People). His mom was immensely hard on him to stay in his career, and she made it clear he needed to do well. In his memoir, "Coreyography," Feldman talked about his experiences with his mother and how abusive she was toward him, alleging that she once attempted to kill him after he was kicked off a movie set (via the New York Post).
If you or someone you know may be the victim of child abuse, please contact the Childhelp National Child Abuse Hotline at 1-800-4-A-Child (1-800-422-4453) or contact their live chat services.
The 'Two Coreys' shared a troubled youth under the spotlight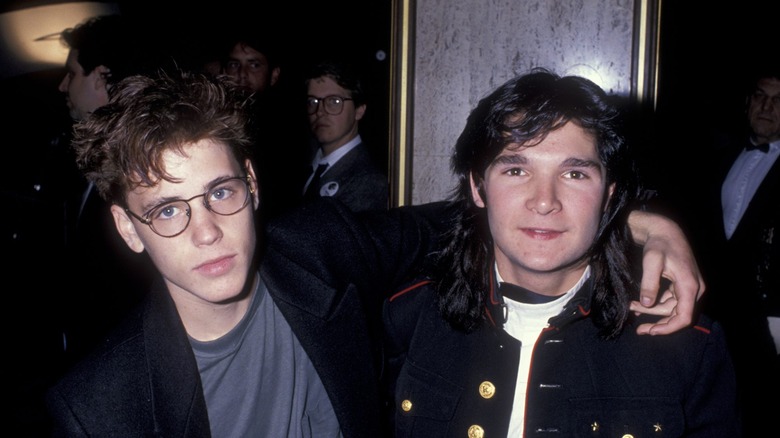 Ron Galella, Ltd./Getty Images
This pattern of abuse continued until Feldman emancipated himself when he turned 14 years old. This — and the Hollywood experience — led to Feldman turning to drugs, citing his experience on "Stand By Me" as the first time he experimented, per People. After some personal bouts in rehab and the death of friend and co-star River Phoenix, Feldman has stayed drug-free since 1995 (via The Guardian)
While on the set for "The Lost Boys," he met Corey Haim, and the two became fast friends. Because of their many similarities, like their age, their identical first names, and their shared interests and experiences, they were nearly inseparable. Spending many years together, the pair became known as "The Two Coreys" and even had a television show that followed their lives. The series shed light on their experiences in Hollywood with drug addiction and sexual abuse, and also followed Haim's struggle trying to get back on track with his acting career. In 2008, Feldman broke ties with Haim, and in 2010, Haim died of complications of pneumonia.
If you or anyone you know is struggling with addiction issues, help is available. Visit the Substance Abuse and Mental Health Services Administration website or contact SAMHSA's National Helpline at 1-800-662-HELP (4357).
Feldman has since turned his attention to his music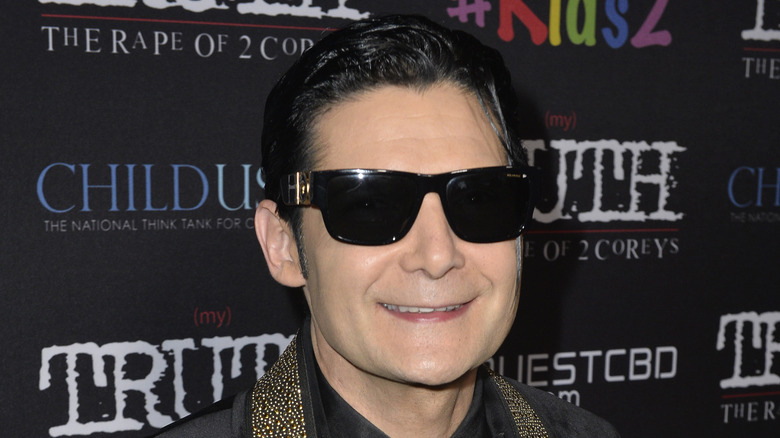 Jerod Harris/Getty Images
In recent years, Corey Feldman has turned his focus to the music industry. He started a band known as Corey and the Angels and has used his music career as a way to work through some of the events in his past (via Smashing Interviews Magazine). Feldman is now working on a solo project and recently released a massive box set called "LOVE LEFT 2.1" that includes six discs with four hours of new footage and 60 songs that he has been working hard on. The actor-musician also released a music video for a song called "Comeback King" which is featured on the new album as well.
Feldman has also made it his mission to discuss and shed light on the abuse that he, Haim, and other child actors have endured over the years in Hollywood. In his documentary, "My Truth: The Rape of Two Coreys," he dives into the experiences he had on set and behind the scenes with co-stars, as well as the experiences Haim allegedly went through (via Entertainment Weekly). He hopes to have more people hear and understand the experiences they had and wants to protect child actors from experiencing the same thing today (via NBC San Diego). These days, Feldman resides in California with his wife and son and is living his life to the fullest.
If you or someone you know may be the victim of child abuse, please contact the Childhelp National Child Abuse Hotline at 1-800-4-A-Child (1-800-422-4453) or contact their live chat services.