What Is Millicent Simmonds From A Quiet Place Doing Now?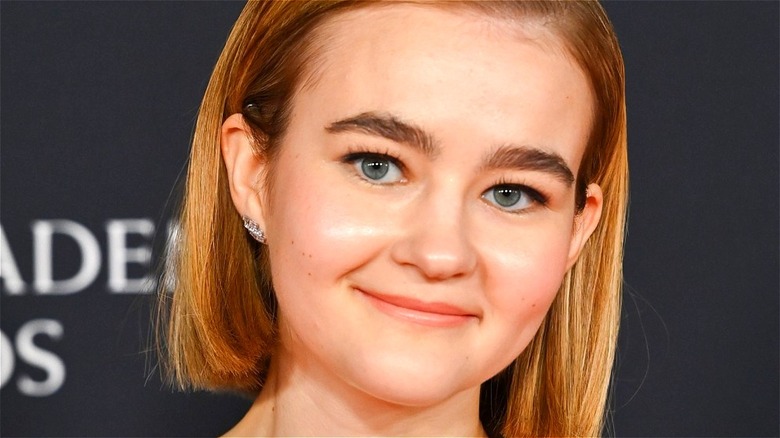 Kate Green/Getty
Growing up, actress Millicent Simmonds rarely saw individuals on the big screen that she could relate to. As an infant, due to a medication overdose, she became deaf prior to turning one year old (via Teen Vogue). Not only were there limited hearing-impaired characters in pop culture, but when there was one, it was often portrayed by a non-deaf actor, something Simmonds has said is "not fair" (via Variety).
However, in 2017, Simmonds began paving the way for the deaf community's involvement in the entertainment industry. She starred in "Wonderstruck," a story about Rose, living in 1927, and Ben (Oakes Fegley), living in 1977 — two deaf children who are searching for an actress and parent, respectively.
The following year, Simmonds landed the major role of Regan Abbott, the deaf daughter of Lee (John Krasinski) and Evelyn (Emily Blunt) in the suspenseful thriller "A Quiet Place." The family attempts to survive Earth's invasion of extraterrestrial creatures who attack at the slightest noise. This is challenging for Regan, who isn't always aware when they're in the vicinity. But she finds a way to defeat the creatures upon realizing they can't stand the high-pitched frequency caused by her hearing aids.
It's been two years since Simmonds battled the monsters a second time in the 2020 sequel "A Quiet Place Part II." Let's take a look at what she's doing now.
Millicent Simmonds is set to appear in two more projects
In April 2022, deaf author Sara Nović released "True Biz: A Novel," a coming-of-age story about Charlie, a new student at the River Valley School for the Deaf who has never met anyone like her before. Given Nović's deaf rights activism, the book, according to its official synopsis, is an "unforgettable journey into the deaf community and a universal celebration of human connection."
It was announced that the novel is being adapted for television, with Millicent Simmonds not only starring as Charlie, but serving as one of the executive producers. Circle of Confusion Television Studios intends to cast a number of deaf actors (via Deadline). Simmonds said, "As soon as I read 'True Biz,' I knew I had to jump at the chance to collaborate with a deaf creator on a project with an authentic and fresh perspective of the deaf community, and am equally excited to portray a deaf teenage protagonist never before seen on screen."
Additionally, Simmonds is portraying deaf and blind author Helen Keller in the movie "Helen & Teacher," which is perfect casting given that Simmonds is a distant cousin of Keller (via Variety). The film follows Keller as she attends Radcliffe College at Harvard University, and also stars Rachel Brosnahan as Keller's teacher and friend Anne Sullivan.
Simmonds posted to Instagram, "This is the role of a lifetime for me. Humbled and honored to portray one of the most extraordinary women of our time."