Hulk And Thor Battle It Out In New Thor: Ragnarok Clip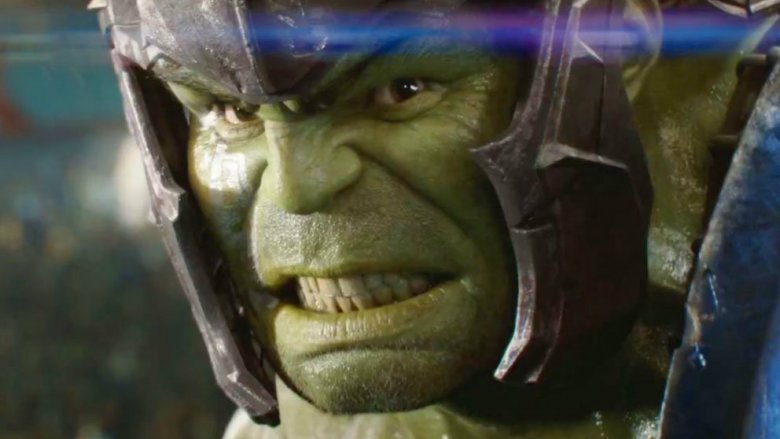 This funky frenemy fight is one for the ages.
Marvel's newfound quirkiness, likely kick-started by director James Gunn's Guardians of the Galaxy, has been in full force in the promotional material, teasers, and trailers for Thor: Ragnarok. Today, there was yet another burst of delightful weirdness (with a hefty portion of high-caliber action on the side) in the Marvel Cinematic Universe: the studio released a new clip for Thor: Ragnarok, featuring Thor (Chris Hemsworth) and the Hulk (Mark Ruffalo) fighting against one another in a gladiator-style arena.
The 30-second video appears in a tweet posted on the Marvel Studios Twitter account with the caption and voiceover of Grandmaster (Jeff Goldblum) announcing that "it's main event time." Thor and Hulk are introduced in campy flash footage that's not unlike what you'd see in a traditional WWE match. Though fans won't find out exactly who wins the superhero brawl until Thor: Ragnarok is released in theaters, the new teaser hints that the Asgardian god will reign supreme. Thor is relentless in his attack on the Hulk, repeatedly smacking him in the gut and punching him in the head, where his green sometimes-friend, sometimes-foe swings and misses over and over again. 
Interspersed between the fight sequence are those dashes of oddity that come it the form of bright splashes of neon color, psychedelic transitions, and shiny, three-dimensional chrome text. We also see a brief shot of Valkyrie (Tessa Thompson), a look at Hela (Cate Blanchett) springing head over heels into a fight against the Asgardian soliders, and another small sequence of Hela hunting down Thor to battle him. The clip wraps with previously released footage of Hulk flinging Thor across Grandmaster's arena and into a wall. At the aggressive move, Grandmaster declares, "He's a fighter!"
As with past Thor: Ragnarok clips, this new one definitely maintains director Taika Waititi's free-spirited and light-hearted tone of the film. The movie is sure to be something quite different than anything Marvel fans have previously seen in the MCU, and based on what we've been treated to so far, it could very well be the funniest. 
Like the previous Thor: Ragnarok footage, the new look definitely keeps director Taika Waititi's free-spirited, if not psychedelic tone of the film intact. There's no question that the film is going to be a definite departure from anything fans have previously seen in the Marvel Cinematic Universe, and by all indications from the footage we've been treated to so far, it could be the most comedic.
Here's the plot synopsis for Thor: Ragnarok: "The mighty Thor finds himself in a lethal gladiatorial contest against the Hulk, his former ally. Thor must fight for survival and race against time to prevent the all-powerful Hela from destroying his home and the Asgardian civilization."
The film is set to burst into theaters on November 3. In the meantime, find out why Thor: Ragnarok will blow everyone away this fall.
"It's main event time!" 👊 #ThorRagnarok pic.twitter.com/wo6Mk2f374

— Marvel Studios (@MarvelStudios) August 26, 2017