Game Of Thrones Season 7 Soundtrack Reveals Hints About Finale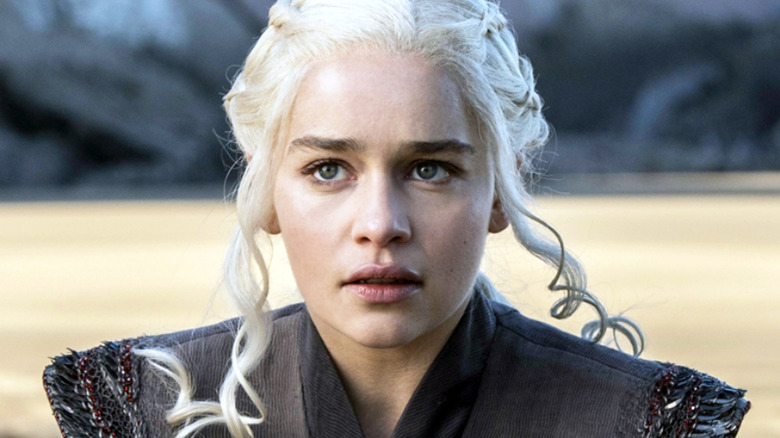 HBO
Contains spoilers for Game of Thrones season 7
As of now (Aug. 25), the season 7 finale of Game of Thrones has not leaked online (fingers crossed), so we've got to go back to digging for clues about what we can expect.
HBO released the complete season 7 soundtrack by composer Ramin Djawadi, and while it contains music from each episode, ScreenRant points out that there's a good chance the titles of the final few songs could provide hints about what we've yet to see.
Here are all 24 tracks:
1. Main Titles
2. Dragonstone
3. Shall We Begin?
4. The Queen's Justice
5. A Game I Like to Play
6. I Am the Storm
7. The Gift
8. Dragonglass
9. Spoils of War (Pt. 1)
10. Spoils of War (Pt. 2)
11. The Dagger
12. Home
13. Gorgeous Beasts
14. The Long Farewell
15. Against All Odds
16. See You for What You Are
17. Casterly Rock
18. A Lion's Legacy
19. Message for Cersei
20. Ironborn
21. No One Walks Away from Me
22. Truth
23. The Army of the Dead
24. Winter Is Here
Just gauging from context clues, it seems like we've heard all of the songs through "See You for What You Are." That's assuming that the sixth episode of the season, "Beyond the Wall," contained "Against All Odds" (when Jon Snow and the gang were trapped by the Night King and his White Walkers) and "See You for What You Are" (from that tender moment at the end between Jon and Daenerys).  
In that case, the final eight songs on the soundtrack would come from the season finale, "The Dragon and the Wolf." 
So what can we take from the titles? It would seem that the beginning of the episode would focus on the Lannisters, with "Casterly Rock" (an allusion to their home), "A Lion's Legacy" (the Lannister family sigil is a lion), and "Message for Cersei" (which directly refers to Lena Headey's Cersei Lannister). After that, it seems like either Theon (Alfie Allen), Yara (Gemma Whelan), or Euron (Pilou Asbæk) come into the picture with "Ironborn" (a reference to natives of the Iron Islands). 
From there, the soundtrack titles are a little vague with "No One Walks Away from Me" and "Truth," which could refer to any number of characters, but the last two songs are crystal clear. "The Army of the Dead" and "Winter Is Here" indicate that the White Walkers will be there at the end of the episode.
The soundtrack is available to stream now, and will be released in physical format on Sept. 29. A double vinyl LP set is expected later this year.