The Most Underappreciated Brand New Cherry Flavor Character, According To Fans
There's no sugarcoating the fact that Netflix's 2021 horror series "Brand New Cherry Flavor," based on Todd Grimson's novel of the same name, is a haunting tale, rife with grotesque visuals that will linger with you far beyond the show's limited run. The terrifying drama follows Lisa Nova (played by "Alita: Battle Angel" star Rosa Salazar) on her quest to make a movie, and then her subsequent quest for occult revenge on the monstrous man who ripped her ambitions apart.
In a show that features its protagonist literally vomiting kittens, it can sometimes be difficult to form an emotional attachment to the characters, especially when you factor in the mortality rate for anyone in a horror project. But that hasn't stopped fans from leveling praise towards their favorites, or otherwise bemoaning their mistreatment ... and with "A Brand New Cherry" being every bit of the nightmare fuel we're accusing it of being, mistreatment is bound to happen.
Christine Woods deserved better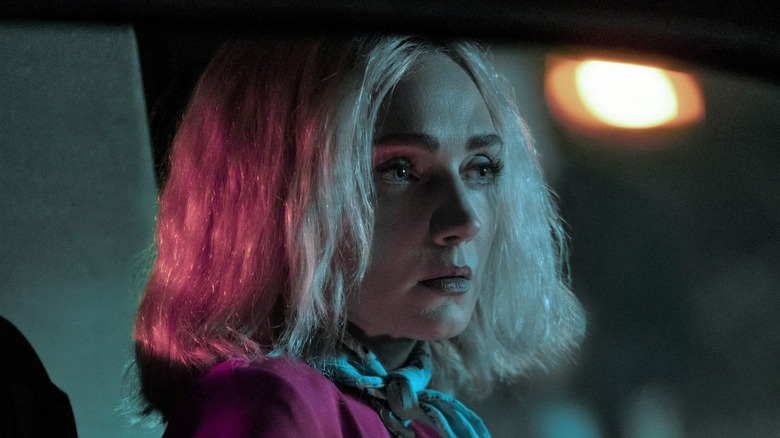 Merie Weismiller Wallace/Netflix
One such character to receive this treatment is Christine Woods (Hannah Levien). At first glance, Christine's role in the series appears to follow a typical "vapid blonde" stereotype, but according to viewers, she broke that mold, subverted the trope, and deserves more credit for it.
In r/BrandNewCherryFlavor, Redditor u/ball_of_cringe posted, "Christine is the best. I love how first they make her seem as if will be a non-likeable character, but then she just turns out to be very competent, smart, quick, practical, helpful, and badass." In a rare turn of events, the entire comment section seemed to be in agreement with the poster. Redditor u/SpiritedProtection13 replied, "same I thought they'd use the jealous girlfriend trope on her but tbh I'd trust her with my life." 
Meanwhile, u/drcolour chimed in to praise Christine, and commiserate about her fate in the series. What happened to Christine Woods, exactly? She, along with most of the poor cast of characters, died a gruesome death. Christine in particular was killed by thugs in the hire of Lou Burke (Eric Lange), the aforementioned monstrous man who ripped Lisa's ambitions apart. "Brand New Cherry Flavor" never touted itself as having a happy ending. At least Christine didn't have to meet the lady whose face is just a hole.
The only consolation to (justifiably) grieving fans is that, as u/ball_of_cringe so adequately phrased it in the replies, "at least everybody is f****d haha." We suppose there's some sort of comfort in communal misery, but after having watched "Brand New Cherry Flavor," it's going to be a while before we can ever fully appreciate comfort again. Or kittens, for that matter. We might be ruined on kittens, too.