This Is Where Gunsmoke Was Actually Filmed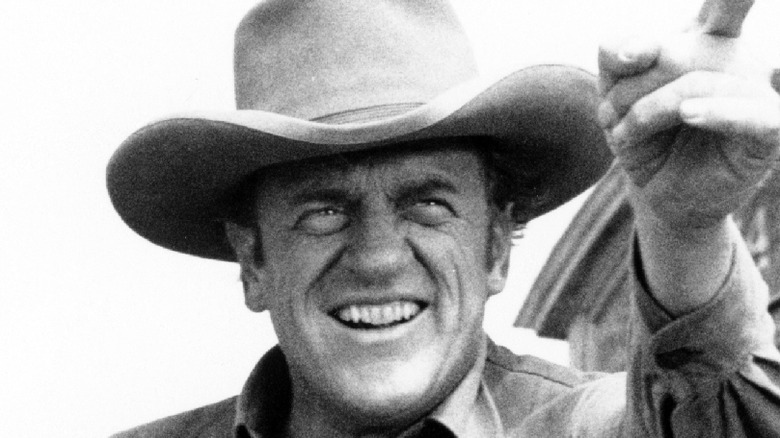 Michael Ochs Archives/Getty Images
For two decades, "Gunsmoke" commanded serious primetime real estate on CBS. The western-themed drama series starred James Arness, Milburn Stone, Amanda Blake, Dennis Weaver, and more, and produced 635 episodes in 20 seasons, from 1955 to 1975, making it the longest-running scripted series on television until "The Simpsons" knocked it from that status in 2018, per Entertainment Weekly. The show was set in the Old West town of Dodge City, Kansas, in the 1870s, where Arness' character, U.S. Marshal Matt Dillon, took care of the bad guys and Miss Kitty (Blake) ran the Long Branch Saloon.
Over its 20-year run, "Gunsmoke" featured guest spots from Charles Bronson, Ron Howard, Bette Davis, and many more, per IMDb. A 1971 holiday episode, "Murry Christmas" included a young Jodie Foster and future "Happy Days" star Erin Moran. Heck, even '70s teen idol Leif Garrett turned up in Dodge City. But did he really? Turns out the phrase "get out of Dodge" was actually quite literal for "Gunsmoke," because none of the episodes weren't shot anywhere near the real-life Kansas town.
Gunsmoke was filmed in various locations that weren't in Kansas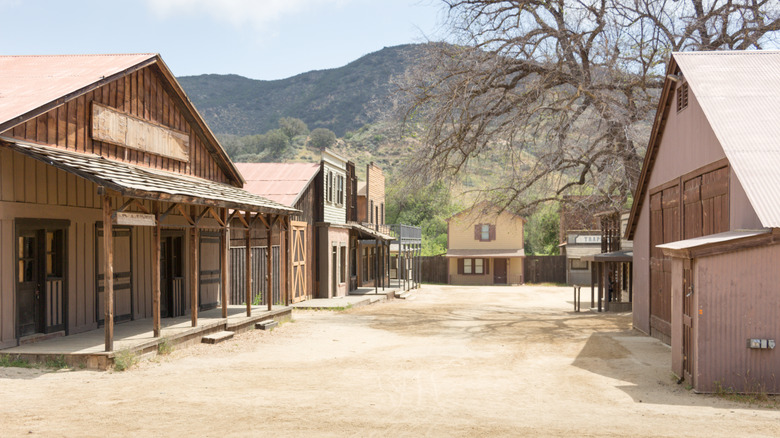 Emeric REYNAUD/Shutterstock
"Gunsmoke" featured many outdoor scenes over its long run, but they weren't shot in Dodge City, Kansas. Instead, the 22-acre Melody Ranch Studio in Santa Clarita Valley, California was often used for the show's outdoor scenes. In an interview with SCVTV in 2006, James Arness revealed that early on, most of the outdoor work took place at Melody Ranch, the same spot where "The Lone Ranger" was filmed. "We did the first couple of years of the show — at least, we did all of our outdoor stuff there at Melody Ranch," Arness said. "It certainly was the ideal place to do these shows. You had all kinds of different locations there including, even, there was a train there." The actor added that he visited the real Dodge City once, not to shoot "Gunsmoke," but for a celebration with other "Western guys."
"Gunsmoke" did hit the road eventually, though. As the show got bigger, scenes moved beyond studio lots to ranches across the west. Episodes were shot in Johnson Canyon near Kanab, Utah, per the city's website. Other episodes were filmed in the Arizona desert at Old Tucson Studios, according to KOLD 13 News.
Back in Cali, the famous Paramount Ranch working movie ranch in Agoura Hills was also used for certain scenes, according to CNN. A permanent Western town was built on the property in the 1950s using old storage sheds once used to house Paramount props, per National Park Service. But in 2018, the Western ranch town was destroyed when 97,000 acres of the ranch were engulfed in the Woolsey wildfires, per CBS News. The long-awaited cleanup began in 2020, with a long-term plan to restore Hollywood's historic Western Town.