The Kingsman Assemble In Golden Circle Character Posters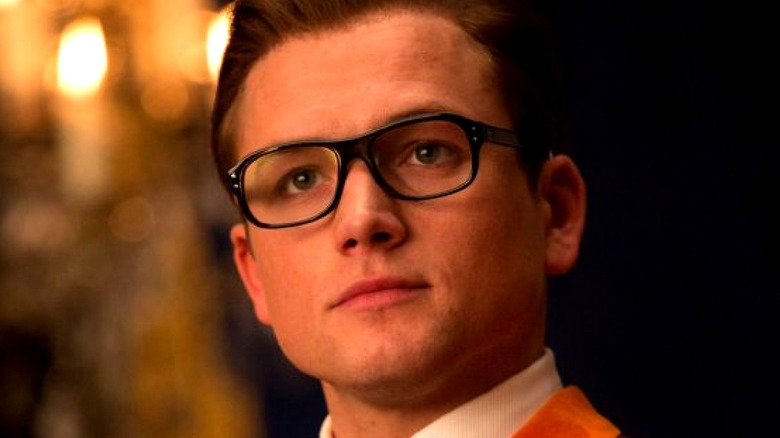 The gang is all here in new character posters for Kingsman: The Golden Circle. The posters, which you can view at the bottom of this article, show the old and new cast for the upcoming sequel assembled, with each standing in front of a closet showing off some of their signature wardrobe items and weapons.
The posters kick off with Taron Egerton's Eggsy. Now a full-fledged Kingsman, Eggsy has taken over the name Agent Galahad from Colin Firth's character, presumed deceased at the end of the first film. (But very much alive in the sequel.) Eggsy will have to team up with Mark Strong's computer expert Merlin and Sophie Cookson's Roxy (now known as Agent Lancelot, after the death of Jack Davenport's Lancelot in the first film) in the sequel after Julianne Moore's Poppy destroys the Kingsman's headquarters.
Poppy, described as "America's sweetheart gone wrong" by director Matthew Vaughn, very much fits that moniker in her character poster, which features Moore in a yellow houndstooth dress in front of some notable pieces of Americana. However, the burgers and bowling are offset by the very large butcher's knife hanging ominously on the wall behind her.
Luckily, the Kingsmen will have some help in taking down Poppy from their United States counterparts, the Statesmen. The Statesmen are led by Jeff Bridge's Agent Champagne, with Halle Berry's Ginger Ale taking on the role of their tech guru. Channing Tatum's Agent Tequila and Pedro Pascal's Agent Whiskey fill out the group.
The character poster that provides the biggest hint to the film is that of Firth's former Agent Galahad Harry. In the poster, Harry is shown in what appears to be a mix of Kingsman and Statesman gear, wearing his signature suit alongside a cowboy hat and fur jacket. (He does have the red background that the rest of the Kingsman have, though, as opposed to the black background featured on the Statesmen's posters.) Behind him are a number of butterflies, which, you may remember, were featured prominently in the very brief teases shared before the release of the film's first trailer.
We'll know more about what brings Harry back from the dead when Kingsman: The Golden Circle premieres on Sept. 22. The movie is directed by Vaughn based on a script he co-wrote with Jane Goldman. Elton John, Vinnie Jones, and Michael Gambon also star. While we wait for the film to be released, see some of the other movies you have to look forward to this year.