Jumper TV Reboot In The Works With Jamie Bell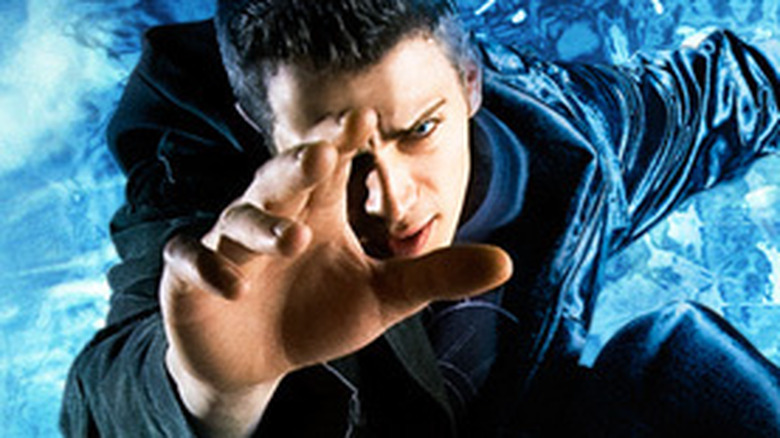 20th Century Fox
It's time to jump back into the world of Jumper. 
According to Deadline, English actor Jamie Bell is on board to develop a television reboot of the 2008 sci-fi action film Jumper for Studio Canal, New Regency, and Lionsgate. Doctor Who director Julian Simpson is attached to write and helm the reboot series.
The original movie, loosely based on Steven Gould's 1992 sci-fi novel of the same name, stars Hayden Christensen as David Rice (with Max Thieriot playing a 15-year-old David and a Ryan Grantham as five-year-old David), a teenager who discovers the ability to "jump" from one place to another with no discernible gap of time in between. Where his teleportation abilities begin as fun and games, they soon land David in the middle of an ancient and tumultuous war between those like him and the Paladins, the group of religious extremists sworn to destroy the Jumpers. 
Bell appears in Jumper as a renegade Jumper named Griffin O'Connor who makes it his life mission to hunt down and eliminate the Paladins. Along his journey, Griffin befriends David. The film also features Rachel Bilson as David's childhood friend and crush Millie Harris (with AnnaSophia Robb as young Millie), Samuel L. Jackson as Paladin leader Roland Cox, Diane Lane as David's estranged mother Mary, Michael Rooker as David's father William, and Kristen Stewart as David's half-sister Sophie. 
Sources state that Bell could be reprising his role as Griffin for the upcoming series, though nothing has been confirmed just yet. The reboot series is currently in development through the multi-faceted production and distribution deal Lionsgate holds with New Regency. 
In addition to the Jumper revival, YouTube Red previously ordered a pilot for a Jumper sequel Impulse, based on the third novel in Gould's series. Doug Liman, who directed the Jumper movie, was reported as attached to direct and executive produce the project via Universal Cable Productions. 
Bell got his start as a child actor in his first film, Billy Elliott, back in 2000. In the years since then, he's appeared in television series like Close & True and TURN: Washington Spies, and in movies such as film Snowpiercer, Fantastic Four, and Man on a Ledge. 
We'll keep you posted as we learn more about the new Jumper series, but in the meantime, check out these reboots that actually worked in a big way.