The Real Reason Hannah Was Brought Back To Chicago Med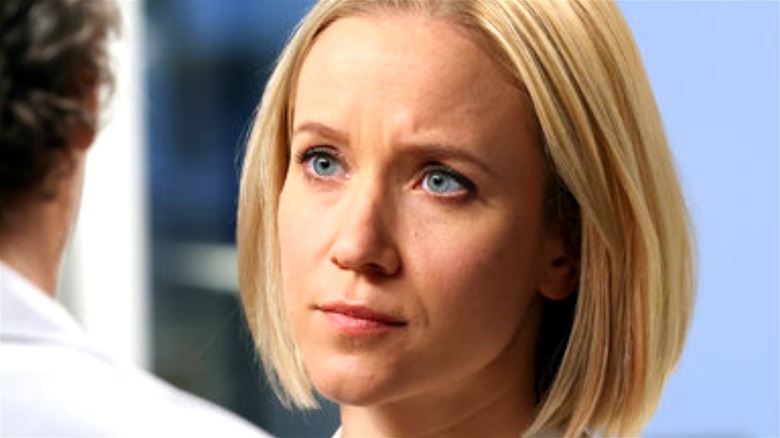 George Burns Jr/NBC
This article contains general spoilers for Season 7 of "Chicago Med" and discusses drug addiction.
Fans of NBC's "Chicago Med" likely thought that they'd seen the last of Dr. Hannah Asher (Jessy Schram), whose story arc had come to a bittersweet ending long ago. They were in for quite a shock when Hannah turned up during Episode 16 of Season 7, "May Your Choices Reflect Hope, Not Fear," ready to resume her job at the hospital. Viewers haven't seen Hannah since "When Did We Begin To Change," the first episode of Season 6, when she returned to a rehabilitation faculty to deal with her heroin addiction. Hannah had previously completed a program and then relapsed, suffering an overdose during the show's 5th season. Afraid she'll start using again without his help, her former boyfriend Will Halstead (Nick Gehlfuss) gives her the courage to carry on. 
Apparently, that courage has paid back its dividends, and Asher is now sober, back and ready to resume a full caseload at Chicago's Gaffney Medical Center. Sharon Goodwin (S. Epatha Merkerson) approves of Hannah's return, and now it's up to the young doctor to prove her salt. Fans of "Chicago Med" might be curious as to why Hannah has returned to the show's fold at this particular time. Here's the real reason why the character is back.
Hannah has returned to give the writers a hook to work with for Season 8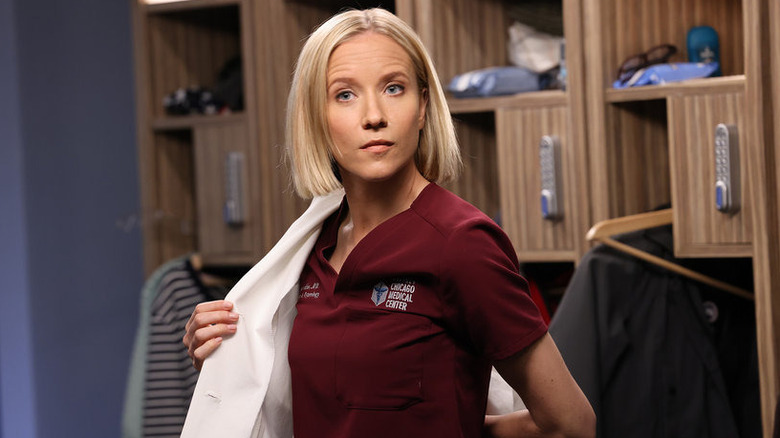 George Burns Jr/NBC
Speaking with members of the media during the #OneChicago press junket in early April of 2022, "Chicago Med" executive producer Diane Frolov explained that Dr. Hannah Asher has been brought back to the show to give the writers a meaty storyline hook that they can sink their keyboards into for the show's already-greenlit 8th season. 
"We wanted to start something mid-season that we can, as writers, continue on to the next season," she explained, via TV Line. Adding that Hannah is a familiar face whose presence will please their fanbase, she concluded that it gives the show's writing staff "the possibility of an ongoing story for next season." Frolov also said that Hannah's profession as an OBGYN/gynecologist is a helpful one to propel storylines and a specialty that's currently not represented among the show's practicing doctors.
There's definitely a lot of unfinished business between Hannah and Will. "Will has always looked upon Hannah as somebody with a problem, which she did have, so he's cast himself in the role of savior, and he's going to have to get out of that," explained Frolov. The dynamic is definitely set to change now that Hannah is sober and now has to prove to people that she can do her job. However, Halstead won't be the only person she's going to have to prove herself to. "She has to outrun her reputation, but she's determined to do that," Frolov said.
"Chicago Med" airs every Tuesday night at 9 p.m. on NBC.
If you or anyone you know is struggling with addiction issues, help is available. Visit the Substance Abuse and Mental Health Services Administration website or contact SAMHSA's National Helpline at 1-800-662-HELP (4357)