The Office Space Reference That Made It Onto NCIS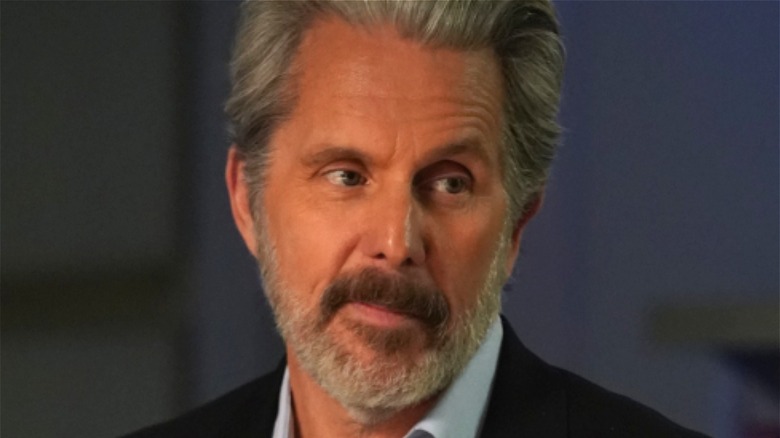 Sonja Flemming/CBS
As one of the longest-running shows on primetime, "NCIS" has seen its share of agents walk the halls of the famed D.C. field office. Still, it came as a shock when Leroy Jethro Gibbs (Mark Harmon) exited the series after 18 seasons and some change, leaving a sizable gap on the "NCIS" team. Enter Special Agent Alden Parker, played by Gary Cole. The "Veep" alum joined "NCIS" in the second episode of Season 19. Parker has quickly proven that he's not just Gibbs 2.0, bringing his own quirks — and a love for techy gadgets — to the formerly Luddite-run team.
"NCIS" is the latest in a string of recognizable roles for Cole. Since securing his first television credits in the '80s, Cole has worked at a near-constant clip, appearing in movies like "Dodgeball" and "Pineapple Express," as well as recurring roles on "The Good Wife," "The West Wing," and "Chicago Fire" (via IMDb). One role, however, stands alone in its enduring cult-like adoration: Bill Lumbergh from Mike Judge's 1999 white-collar comedy "Office Space." 
As the needling vice president at Initech, Lumbergh is a much-loathed presence in the office, roaming from cubicle to cubicle to benignly deliver grating requests. Cole plays Lundbergh as upper management incarnate, wringing comedic gold from an otherwise unbearable character. Seeing as Cole retired the character over twenty years ago, fans weren't expecting Lundbergh to rear his coffee-filled head in an episode of "NCIS."
Special Agent Parker is gonna need those TPS reports
To the delight of "Office Space" fans, Gary Cole slipped a Lundbergh reference into the early moments of "Starting Over," the 17th episode of "NCIS" Season 19, as noted by CinemaBlend. At the beginning of the hour, the "NCIS" team is kvetching over paperwork and other mundane office tasks. Parker then launches into an "Office Space" easter egg: "What I'd give to never have to file another TPS report." McGee (Sean Murray) is quick to correct him, replying, "You do know it's a TBS report, right? A trans-bureau synopsis?" Parker chalks up the gaffe to old habits dying hard, before taking a considered sip of his coffee. To an "Office Space" agnostic, it's a throwaway scene — just two agents complaining about the nitty-gritty of their jobs. For Lumbergh fans, however, "NCIS" may as well have been blasting The Geto Boys.
"Office Space" fans will remember TPS reports as a regular thorn in Peter's (Ron Livingston) side. A minor slip-up — forgetting to put a cover sheet on his TPS reports — makes its way up the managerial food chain, with the seemingly innocuous error turning from a molehill to a mountain. Later, a blissed-out Peter throws fish guts on a stack of unfinished reports — a middle finger to mindless busy work. Agent Parker might not be afforded the same catharsis, but fans can still hold out hope for a fax machine smashing sequence on "NCIS."