Dave Bautista Promised Josh Brolin He'd Be Bigger Than Him For Avengers 4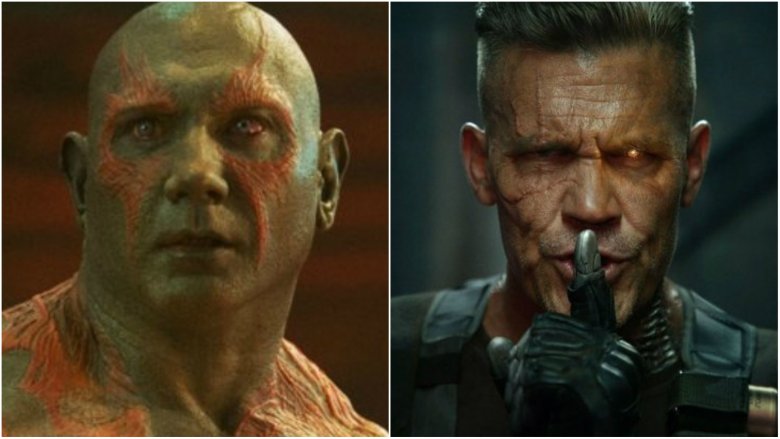 How jacked has Josh Brolin become to play Cable? Jacked enough to make Dave Bautista self-conscious. 
Brolin has been using social media to showcase how he transformed his body into superhero shape for Deadpool 2, and Bautista, his Avengers: Infinity War co-star, has noticed.
Bautista, the semi-retired WWE wrestler, former mixed martial artist, and bodybuilder who plays Drax the Destroyer in Guardians of the Galaxy, recently told The Hollywood Reporter that Brolin's new physique inspired him to hit the weights even harder. 
"I am known for being in shape and being a big guy, and he actually made me self-conscious!" Bautista said. "I swear to God, I promised him that in November, when I do some work on [Avengers] 4, I told him 'I will be in better shape for that, because you make me self-conscious!"
Bautista said Brolin, who plays the villainous Thanos in the Avengers series, is in such incredible shape that Bautista didn't even recognize him at first.
"I was out in California in June doing another project and he walked up to me at Gold's Gym and goes, 'Dave,' and I am looking at him and he said 'It's Josh,' and I was like 'Holy f***!'" Bautista said. "He literally transformed himself in a matter of months. He is a stud. He is not only jacked, but he is shredded. His face is all sunken in like a model. He is like a completely different person."
Avengers: Infinity War will hit theaters May 4, 2018. Deadpool 2 is expected June 1, 2018.
Check out video of Brolin at the gym below and find out how he got so ripped to play Cable.