The Walking Dead Season 11 Episode 15 Scene That Went Too Far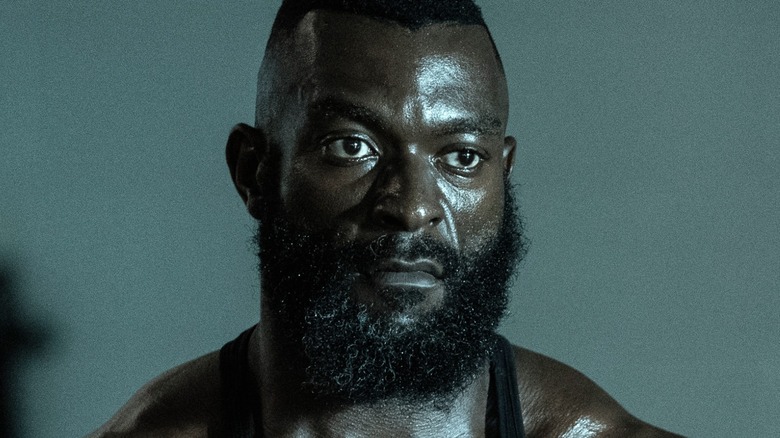 Jace Downs/AMC
This article contains spoilers for "The Walking Dead"' Episode 15 of Season 11, "Trust."
The eleventh and final season of "The Walking Dead" continues to move ever closer to completion. In Episode 15, "Trust," the Hilltop community came into conflict with the Commonwealth's soldiers, headed by Deputy Governor Lance Hornsby (Josh Hamilton) who had arrived to suss out what had happened at the Riverbend apartment complex. This turns into an attempt at arresting the person who killed Toby Carlson (Jason Butler Harner). While Aaron (Ross Marquand) and Gabriel (Seth Gilliam) stick to their stories about the events of the day and Daryl (Norman Reedus) backs them both up, Lance suspects Maggie Rhee (Lauren Cohan) and the others at Hilltop of killing Carlson and leading the massacre against those living in the apartment complex, taking the rest of the missing Riverbend citizens hostage. 
This turns into a standoff, and Daryl is forced to mediate between the two parties to save lives. Elsewhere, Eugene (Josh McDermitt) and Rosita (Christian Serratos) launch an investigation into the disappearance of a large number of Commonwealth citizens with the help of Connie (Lauren Ridloff), Kelly (Angel Theory) and eventually Max (Margot Bingham), who finally kisses Eugene for the first time, and Ezekiel (Khary Payton) and Tomi (Ian Anthony Dale) find themselves helping out with an emergency appendectomy after assisting a hospital Ezekiel has secretly helped to build.
With so much going on in this action-packed, tense episode, it might be hard for you to pinpoint the moment that went too far. Here's the moment we think pushed the envelope.
Lance tried to start Maggie's car and fans' hearts stopped
Lance tries his darnedest to prove that Maggie is lying about Hilltop's involvement in the assault during the episode, but his every attempt at implicating her and her people goes awry. His earliest try at proving her guilt has him trying to tie her to a set of tire tracks found at the apartment complex. He spies a truck in her possession and she declares it doesn't work. Claiming expertise in mechanics, he heads under the hood and finds two crucial cables disconnected from their proper spots. Maggie, Daryl, and the audience hold their collective breath, but even then Lance is unable to restart the truck's engine. Unable to find evidence that Maggie was involved in the assault on the complex, he tries to convince her to join the Commonwealth, and when she rejects his request he insinuates that he's prepared to go to war to get what he wants. To wit — he's later seen hiring Leah (Lynn Collins) for an assassination job.
It's less the context of the scene than the utter menace contained within Josh Hamilton's performance that got to fans this time. In an episode filled with queasy, edgy segments, this is one of the queasiest, and the one that could've easily led to Maggie's death and the dissolution of Hilltop. It disturbed fans watching, and left them wondering how much longer she can keep holding out without sacrificing those around her. Since this is an episode with an onscreen appendectomy and a moment in which Lance threatens young Hershel Rhee (Kien Michael Spiller), it takes a lot to stand out as disquieting, but this moment definitely does the job.
Fans were relieved Lance couldn't start the engine but portend only doom for Maggie
Fans congregating on Twitter and on "The Walking Dead" subreddit had some definite opinions about this chiller of a scene.
"It's crazy how Lance made starting a car more disturbing and sinister than somebody standing in your yard with a sickle," said u/magseven. Some fans were confused about Lance's continued plan to off Maggie, but fans pointed out that it's likely that he sees her as an obstacle to ruling Hilltop and didn't appreciate her defiance of his attempt at fostering an alliance. 
Lots of fans had plaudits for Josh Hamilton's performance. "i get chills every time he's on the screen. he's genuinely scary," said u/delilahay. 
Twitter fans were just as flustered, with many fans admitting the moment made them anxious and caused them to stress out. "The relief afterwards was almost palpable!" said @ShalanaDas. "At that moment I felt a horrible fear, then a relief," said @hiddleshoechlin. 
Fans will find out if Maggie makes it out alive soon enough. The final season of "The Walking Dead" continues to play out every Sunday night on AMC at 8:00 p.m. EST.