Who Is The Actor In The Bravecto Commercial?
In the latest television spot for Bravecto, an old-fashioned TV presenter who is enthusiastic right up to the point of sarcasm, pops into the frame and announces that it is time to compare two leading flea and tick protection dog chew brands. That's not the sort of thing you can accomplish in real-time over the course of a 30-second commercial, so it's time to, well, time-lapse. Very quickly, the host grows a mustache with every new frame to indicate the passage of five weeks. At that point, Bravecto emerges victorious as the superior chew for flea and tick protection.
Even if your dog doesn't have fleas or ticks — or even if you don't have a dog — there's a good chance you recognize this commercial's distinctive host. There's even a connection between this versatile comedic character actor and the canine world, one that seems to be explicitly alluded to in the ad. But if you're not familiar with the name that goes with this actor's face, we can surely remind you where you've seen him.
John Michael Higgins is a familiar face to modern comedy fans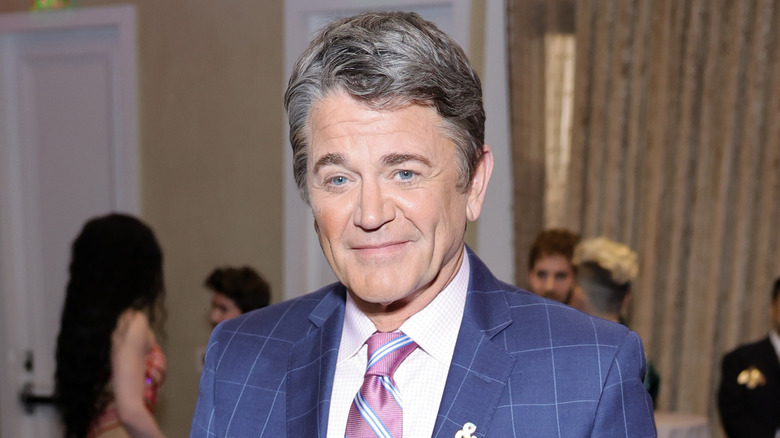 Randy Shropshire/Getty Images
TV's "Bravecto Guy" is actually John Michael Higgins. If the name doesn't ring a bell, this actor's face and energy surely will. The "Pitch Perfect" actor has an extensive list of credits on his IMDb profile, including legendary comedy shows "Seinfeld," where he plays Elaine's boyfriend with a shaved head, and "Arrested Development," where he shows up as the Bluths' highly professional attorney, Wayne Jarvis. More recently, Higgins appears in the role of obnoxious restaurateur Jerry Frick in Paul Thomas Anderson's "Licorice Pizza" and in the Showtime limited series "Super Pumped" as the late Mike Ovitz, the former president of The Walt Disney Company.
Higgins is also a familiar stock player in the faux documentaries of Christopher Guest, and it's his role in one particular Guest film that seems to be a major reference for this Bravecto commercial. That movie would be the 2000 film "Best in Show," a mockumentary that follows the various oddball competitors of the fictional Mayflower Kennel Club Dog Show (via IMDb). In case there was any doubt that savvy viewers are meant to be reminded of the film when they see this commercial, Higgins' Bravecto character even uses the phrase "best in show" early in the spot — a clear allusion to the adored cult comedy.
Higgins' character in "Best in Show" is quite different from his role in the Bravecto commercial. In fact, it's easy to imagine his co-star Fred Willard as the excited Bravecto spokesman, had he not sadly passed away in May 2020. This in turn just goes to show a little bit of the range that Higgins possesses as a performer.