The Real Reason Joan Cusack Left Shameless Before It Ended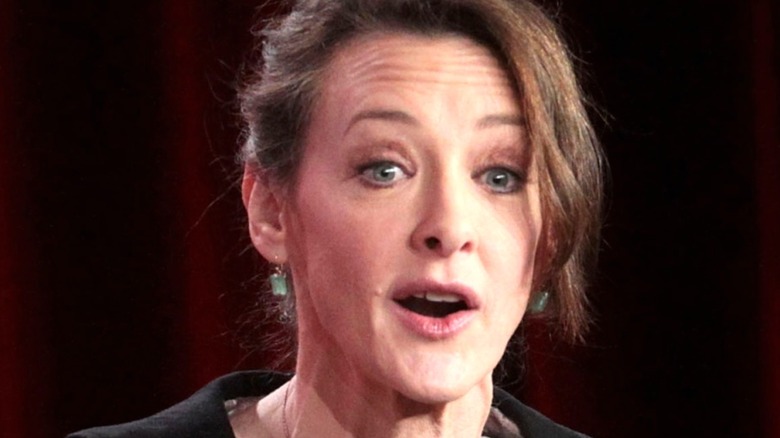 Frederick M. Brown/Getty
The Showtime series "Shameless," which was adapted from a British series of the same name, was known for its large cast of regular and recurring characters. Alongside a regular cast that included William H. Macy, Jeremy Allen White, Emma Kenney, and Cameron Monaghan, the show also featured recurring characters played by a variety of performers, including Dermot Mulroney, Justin Chatwin, and Joan Cusack.
Cusack was a particularly integral part of the show for many years. In the show's first five seasons, she played Sheila Jackson, an agoraphobic woman who was the mother of Karen Jackson (Laura Wiggins). Sheila ultimately bonds with Jody Silverman (Zach McGowan) and begins taking care of Karen's child, Hyram "Hymie" Jackson (Joanna Lee), after Karen decides to give him up to the foster care system.
After Karen suffers an accident, Jody leaves for Arizona with her and Hymie, and Sheila forms a relationship with Frank Gallagher (William H. Macy). Unfortunately, their relationship ends when Sheila's house blows up as a result of one of Frank's many schemes. Sheila subsequently boards an RV and departs the series to travel the world on her own.
Many viewers questioned Cusack's sudden departure from the series when it happened. Here's the real reason Joan Cusack left "Shameless" before it ended.
Cusack wanted to focus on her family
Joan Cusack has never provided an official reason for leaving "Shameless." However, it seems that the decision was made because of her family.
In a panel for the Salt Lake Comic Con in 2017, Cusack was asked about whether she would reprise the role of Sheila Jackson on "Shameless." While she didn't rule out the possibility, Cusack added the caveat that her son was in high school, and her priority at the moment was being a mother, stating "I'm trying to be a good mom in my role, my most important role" (via Daily Herald).
She added that she could return to the show after her son graduates from high school, but not before. Obviously, this would seem to indicate that while she wasn't closing the door on it completely, she also wasn't especially eager.
While "Shameless" itself is set in Chicago, for the duration of the show's run, the series was actually shot in Los Angeles (per The Chicago Tribune). Cusack and her family, on the other hand, live in the real-life Chicago, which seems to have made it difficult for Cusack to focus on her family. This seems to be the most likely reason Sheila Jackson was written off "Shameless."
Ultimately, Cusack did not return for the show's final season, likely due to the pandemic and associated protocols that sadly also kept Emmy Rossum from returning.