The One Thing Rebel Wilson Would Consider Doing In A Serious Acting Role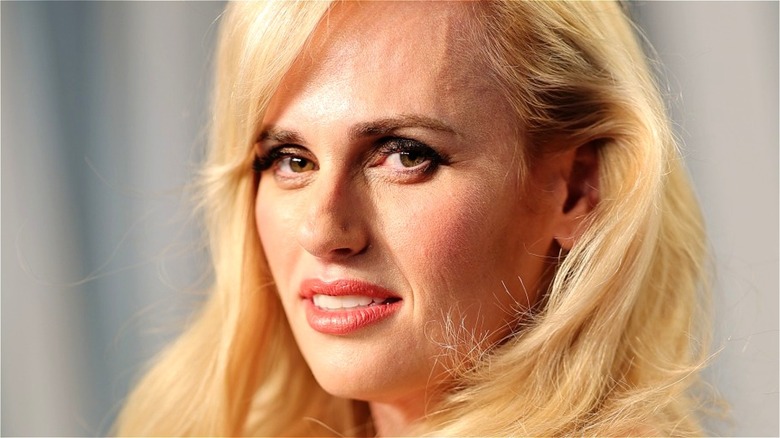 Rich Fury/VF22/Getty
It's hard to believe that as a child, Australian actor Rebel Wilson was "unusually shy, bordering on a social disorder (via Marie Claire)." Despite being known for her confident, comedic roles in blockbuster hits, Wilson struggled to come out of her shell as a kid. In an effort to help Wilson, her mother ultimately forced her to attend a local acting class. The rest is history.
After getting her start in a handful of Australian TV shows (via IMDb), Wilson achieved her big break in the U.S. in the 2011 comedy "Bridesmaids." As Brynn, the deadpan, boundary-lacking roommate of Annie (Kristen Wiig), she's a hilarious force to be reckoned with. Wilson kept the laughs coming as "Fat Amy" in the "Pitch Perfect" film series, Robin in the rom-com "How to Be Single," and Dawn Grobham in the 2016 Sacha Baron Cohen film "The Brothers Grimsby," among many other roles.
In the Baron Cohen comedy, Wilson is the raunchy girlfriend of Nobby (Baron Cohen). Even when his long-lost brother Sebastian (Mark Strong) is in the vicinity, she's vocal about her various bodily functions and sexual desires. It's an over-the-top character, but there was one thing that Wilson refused to do as Dawn — something she'd only consider in a serious acting role.
Rebel Wilson would only do a nude scene in a serious movie
Rebel Wilson revealed that while filming "The Brothers Grimsby," she was asked by the production team to shoot a scene that involved full-frontal nudity. Though she's filmed some pretty crazy scenes in the past, including Brynn getting a Mexican drinking worm tattoo in "Bridesmaids," this request went beyond what she was willing to do. She refused, reiterating a clause in her contract that prohibits this very thing (via Marie Claire).
According to Wilson, she's not completely opposed to nude scenes. She simply doesn't want to strip down for a comedy and it's for a legitimate reason — she doesn't fully trust many of these film creators. However, if she were to be asked to alter her contract for a serious movie, Wilson "could be persuaded."
She said, "You want to know that the people [behind the camera] have a certain sensibility and decency. And a lot of times in comedy, they're not those people."
When a nude double was brought in for "The Brothers Grimsby," Wilson said Baron Cohen tried to make her see that it wasn't so bad. "Sacha would go, 'See, she looks good.' I'm like, 'I'm not doing it, I don't care what you say.'"