The Big Broadway Connection You Likely Didn't Know These Stranger Things Stars Shared
When "Stranger Things" first hit Netflix in 2016, it catapulted its child actors into stardom. Since its airing, Finn Wolfhard has seen franchise work such as "Ghostbusters: Afterlife," while co-star Millie Bobby Brown has found success with her Netflix film "Enola Holmes." It isn't hard to see how the series has become such a phenomenon. Based in the nostalgic time of the '80s, "Stranger Things" depicts the lives of a group of preteens who uncover a vast conspiracy after their friend Will (Noah Schnapp) goes missing. They form a bond with young girl Eleven (Brown) who has been subjected to lab experiments and discover a world involving superpowers, monsters, and alternate dimensions.
Earlier this year, creators Matt and Ross Duffer announced on Twitter that "Stranger Things" is slated to end after Season 5 and resolve Eleven's story. Mike (Wolfhard), Eleven, and Will may have to say goodbye to their friends, but the connections these actors have formed together are sure to remain. In fact, some actors have connections not just from the show, but from way back to their Broadway days.
Three cast members were on Broadway at the same time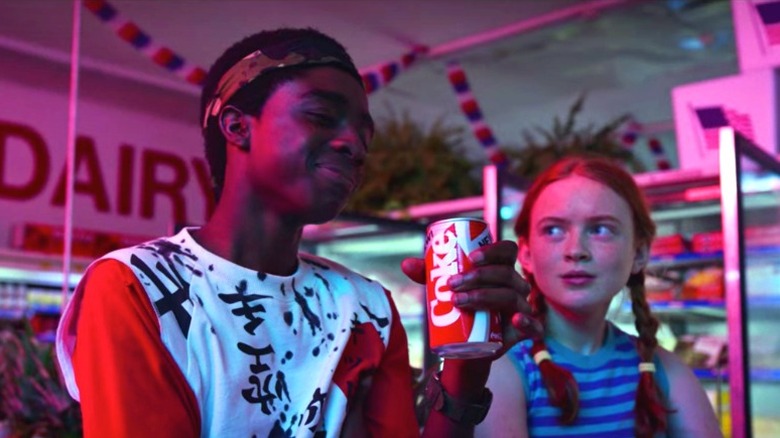 Netflix
The pool of young actors in "Stranger Things" is full of Broadway veterans. No less than three of the cast members come from not-so-humble origins in classic musicals. Sadie Sink may appear as the hard to impress skateboarder Max on "Stranger Things," but she first portrayed an orphan on stage in the titular role of "Annie" (via Vogue). She reported that it wasn't a total coincidence that she was acquainted with "Stranger Things" co-stars Caleb McLaughlin and Gaten Matarazzo at the time. As fellow young actors on Broadway, they made a habit of meeting up in between shows.
McLaughlin and Matarazzo had roles just as impressive as Sink's. McLaughlin played Young Simba in "The Lion King," whereas Matarazzo appeared in "Les Misérable" as Gavroche. That wasn't the last time they put their singing talents to good use, either. In the season finale of Season 3, Lucas (McLaughlin) and Max tease Dustin (Matarazzo) mercilessly about his girlfriend Susie by singing the theme to "The NeverEnding Story," which Dustin belts out in one pivotal scene. The brief moment is a humorous callback to the history the three of them share.