The Best Arrest In Blue Bloods Season 7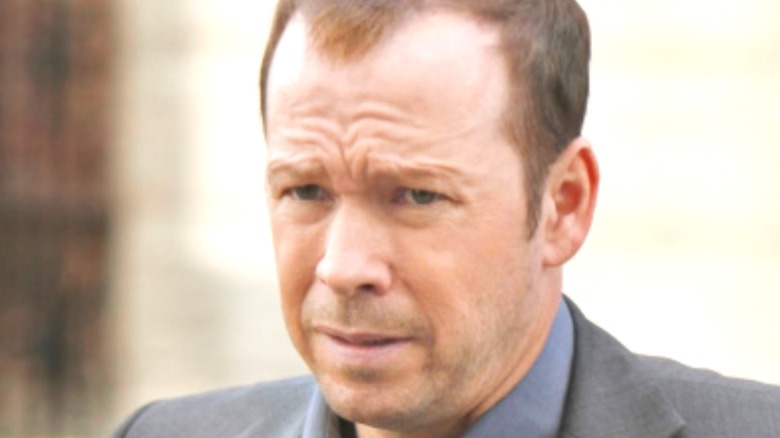 Craig Blankenhorn/CBS
"Blue Bloods" is the CBS cop drama that's been on the air for 12 years and counting. It's got a compelling cast of characters with intelligently written storylines, along with some big-name actors like Tom Selleck, Donnie Wahlberg, and Bridget Moynahan, among others. Fans are so enamored with it, that — unlike many network crime dramas — the number of viewers per episode still tops 10 million even after all these years (via The Hollywood Reporter). Clearly, their formula is working spectacularly.
Part of this successful formula centers around the way arrests are handled in the show. There are so many storylines in "Blue Bloods" that end in an emotionally satisfying way, that it's hard to choose just one as the best. Even narrowing it down to the best arrest in a single season is a tough process. But based on fan ratings and feedback from viewers on social media, there's one particular arrest during the Season 7 mid-season finale that might be not just the best arrest of the entire season, but possibly a top contender for the entire series.
Enemies came together to get justice for a murdered boy in Episode 10
In Season 7, Episode 10, "Unbearable Loss," a reverend's teenage son is killed in cold blood. But the boy isn't the child of just any reverend — it's Reverend Potter (Ato Essandoh), Frank Reagan's (Tom Selleck) old rival who has it out for him and the NYPD in general. Potter, in direct opposition to his morals, is so desperate for Frank to catch the killer that he tries to take inadmissible evidence to the cops in order to expedite things. 
At the end of the day, though, it's the police's insistence to do it by the book that results in the arrest of the murderer, who turns out to be someone that Potter helped keep out of jail when he was a boy. This bittersweet irony, in addition to Frank's confession that a crooked cop killed his son a long time ago, makes this particular arrest one of the most memorable of the season.
This likely explains why this episode is tied for best of the season on IMDb, with an 8.4 rating. Fans on Twitter got wrapped up in the emotion as well. Several viewers, including @DMPicone, commented about how the "powerful uniting" which led to the arrest made it "one of the best [episodes] they've done." Even @AtoEssandoh, the actor who plays Potter, tooted his own horn a bit on the bird app about how fantastic the episode was, and how he was "was honored to be a part [of it]."