What You Likely Didn't Notice About Penelope's Costumes In Bridgerton Season 2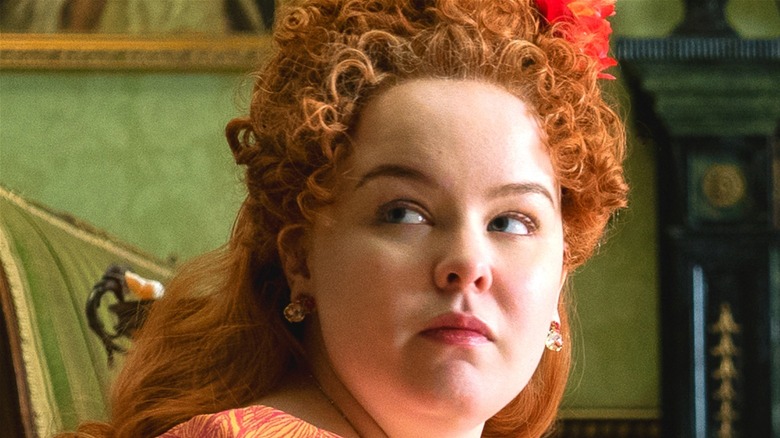 Liam Daniel/Netflix
Based on the novels of the same name by Julia Quinn, the Netflix series "Bridgerton" — which was developed for television by Chris Van Dusen and is produced by Shonda Rhimes — is set in Regency Era London and focuses on the love lives of the London society characters.
One of the best parts about "Bridgerton" being a period piece series, many fans would likely agree, is the gorgeous costumes that all of the characters get to wear (and that all of the viewers get to look at). From Queen Charlotte's (Golda Rosheuvel) array of big ball gowns and fabulous wigs to Kate's (Simone Ashley) stunning teal hunting outfit in Season 2, "Bridgerton" has provided plenty of eye-catching fashion moments in the first two seasons — and will continue to do so for Seasons 3 and 4, which have already been confirmed to be happening.
Another character who has plenty of easy-on-the-eyes outfits is Penelope Featherington (Nicola Coughlan), who is revealed to be the mysterious society newsletter writer Lady Whistledown in the Season 1 finale. And, as it turns out, Penelope's costumes were carefully curated to reflect the character's complexities and secrets — read on to find out what you likely missed about Penelope's outfits in "Bridgerton."
Penelope's color palette changed for Season 2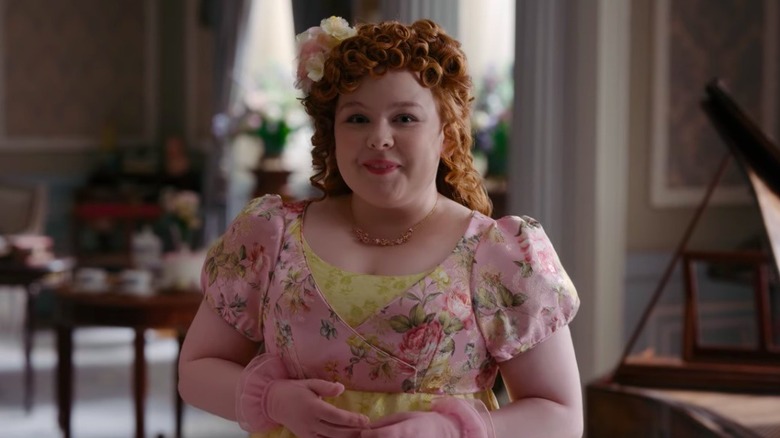 Netflix
As fans likely remember, Penelope wore a whole lot of yellow outfits in Season 1 of "Bridgerton" — this was no accident. According to Yahoo!, the costume designer for that season, Ellen Mirojnick, chose yellow because it can represent deceit — and Penelope, as we know, acts in a deceitful manner by hiding her identity as Lady Whistledown. Yellow was also considered a fashionable color at the time, a key reason that Penelope may frequently choose yellow gowns.
However, Penelope begins to move away from yellow in Season 2, even expressing that she has "grown weary of the color." While the character still maintains some yellow in Season 2, her color palette is much more varied. Again, this was not a coincidence and was meant to signal maturity. Season 2 costume designer Sophie Canale told Fashionista, "I've pushed a bit more pink into her color palette this year — she's a year older." In a well-executed moment of transition, one of the early Season 2 scenes sees Penelope in a yellow and pink dress. She also frequently wears a blue cloak when she's sneaking about the dodgier part of town that houses the printing shop for Lady Whistledown's papers.
We can't wait to see what colors Penelope matures into next season — and the season after.