Hatchet Gets Rebooted With Secret Movie Victor Crowley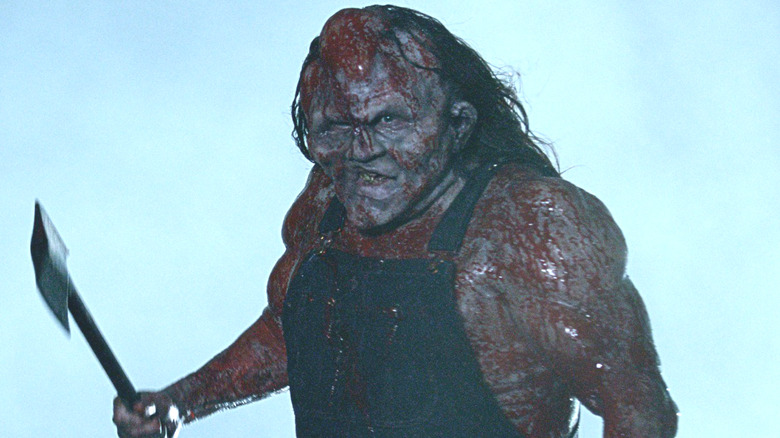 Dark Sky Films
The director of the cult classic horror Hatchet has pulled off the ultimate shocker.
Entertainment Weekly confirmed that writer-director Adam Green secretly filmed a fourth film in the Hatchet franchise, and it's described as a reboot of the original. Victor Crowley, named for the supernatural killer in the series, is set a decade after the massacre at the center of the first three movies (2006's Hatchet, 2010's Hatchet II, and 2013's Hatchet III). It brings back Kane Hodder (Friday the 13th) as the cursed, swamp-dwelling murderer and franchise veteran Parry Shen (Better Luck Tomorrow) along with Laura Ortiz (2006's The Hills Have Eyes), Dave Sheridan (Scary Movie), and Brian Quinn (truTV's Impractical Jokers).
In the movie, we find out that sole survivor Andrew Yong (Shen) has spent the past decade trying to convince everyone that the local legend Crowley was behind the deaths of 49 people in the original trilogy. Nobody believes him until Yong ends up back at the scene of the horror and Crowley is mistakenly resurrected.
"The only survivor that was ever found was Parry Shen's character Andrew Yong," Green told EW. "Now, 10 years, later, he's kind of become a little bit of a celebrity. At one point he's compared to 'the O.J. Simpson of Honey Island Swamp' because most people do not buy his story, but he got off because there was no evidence that he had done it. So, some people love him, a lot of people hate him, and now he's written a book, which he is promoting on the tenth anniversary of the events of 2007. He is convinced to do one final interview back at the scene of the massacre, where he has never returned. Simultaneously to him going back there with this camera crew, that's going to interview him, there is something else happening that brings back a little certain somebody."
Green said the hardest part about making the movie was keeping it entirely secret. "The script was called Arwen's Fancy Dinner and then, when we were shooting, it was called Arwen's Revenge, just because that was easier to fit on a camera slate," says the director. "Nobody ever spoke the words Hatchet or Victory Crowley. Everyone has always referred to this as Arwen's Revenge. You know, you can hit people with all the NDAs in the world, it's not really going to do much when you have a crew that big, because good luck proving who spilled the beans. So, really it came down to me sort of sitting down with each and every crew member for a while, and explaining why I was doing this, and who we were doing it for. Maybe not everyone in the world is going to have their life changed when they hear, 'There's a new Hatchet movie.' But for the fans that do love this so passionately, it is going to be a surprise, and I'm just so happy that it stayed that way."
Victor Crowley premiered last night (Aug. 22) at Hollywood's ArcLight Cinema at an event advertised as a "Hatchet 10th Anniversary Celebration," and the film will also screen at the upcoming FrightFest Festival in London. In October, Green will embark on a "Victor Crowley Road Show" and he'll introduce the film at special one-night screening events across the country. A full schedule of screenings will follow. 
Meanwhile, take a look at some horror movies that were banned for being too disturbing.