The Big Brunch - What We Know So Far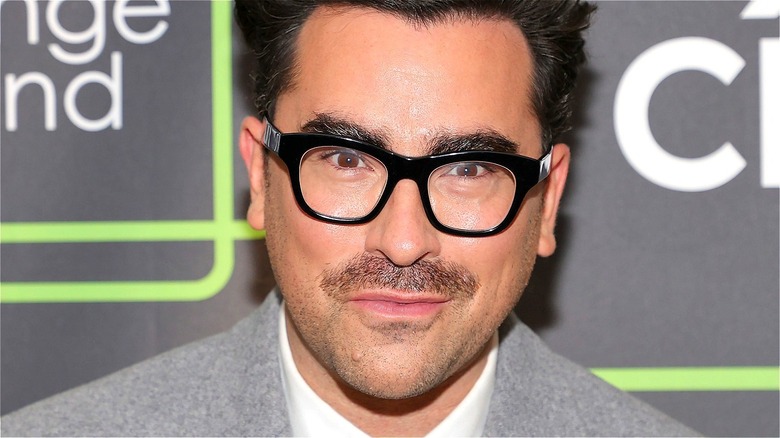 Theo Wargo/Getty
By now, you've likely heard of Canadian actor and producer Dan Levy. The actor, son of Eugene Levy, got his start in the "Degrassi" franchise, playing Robbie in both "Degrassi Goes Hollywood" and "Degrassi: The Next Generation." Following this, he had scattered roles in movies and TV shows such as "Modern Family." In 2015 though, Levy hit it big as a producer and actor in the award-winning comedy series "Schitt's Creek." The actor plays David Rose, and his unique portrayal catapulted him into the spotlight.
"Schitt's Creek" was very popular during its run (and still is), with a 93% Tomatometer and a 92% Audience Score on Rotten Tomatoes. Alongside his father, Levy played a big role in developing the show, as well as its farewell special "Best Wishes, Warmest Regards: A Schitt's Creek Farewell." With the show's success, there is obviously interest in whatever Levy does next, and he is currently producing a new reality series titled "The Big Brunch." Here's everything we know so far about the exciting new show.
The Big Brunch plans to expose new culinary talent
As of now, "The Big Brunch" has no set release date, but according to Variety, the show will stream on HBO Max with Levy as a producer and host. As for what exactly the reality series will be about, "The Big Brunch" aims to provide exposure for new culinary talent from across the country (via Deadline). The creative team behind the show is seeking aspiring chefs and giving them a platform to tell their stories, with a specific focus on "finding innovative and personal ways to redefine what it means to dine between 11am and 3pm." Both reports from Deadline and Variety mention a "life-altering prize," however, neither HBO Max nor Levy have confirmed what exactly that prize is.
In a casting call for the show, Levy shared some insight as to why he created the show. He explained that he knows from his passionate love of food that there are many talented individuals out there who deserve a chance to be recognized for their talents. Levy stated, "Everybody has a friend, a family member, or a co-worker that is extraordinary at what they do, they just need a leg up so that their talents can be appreciated on a larger scale ... I created this show for them, the local culinary heroes of America who deserve a spotlight." As previously stated, there is no set release date for "The Big Brunch," but Variety did disclose that it's tentatively scheduled to premiere in 2022. Furthermore, the casting deadline was January 21st, so we can speculate that production and filming may now be taking place.